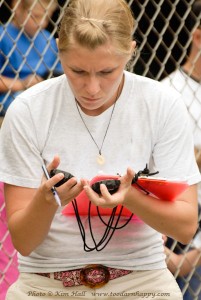 The race is on again for a new week, and you and your mind are running at top speed, full out, and it's not even 9:00am on Monday morning.
Hubbie. House. Job. Laundry. Clean clothes. Ironed clothes.  Lunches.
Kids. Backpacks. Missing homework. Missing sports equipment.
Get in the car. Let's GO. We're going to be LATE.
Missing me.
Missing time.
Missing breathing room.
STOP.
Slow down for just a moment and take a deep breath.
Whew.
It's not healthy or productive to feel so overwhelmed, especially as you ramp up for back-to-school.
It's time to step back and regroup, because there is a better way.
You need to build margin into your life.
I learned this term from Andy Stanley, through his  study "Take it to the limit-How to get the most out of life."
The description of the study notes:
Overloaded? Maxed out? Our culture encourages us to live as if we have no limits. So we fill up our schedules and empty our bank accounts. We do as much as we can, spend as much as we can, and acquire as much as we can – all in an effort to get as much as we can out of life.
Does this description ring a bell with you? Does it describe your life, especially once school gets underway?
Living a life crammed full—without margin—is counterproductive to living a life full of faith, gratitude, and joy, because:
Margin is crucial to your mental, spiritual, relational, financial, and physical well being.
Having margin means that you walk yourself permanently back from the precipice.
When there are emergencies—and there will be emergencies—you will not be shoved hard and fast over the edge.
What does having margin in your life look like?
Margin might look like the family sitting down to dinner together, and I'm not talking about in the car as you drive through Chez McD's. It might look like blocks on the calendar for activities like hiking, sitting down to a family game night, or hosting a pot-luck with friends. It feels like a weight lifted, because your bills are paid on time and not lost under the driver's seat in your van along with empty fast food bags and your child's permission slip for the biggest trip ever of the year. It sounds like a sigh of relief, of laughter and joy to have found some breathing room because you waved goodbye to the terribly urgent and hello to the more important.
How do you get there?
1. Identify your stressors
Does your blood pressure skyrocket at the thought of figuring out what to make for dinner, or just to make it out the door in the morning? Is it about forgetting to take care of important details or thinking about the additional volunteer responsibilities you just signed on for? Have you bought into the belief to be a good mom you have to keep up with a Pinterest perfect image? List everything you can think of that makes your chest tight and your breath short.
2. Apply E-R-C to your list: Eliminate, Reduce and Cope.
Melissa at Whole 9 Life describes the process:
Identify those you can Eliminate, those you could Reduce and those you must simply Cope with. Consider evaluating time, money and accepted obligations all at once; you may be able to eliminate or reduce more stress than you believed. (For example, if cleaning the house on your day off is a big stressor, consider revising your budget to hire a cleaning service. If you've accepted too many social requests, prioritize one or two that are the most important to you, and beg off the rest. They'll forgive you, and you really can't afford to take on any more right now.)
3.Take the remaining list and dissect it
Think about what might be at the core of the one area that causes you the most stress, and then do some brainstorming about how to begin to tweak that into submission. Very often, it is a lack of organization, delegation , or not being able to say no.
As I suggested previously:
If you start with something basic, such as creating a weekly menu, and grocery shopping around it, that small step can cascade into a series of benefits, such as having dinner at home, enjoying conversation with your family over a meal, saving money, working towards better health, and experiencing satisfaction at taking this step, as opposed to a rushed, frantic, unhealthy, expensive meal at the nearest fast food joint.

Sometimes taking the time for an activity actually provides greater benefits in the long run, such as praying, or choosing to use part of your lunchtime to walk. Both of these activities effectively increase your white space in the form of a little peace and clarity.
4. Ask for help
You can enlist the help of your family. After all, life was never meant to be a one-woman show.
5. Delegate
For example, teach the kids to prepare their clothes and school needs the night before, allowing for a more relaxed morning. And moms -yes, your children can and need to be taught how to use a washer and dryer, for your benefit and especially theirs. It is not capital punishment. What is cruel is being almost of legal age, and not recognizing what a washer is, let alone how to use it. See here for a how-to for every age.
6. Create routines
Ask your kids to share their vision of what a smooth morning would look like, what the benefits would be, and what would have to happen you could make it happen. Enlist their help.  They might just have ideas that will surprise you. Besides, they will be more apt to implement ideas that they have some ownership in. Put the reminders in a prominent place. Run the plan, and tweak it as needed.
Remember to be patient and flexible with yourself and the family. It is especially important that you keep an eye on your personal perspective. Sometimes the problem is not with others, but with your point of view. As Victor Frankl said, "When we are no longer able to change a situation, we are challenged to change ourselves."
Be grateful for and celebrate the baby steps, and let the mistakes go. After all, do you respond better when someone points out everything you are doing wrong, or what you are doing right? This can take some time, depending on how each member handles change.
Building this margin into your life will make a significant difference, and will help you feel less like a constantly winded sprinter and more like a well-toned, long-distance runner.
Questions: How you have created margin in your life, or where do you need help creating margin?
What point or area resonates the most with you?
You never know how many other lives you may touch by sharing what you know! Thanks for joining the conversation.
Sharing at NOBH, Better Mom, Finding Heaven, Pour Your Heart Out
Did you find this encouraging? I'd love to have you share. Just click on any of those buttons below and share away, and thanks so much!