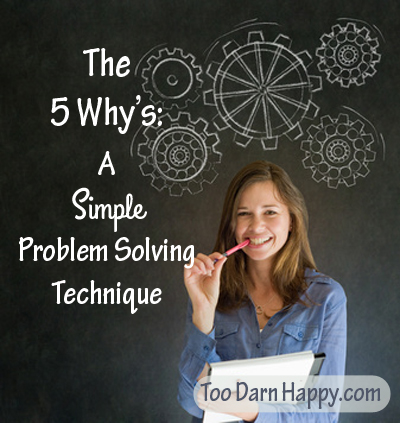 Do you ever feel like you are going to crack under the frustration and feelings of being overwhelmed by a problem you haven't been able to solve?
Your solution might have been to head to the fridge for a pint of ice cream—that is a single serving, right?—into the living room to watch some escapist television, or surf on Pinterest for hours, mindlessly pinning your hopes and dreams but never taking any real action, compounding your sense of irritation and incompetence.
Sound familiar?
Nope, it doesn't to me, either. . .
What you may not realize is there is a deceptively simple technique to get to the bottom of an issue so you can repair it permanently.
It is rarely about Just. One. Thing. 
More often, it's the combination of all the other issues, too, that puts you over the top:
Clutter covering the counters
Dishes filling the sink
Piles of laundry overflowing the baskets
You hit a wall with a particular problem, such as how to keep the laundry from becoming bigger than Mount Everest, and —BOOM!—it becomes the cherry bomb on top of the proverbial sundae.
It's because you have multiple Broken Windows
Each of the above items are considered broken windows. Two scientists, James Q. Wilson and George L. Kelling, put this theory forward, building on the 1969 work of a psychologist, Philip Zimbardo. Here is an excerpt from their 1982 article:
Consider a building with a few broken windows. If the windows are not repaired, the tendency is for vandals to break a few more windows. Eventually, they may even break into the building, and if it's unoccupied, perhaps become squatters or light fires inside. Or consider a sidewalk. Some litter accumulates. Soon, more litter accumulates. Eventually, people even start leaving bags of trash from take-out restaurants there or even break into cars.
Author Dan Miller wrote recently how this topic relates to your personal life:
If our broken window is being late for work each day, allowing email to pile up, clutter to accumulate on our desk, or procrastinating on important tasks, those small indicators of disorder will signal that things are out of control. And we begin to rationalize bigger issues of allowing our life to be out of control. Those little things undermine our goals because they give us a sense of chaos – that we are victims of circumstances.
Basically, a body in chaos is a body defeated, annoyed and unproductive.
It's time to identify your Broken Windows
Make a list of the things at home that you stress over, and choose one that you want to tackle.
Is it the trail of clutter left by the kids?
Is it the sink that is never empty?
Is it the endless laundry?
Once you have chosen, you are ready to move forward.
The "Five Why's" Technique to fix those windows
You know how your kids endlessly ask "Why?"
Now it's your turn to ask that question.
Businesses use this method—developed at Toyota by Taiichi Ohno—as a means of getting to the crux of an issue so the actual problem can be fixed.
Here is how it works:
Write the problem down for clarity.
Start asking Why, and write down your responses.
Ask Why at least five times to strip away all the symptoms and reach the true cause.
Realize that this line of questioning will often lead in a direction you did not anticipate, so I strongly encourage you to enter this process with an open mind.
You can do this by yourself to start, if you like, but I suggest you work with your spouse. Two heads and perspectives are definitely more helpful!
Once you have pinpointed the real problem, you can create a lasting solution together that works for you and your family.
Putting the Five Why's to Work for you
Let's say that getting the mountain of laundry under control is your target. Here is an example on how the problem-solving might play out:
1. The laundry piles up. Why?
2. Because I just don't have time to do it. Why?
3. Because I work a full time job. Why ?
4. Because we can't survive on one income. Why?
5. Because we raised our style of living every time our income rose, and we just can't say no to the kids or ourselves.
Well, that was certainly a surprise.
This went from not being able to keep up with the laundry to a possible root cause of poor financial decisions.
Now, this might have gone down a trail of "no one helps around the house", which is a completely different problem, with possible solutions here and here.
You just don't know where it will go until you start asking Why.
As you start using this technique, here are more tips:
Five times may not be enough. Be patient, and also be willing to run through more why's.
Read the Five Why's list backwards, that is, bottom to top. Does the progression still make sense?
If you are not satisfied with your result, set your list aside, and go through the process again another day.
This is a new problem-solving tool. The more you practice, the better you will get.
Remember that to truly take care of the problem you've got to get to root cause.
Repair that broken window, and you will witness more peace of mind in your life!
Ask, and it will be given to you; seek, and you will find; knock, and it will be opened to you.  ~Mathew 7:7 (ESV)
Question: What problem has really been bugging you that you would like to solve?
Sharing at Finding Heaven
Did you enjoy this article?
Sign up for updates and get my FREE ebook: Practicing Gratitude and Discovering Joy

Just imagine. . .Responding with gratitude rather than grumbling, and enjoying more happiness and contentment. And rest assured I won't share your address!