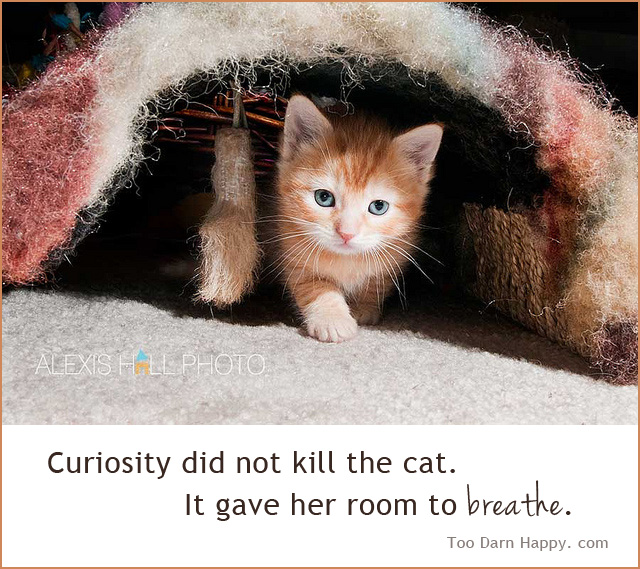 You've probably had one of those days recently. If you haven't, you figure you're due.
The tension in your body takes its toll, as does the constant slight holding of your breath, because you just know that other shoe is going to drop.
It always does.
And it's going to hurt.
"Mom! I told you I had this meeting after school today. You said you'd be there. You have to be there. Or are you going to say you're too busy again?"
"But I waaaaaaaant that toy!"
So you squeeze a little more, trying to eke that last bit of energy out of yourself so you can work around this latest twist, all the while holding your tongue against the growing tide of frustration, anger, and helplessness. At this point, honestly, you are ready to collapse into a pile as deeply crumpled and oxygen starved as your child's dirty laundry in the closet.
Hang on. There is a way through. Today I'll share three powerful questions, all driven from a perspective of curiosity, to help you find room to breathe.
Do you see these moments as a reason to affirm your expectations or an opportunity to get curious and solve a larger problem?
Go ahead. Admit it. More often than you like to admit, you expect the worst. However, these expectations may run so silent and deep you may not even be aware of them. Nonetheless, they are still powerful lenses for your perspectives. Is there a program running that auto-fills your responses on the fly? "Oh, Derek! You always make us late." "Ali, you can't have everything you want." You don't mean to say those things, but you may think, "I love my family, but I get so tired of dealing with these 'emergencies.' It shouldn't have to be like this."
Remember you are imperfectly human, functioning in an imperfect world.
It's ok to admit it. You are among friends.

Your family? They're human too.
That means in spite of best intentions, your family's schedule will be incomplete, your communications sometimes broken, and yes, your view may be trained more on weaknesses. These areas will always be a work in progress to some degree.
However, there are better ways to respond with ability to these challenges that will ultimately give you more room to breathe.
Remember the words from 1 Corinthians 10:13:  No temptation has seized you except what is common to man. And God is faithful; he will not let you be tempted beyond what you can bear. But when you are tempted, he will also provide a way out so that you can stand up under it. (NIV 1984)
Cultivate curiosity as your new response

Rather than throwing your hands up in defeat and allowing anger, disappointment, frustration and chaos a regular seat at the table, consider the advantages of becoming truly curious, i.e., interested in listening to others and finding solutions together.
You can't be curious and angry at the same time.
You are more open and approachable.
Your family is less guarded when you are more calm.
You think more clearly and more creatively when you are relaxed.
You have created an environment in which you come together to solve a problem, rather than being at odds over it.
Just a note here: When I talk about curiosity, I am talking about the tone of voice and very interested demeanor you use with your best friends when they've made a great discovery, found a new way to do something, or have overcome a challenge. This is not the snarky tone you use on your teen when asking how in the world they plan on paying for the latest, greatest thingy they just can't be without.
Curiosity goes hand-in-hand with asking quality questions and getting quality information
Now that you have your delightfully curious mindset firmly in place, it's time to start asking some great questions.
Let's assume that a request has been made, especially a last minute one. Your response goes something like this:
Hmm. That might be a challenge because (fill in the reason why). I'm curious. What do you think has to happen so that you/we can do or have that?
This immediately puts all parties into a problem solving mindset. At first, you may get a snarky response, or a flat out "I don't know." But keep at it. "Well, let's figure this out. What has to happen so you could (get request filled)?
With practice, your family will begin to approach challenges in general with curiosity, rather than an automatic attitude of defeat. Not only will it help defuse potentially troublesome moments, but it will give everyone powerful tools to use anywhere they are.
When something has gone awry, here is a great question.
I'm curious. What was it you really wanted, that you really hoped would happen?

Again, this will take a little time, as it is a change from you ordering the kids to be quiet or to just go to their rooms. You will eventually get responses from your children that will be priceless. The truth will come out. Then you can help guide them to a solution with the previous what has to happen question. Remember everyone, including kids, likes to have a stake in the solution. That is why it's important that they are involved with the heavy lifting on these questions.
Here is another powerful question when there is an unexpected result:
Hey, do you know how you could view that?
This can be said with excitement, like when you are shopping with a friend, and an interesting and attractive idea takes root: Hey, do you know how you could wear that?
It can also be said carefully and thoughtfully and with gentle curiosity. Your inflection will depend on the situation.
Keep in mind the number of inventions that have come from experiments that didn't end as anticipated, such as Silly Putty or Post-it Notes. The scientists didn't just throw in the towel; they used curiosity to find a fresh way of viewing the results, rather than slinking away in depression and failure.
It's important at the minimum to find a reason to be grateful, for that will lift spirits all around.
Learning to respond first with curiosity will keep heads more cool and calm, and will engage everyone in solving the problem. Getting the family into this mindset means fewer emergencies and more shared responsibility in the decision making. Then, much like the cat, your curiosity will give you much more room to breathe!

Questions: Have you used any of these questions before? How did it work out? Do you have powerful questions you use? Would you share?
I love hearing from you, and others benefit from your experience, questions and comments. I invite you to jump in with us today!
If you enjoyed this post, I'd love to have you share it. Just use those buttons below. Thanks so much!
Sharing at NOBH, Better Mom, Finding Heaven