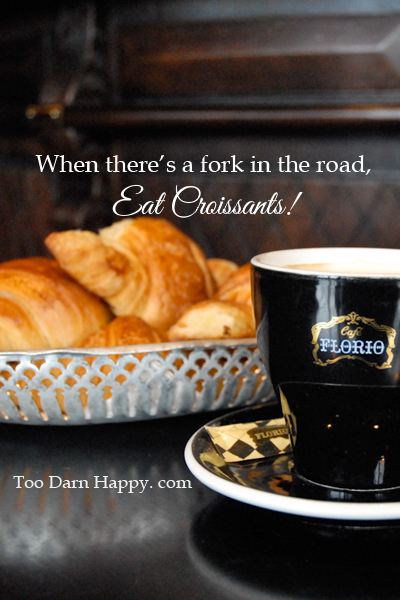 Don't you just delight in the sweet, sweet taste of summer family vacations, where joy and laughter are generously slathered over every moment of the day and sprinkled with children playing happily together, their delightful voices adding perfectly delectable notes to each and every deeply satisfying day?
What's that? Are you saying that sentence doesn't describe the reality of your family getaways?
No worries—I suspect there are few family trips that truly measure up to that pie-in-the-sky description.
In actuality, our vacations may be marred by over-scheduling, under-funding, and circumstances beyond our control: forks in the road that may take us where we didn't plan to go.
That does not mean we shouldn't ever schedule fun time.
Instead, it just means that when we hit those forks in the road, we need to find gratitude and joy along whatever path we take.
For example, several years ago my oldest daughter was in Paris for her junior college year abroad, and I went to visit her for a week.
Being a little country mouse who hadn't traveled very much, I was very excited about seeing the fabled City of Lights with Alexis as my personal guide and translator.
She met me at the airport when I arrived, and got us onto the train to get back into the city, where we checked into our hotel. My daughter was raring to go, to sight-see and take photos all day long as we had planned. I, on the other hand, was surprised at how exhausted and nauseous I felt from the long trip.
Fork in the road:
We had a choice to be irritable and angry, or be grateful to be in Paris together and to just take a little nap in our elegant hotel room just steps away from the Eiffel Tower. I settled my tummy with some sleep, woke up with enthusiasm, and off we headed to explore the city.
The first stop, I quickly decided, was to find some delicious, caffeinated, morning brew.
"What?! They don't drink regular coffee with sweetener and French Vanilla creamer here in Paris?" I asked with just a wee bit of panic in my voice. Alexis, not a coffee drinker, did not fully comprehend the gravity of the situation: a morning without my java.
Fork in the road:
I could be as bitter as a day old cup of vending machine brew, or be a hopeful explorer whose day is not made or broken by Folgers in my cup.  Alexis was a trooper, and we set off in search of something that resembled the mild coffee I liked. Not only did we find it, but we had wonderful croissants, too. Mmmm!
One of our later stops was the Arc de Triomphe de l'Etoile. After spending time admiring the outer architecture, we paid our entrance fee and made our way inside up to the top. I had just begun to photograph the view down into the spiral staircase when—pop!—darkness enveloped us. A scratchy, disembodied intercom voice apologized for the power outage and asked us to immediately leave the Arch.
Fork in the road:
We could be irritated and angry and go verbally blast the attendant, or be grateful to have seen the amazing view from the top of the Arch. We shrugged our shoulders, laughed and joked as we made our way carefully down the stairs, and moved happily onward to the next item on our itinerary.
Have you heard about how lovely Paris is in the springtime? I had to imagine it was, even though we were there in mid-April. It was the coldest, rainiest spring they had had in years. Alexis had arranged a surprise trip to Normandy as a highlight to my trip, and now that was under consideration due to the weather.
Fork in the road:
We could skip a lot of our intended destinations, including the battle memorial, and whine for eternity about how awful our week was, or find a way to take best advantage of all the circumstances. We rearranged our list, and did a little happy dodging in and out of museums and landmarks as weather necessitated. Although the week was pretty chilly, the weather did clear somewhat.
To take our big day trip to Normandy, we first took a train to Caen, where we then picked up our rental car. The incident with the public bathroom occurred there as well, and you can read about it here if you missed it. Arriving at Normandy and walking the grounds was so humbling, realizing the large number of lives that had been lost there. We came away with a greater and sobering awareness of the tremendous sacrifice made on our behalf.
On the way back, we stopped to top off the car with gas. As I just began to pump the fuel, a nearby gentleman lost his cool. He was wildly gesturing at me, and ranting and raving and screaming. Puzzled and a bit disconcerted, I quietly asked Alexis what he was saying. She looked panicked, and said, "Mom! I think he said the car is going to explode! We need to stop pumping the gas right now!" I immediately stopped, and we quickly determined the issue: I had mistakenly pumped regular gas into a diesel tank. Oh, dear.
I will admit that my stomach did several flip-flops and my heart fell to the floor as I made a frantic call to the rental agency, during which I did my best to sound reasonably calm as I worked to find out if I had done permanent damage, what my responsibility was and what it might cost. I had visions of coming home from the trip many thousands of dollars poorer, having purchased a car that would never run again and certainly would never make the trip to the states.
Fork in the road:
This was our biggest opportunity for recrimination, for me to blame Alexis for not stopping me, for her to blame me for not being more observant.  We could have held a screaming match, or turned in unison on that gentleman who was just trying to save us all. I could have let the rental agent have it the moment he came on the phone. When the dust settled, and I had picked my heart back up off the floor, there was no problem. Apparently there was enough diesel in the car to offset the little bit of regular I pumped in. Thank goodness for the screaming Frenchman stopping me when he did!
There are several lessons I'd like you to takeaway today.
First, when I started looking for and listing everything that went wrong on our vacation, I compiled quite a long list. I had no idea so much went wrong on our vacation because I have such wonderful memories of that trip. This goes back to looking for the good we talked about here.
Next, getting to the gratitude point of view is often not immediate, so be patient. When you fall down, just get back up and look for it again. The more you do it, the more natural a response it becomes.
Last, and certainly not least, behave happily, wisely,and gratefully in spite of your circumstances. You are not only building a new habit for yourself, but you are also setting an example for your children.
And remember the benefits of this gratitude: You won't have to eat crow because you behaved badly at those forks in the road. You get to eat croissants instead.

James 1:2 My friends, be glad, even if you have a lot of trouble. (CEV)
Questions: Have you ever been on a family getaway that almost got away from you? What vacation tales can you share when you chose to change to a more positive perspective? Please set your shyness aside and step into our conversation. You never know who you might help by doing so!
Sharing at NOBH, Better Mom, Finding Heaven, Things I Can't Say, Mommifried