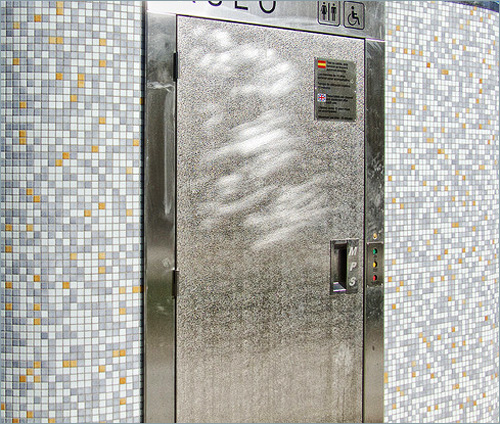 Are you old enough to remember that stores did not always have free public bathrooms?
You had to pay to use them, and they didn't look anywhere near as sleek as this.
You have not lived until you and your six siblings who are all under 10 years old are doing the traditional We've waited too long to tell you that we need to go potty now! dance while waiting for mom to find a dime in her pocketbook to open that door.
Oh, yes. Amusing memories of growing up in a large family.
Well, if you travel to Paris and outlying cities, you will still run into these pay bathrooms. However, they do operate with an twist I have never seen here in the states. . .
At my family's urging quite a few years ago, I joined my oldest daughter in April, for her week-long break in her college junior year abroad.
Mon cherie-that meant springtime in Paris!
It would be lovely, wonderful and amazing, especially because I had never traveled outside of the United States.
Well, it was cold. And damp. And a bit drizzly. And there weren't many flowers because of the unseasonably cool weather.
That did not slow Alexis and me down, however. We figured that meant there wouldn't be the usual crowds of tourists, and we were just excited to be able to sight see and photograph from dawn to dusk.
On this particular day, we took the train to Caen. Disembarking at the station after the two hour-ish ride, I naturally went looking for a bathroom, because as a mom, that is what you do. After all, you don't know how long it will be until you see another. We were picking up a rental car and then driving quite a distance further to Normandy, so I didn't want to take any chances.
We spotted the universally recognized sign on a door set into a wall of the station and headed over.
Outside, 24 hour access? "Well," my folksy self thought, "How thoughtful! Folks can use this round the clock, and don't have to worry that the building is closed." But then my paranoid safety conscious mommy brain spoke up, "While that is wonderful, how do you know it's not being used as place for some criminal to hangout so they can mug you?"
Once we were standing in front of the door, though, I realized it was a pay toilet, like those from my youth. I turned to Alexis for the money—the equivalent of about 50 cents— and the translation of the sign next to the door.
It turns out that the bathrooms are self-cleaning once your visit is done.
So much for it being a hideout.
"Isn't that wonderful," I marveled, relieved, because the cleanliness of the bathroom had also crossed my mind.
Well, Alexis and I, being frugal, figured we could pay once and use the room one after the other, just like when I was little. Old habits can die pretty hard.
Yes, I know that is foolish and theft of services.  And I wouldn't do it again.
We put the coins in the slot, and I entered the bathroom.
Well, now. I looked around, and wondered where the toilet was, because this is what I saw.
The line from The Wizard of Oz ran through my head: We're not in Kansas anymore, Toto.
Wait-it's the spring loaded U-shaped metal tubing set into the wall?
Color me surprised.
Shortly thereafter, I waited for Alexis to take her turn, and my mommy brain started into overdrive and I started to really stress.
"What were we thinking?!"
"What triggers the cleaning cycle? Is it a time element? Is it the locking of the door?"
My daughter safely exited the bathroom unscathed, fortunately.
However, I wanted to know how the cleaning cycle worked, so we hung around for a few minutes.
Yes, I am aware of how creepy silly we probably looked, as we leaned into the closed door to listen.
In just a minute or two, we heard the sounds of a powerwash that splashed with such force against the metal and tile surfaces that it sounded like it would break down the door.
We looked at each other, eyes wide open in surprise, and realized what a short-sighted decision we had made.
We vowed to pay individually from that point forward, because we decided never again to be penny-wise and bathroom foolish. (Like it? Click to tweet!)
Question today: What decision have you made that led or nearly led to a surprise, unpleasant ending?
Sharing at No Ordinary Blog Hop, Finding Heaven, Things I Can't Say
Photo credit: Andres Rueda via Flickr (For my sharp eyed readers: yes, this is a Spanish bathroom, not French. I was too rattled to take a picture of the one in Caen.

)
Did you enjoy this article?
Sign up for updates and get my FREE ebook: Practicing Gratitude and Discovering Joy

Just imagine. . .Responding with gratitude rather than grumbling, and enjoying more happiness and contentment. And rest assured I won't share your address!