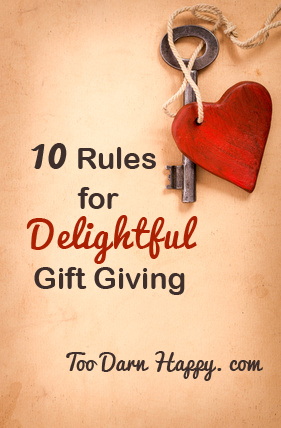 You have picked out a present that will surely bring a smile brighter than the Hope Diamond.
Your loved one slowly unwraps the gift, feeling your excitement, savoring the moment, knowing this will be DELIGHTFUL.
They lift the lid of the box, and. . .
Nothing.
No excitement. No delight.
Instead there's a flicker of disappointment and puzzlement as they gather their thoughts and figure out what to say, as they wonder what you could have possibly been thinking.
*Sigh*
Having spent my life in search of gifts that play the heart strings like Itzhak Perlman plays the violin, and having made both tone deaf and perfectly pitched choices of my own, I can offer solid suggestions for helping you find just the right gift for that special person.
Following are my ten rules for delightful gift giving, along with some examples of ideas gone wrong and some fresh suggestions as well. 
1. Understand that what is important to you is not necessarily important to them.
Yes, this can be an especially painful revelation, and one that took me years to get. It's like wishing someone would be as excited about Fiesta Tuna Salad for breakfast as I am. It just isn't going to happen because I want it to.
For example, our large family does a Yankee Swap at Christmas. One year I created a custom photo book of our Fourth of July celebration, which took many hours to complete. Almost every single person present was also there for the Fourth, so I figured it was a safe enough bet. After all, it is rare that any of the other gifts appeal to all forty or fifty of us. My gift was the "last kid picked." You know who got it? My blind uncle whose spouse is blind, too. Well then. . .
2. Meet your loved ones where they are
This can be tough, too. You may love economical and practical gifts, while someone else loves frivolous and faddish. Remember to look at the gift through their lens, not through your own. My admission here, I am embarrassed to say: When our girls were early elementary age, we gave them monogrammed soft-side luggage. Oh, yes. Go ahead and laugh. I still cringe.
3. Just because you love crafts doesn't mean they'll love your creation
When we are little, of course, this is true. Who among us doesn't love macaroni necklaces or a bejeweled clay plaque? Be discerning, especially if you are creating decorative or clothing items.
A long time ago, we had our individual family portrait done as a gift for our siblings and parents. My husband—an accomplished craftsman—made gorgeous cherry frames for them. Years later, we discovered by accident that one of my brothers had—gasp!—painted the frame black. Black! We had failed to take into account his more modern, minimalist decorative style. Oops.
4. Make sure the gift is sized appropriately for the recipient.
This stands true for the home or the individual. I have sewn for decades, and folks tell me I do a beautiful job. However, tailoring clothing to fit is another matter completely.
One year I was so excited because I made a collared, buttoned shirt for my hubby and a lovely dress for my mother in law. While the clothes looked great on the hanger, neither fit at all. I didn't and still don't have the skills or patience to redo them. What was I thinking? Major gift fail.

If a family lives in a small space, and shares suggestions for themselves or the kids for small things, believe them, and give accordingly. They will love you for it. We always did.
5. Be aware of the why that drives your giving
Are you dumping a truckload of money just for show, or are you squeaking as you spend because you hold onto those dollars so tightly? To paraphrase that old adage, it isn't about what a gift costs, it's truly about the thought behind it. Whether writing a letter of love from the heart or spending some of your earnings to buy your mom and dad a "thank you for being great parents" house, check your motives.
6. Be comfortable with your choices
If your inclination is to run for cover when your gift is being opened, it's time to re-examine what you are doing. You may be out of sync due to one of the above reasons, or you may have stepped away from what is normal for your family. Perhaps you are pounding away at debt, or just  building more sound money management practices in your home. Talk to the rest of your loved ones. It may not be a comfortable conversation, but better to be preemptive than to spring it on folks the day of your gathering.
A few years ago we gave my mother-in-law a family portrait for Christmas because she had told us it was something she wanted. My daughter and I do a nice job with photography, and my family was going to handle it all: scheduling the gathering in the fall (her favorite time of year), dressed in khaki and light blues (her favorite color combination), and handling the shooting, editing, and printing. The rest of the family received certificates for individual family portraits and a large print of the whole family.
The gift was not, shall we say, an immediate hit, mostly because everyone is camera shy. I suspect we would have gotten the same response if we had asked everyone to pile into the car so we could go drive off a cliff. Should we have warned them beforehand? Even in retrospect, I think not. We knew this was likely, but also understood that when all was said and done, everyone would love having the pictures. And they do.
7. Look to their love language for clues
Do you know the love language of your family members? You can learn about them here and here. Understanding what makes everyone tick and what it takes to fill their tank will go a long way towards giving gifts that will be treasured. Think of it like this: If your car takes regular unleaded gas, and you fill it with diesel, it just isn't going to be happy, and neither will you.
8. Listen closely year round
I know time is short, but think back to anything that irritates those hard to buy for folks, because that is your land of opportunity. Do they dislike any tools they own, whether for cooking or home maintenance? Are they delighted by anything they have borrowed? Is there an item that would make their lives simpler or more enjoyable by owning it, even as small as a good-quality potato peeler or bigger, like warm and fuzzy fleece sheets? (Those are a slice of heaven, by the way, if you live in a colder climate. Flannel cannot even compare.)
Think about giving experiences as opposed to more stuff, including visits to the old home town, meaningful events, or places they are not comfortable with traveling to by themselves.
9. Be a cheerful giver
This ought to go without saying, but when you give stingily, bitterly, haltingly, or selfishly, you are missing out on the true spirit and benefits of giving. In my mind, there is absolutely no benefit to either side unless it is done cheerfully and without reservation. Remember the admonition from 2 Corinthians 9:7: Each one must give as he has decided in his heart, not reluctantly or under compulsion, for God loves a cheerful giver.
10. Expect nothing in return
Giving is not an opportunity for quid pro quo. It is an opportunity to absolutely dance in your shoes, be tickled right down to your toes, because you are so excited and thrilled to be in a position to give, to delight, surprise, thank, celebrate, honor, help, or for just no reason at all other than because you enjoy being able to give for its own sake. As Leo Buscaglia said, "Only when we give joyfully, without hesitation or thought of gain, can we truly know what love means."
There you have it. 10 pretty simple rules to turn you into a thoughtful and delightful giver.
It's just really about paying attention, listening well, and putting the focus on others so you can strike the right note every time!
Looking for some ideas to help you get started? Check these out: Gifts from the Heart
Question: Do you have a story of triumph or tragedy about giving or receiving gifts? Time to share!
Sharing at NOBH, The Better Mom, Finding Heaven, PYHO
Did you enjoy this article?
Sign up for updates and get my FREE ebook: Practicing Gratitude and Discovering Joy

Just imagine. . .Responding with gratitude rather than grumbling, and enjoying more happiness and contentment. And rest assured I won't share your address!