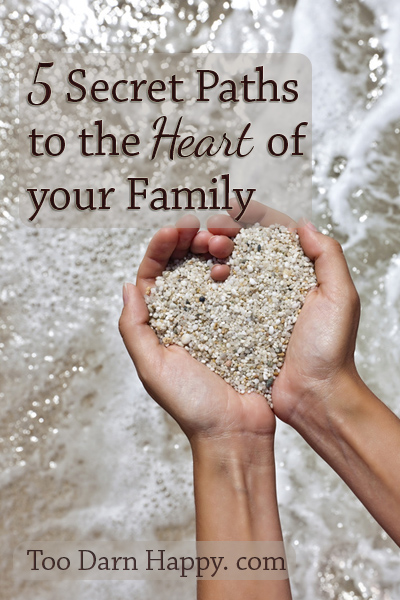 Have you showered your family with expressions of your love, only to be left gasping in surprise after they've responded with an upended bucket of cold water?
Welcome home, honey! I did the laundry, cleaned the house, and we're having your favorite dinner. Go sit and relax for a bit, and I'll hold the kids at bay until you get a chance to wind down.

You stand back, waiting for the "You are the best wife ever!" or "This relaxation time is so terrific! I can't wait to do the same for you this weekend so you can have a breather!"

Back in the real world, your husband growls, "Ugh. What a tough day. I can't wait to sit down, close my eyes, and make the world go away." as he walks out of the kitchen.

I am so glad you are home, kiddo. How did your day go? Let me give you a great big hug because I just love you so much!

You joyfully reach for your child, knowing they will squeeze you tightly in return.

Instead, your child responds defiantly, "Mooooom! I've told you not to do that. I don't like being hugged." as they wriggle out of your grasp and stomp away to their room.
If those scenarios sound familiar, don't despair. There is a way to connect that will leave you more refreshed.
You haven't felt appreciated
One of the most frustrating parts of being a mom is not having our actions appreciated. You cook, clean, serve, and tend to the home front. You would like your loved ones to let you know that what you do matters. Where you may have gotten off-track is drawing faulty conclusions from their responses: you assume they are just not grateful, and you feel hurt or angry. Instead, you just need to serve from the heart and meet each family member where they are in a way that is meaningful to them.
You have mistaken your path for theirs
While you didn't become  a mom for the glory—

—your would really like your family to respond with some note of love and appreciation for what you do. After all, you would do cartwheels around the yard if someone did all the housework or made dinner. You might swoon in delight if they gathered you up in a big bear hug and whispered "I love you."
And this is where you've taken a wrong turn. You know what makes your heart go pit-a-pat, so you take that familiar path and assume the it also leads to your family's hearts.
Your children and your spouse are surprised, confused, or even unaware of what they did to annoy you. Even if you point it out, they may not get the connection. Everyone walks away from the encounter without the intended outcome: sharing gratitude, showing love, and feeling appreciated. The "love tanks" are empty, and the family is sputtering.
You need to learn their language
The path to your family's heart is through their love language, and when you know it and learn how to speak it, you will fill the love tanks to overflowing, and your relationships will flourish. Dr. Gary Chapman, author of The Five Love Languages, wrote:
Of the countless ways we can show love to one another, five key categories, or five love languages, proved to be universal and comprehensive—everyone has a love language, and we all identify primarily with one of the five love languages: Words of Affirmation, Quality Time, Receiving Gifts, Acts of Service, and Physical Touch.

The 5 Love Languages® has helped countless couples identify practical and powerful ways to express love, simply by using the appropriate love language. Many husbands and wives who had spent years struggling through marriages they thought were loveless discovered one or both spouses had long been showing love through messages that weren't getting through. By recognizing their different love languages, they witnessed the rebirth of the love they thought had been gone for good.
It is a pretty simple concept that can help create more fulfilling and closer relationships in your family. You may already be aware of the love languages, but may not have made the connection between your frustration and discovering and intentionally speaking the language of each family member.
Identifying and implementing the languages
Dr. Chapman has a list of three simple ways to discover your primary love language:
1. What does your spouse do or fail to do that hurts you most deeply? The opposite of what hurts you most is probably your love language.

2. What have you most often requested of your spouse? The thing you have most often requested is likely the thing that would make you feel the most loved.

3. In what way do you regularly express love to your spouse? Your method of expressing love may be an indication that that would also make you feel loved.
This list will work for your family members as well, whether you talk about it outright or you do a little detective work on your own. Listen especially for what they complain about, for how they say they are hurt, or what they ask for. Watch their actions as well, because they, too, may be giving in a way which makes them feel the most loved.
Words of Affirmation
Just words. Compliments. Encouragement. Affirmation. Written. Typed. Crayoned. Pencilled. Flowery. Right to the point. On sticky notes, cards, tucked into a book, lunchbox, or briefcase, whispering in poetry, shouting loud on big banners, sung to the world, spoken heart to heart. Words matter to those who speak this language, so speak them often.
Are you hoping to hear a simple thanks? Do you find yourself saying, "If they'd only say _______"? Words of affirmation may be your primary language.
Physical Touch
A quick touch on the shoulder, fingers brushing against one another, hugs and cuddles, kisses on the cheek, tousling hair, holding hands, arms around the waist, shoulder rubs. It's about the affirming power of touch, which speaks volumes to those who walk this path. (Just a note, especially for the husbands: this is not about being sexual.)
Do you long to hold hands, to be hugged, to have an affirming pat on the shoulder when you're having a tough day? Physical touch may be your primary language.
Quality Time
Availability, willingness to shut down the computer, put away the paper, shut off the tv, let go of the to-do list, take a walk, toss a ball, play a game, give your absolute, full, unhurried, fully invested, respectful attention. Having someone's undivided attention, whether for minutes or hours—is what makes this person tick, so put the rest of the world on pause when you are with them.
Is your idea of wonderfulness being able to sit, walk, play—whatever the activity—and enjoy the other person's time and attention completely? Quality time may be your primary language.
Receiving Gifts
Wrapped, unwrapped, little, big, unexpected,  a special something, a flower from the field, a custom CD, your favorite treat, a memento, even just you, being there, always given with lots of thought and love.
It's not about the money; it's about the love and thoughtfulness behind the gift.
 Do you get giddy when your kids bring you a fistful of dandelions? Are you moved to tears by a simple gift from your husband? Receiving gifts may be your primary language.
Acts of Service
Take out the trash,  do the laundry, make dinner, wash the car, rake the lawn, pick up the dry cleaning, run the errands, drop off the library books, fix the stairs, paint the bedroom, doing a chore so you don't have to, lending a hand. Actions speak louder than words to this person, so be sure the message is love.
Are you walking on air when the family pitches in to help, or when your husband takes care of even little projects? Acts of service may be your primary language.
I encourage you to make the effort to learn your family's languages and to become fluent in them. Doing so will allow you to give generously of your love in a way that speaks volumes to each of them.
You may not feel it's worth the effort, that it won't matter anyway.
You may do it and not get the response you want at first.
Remember to be patient and give grace to your family, as it is always given to you by God.
Baby step by baby step, you will reach the heart of your family, and the results will have been well worth the journey.
Questions: Do you know your family's languages? Have you used love languages to reach the heart of a loved one? Have a tip to share? Please join the conversation, and thanks for being here!
Philippians 2:4 Let each of you look not only to his own interests, but also to the interests of others. (NIV)
Sharing at Finding Heaven
Did you enjoy this article?
Sign up for updates and get my FREE ebook: Practicing Gratitude and Discovering Joy

Just imagine. . .Responding with gratitude rather than grumbling, and enjoying more happiness and contentment. And rest assured I won't share your address!