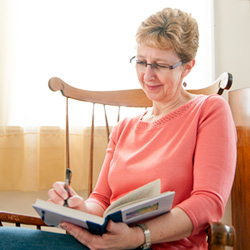 Welcome, welcome, to your bright spot on the web, where you can find everything from toddler to family sized servings of optimism and joy, a helping hand and a fresh point of view.
Set your cares by the door along with everyone else's, and join me.
Slide onto the sofa, hang out in the hammock, or collapse into a comfy big chair.
You are welcome just as you are.
Just breathe. And relax for a bit. And consider opening your heart to see the facets of your life shine from a different perspective.
Have some coffee, a muffin, a cookie. Or chocolate. Chocolate always goes great with relaxation.
We can share stories, about where and who we are, and where and who we'd like to be, and we can help each other figure out how to get there.
As far as who or what I am, well, I'm a lot of things. I'm a mom and a wife,  a sister to six, and one of thirty-three just on my side of our immediate family. My husband's side may be smaller in size but just as dearly loved, and I recognize that I am abundantly blessed by the relationships in my life, even with the chaos, messiness and misunderstandings that are a part and parcel of having a family.
I am the second of seven siblings, and being the oldest girl, I apparently was born with the "gotta be the mom" gene, and sometimes can be bossy without meaning to. If I get out of line here, just let me know. I respond well to a gentle nudge and M&M's.
I am a big believer in teaching my children to be thinkers and doers and decision makers. That means that I am not their best friend. I am their mom, and sometimes that means we have to face reality, even if it means my kids don't like me very much at that moment.
I have been in sales, spent a stint as a radio dj, helped grow a family manufacturing business in which all of us kids worked for my parents, including some of our spouses, functioned and survived inside the bureaucracy  of the public school system, and ran a family friendly inn with my husband and my parents.
I am far from perfect, and recognize that I am a work in process. Every day, I get up and do my best to walk in my faith. There are days I stumble a lot, and I will share the good and the not so good with you about my path and invite you to walk along with me as I share stories that encourage faith, the practice of gratitude and  the discovery of joy in our relationships with ourselves and others.
I am a voracious reader and researcher, and if I were a cat, well, let's just say that curiosity would have done me in a long, long time ago. I collect information and resources like a sweater collects cat hair. I share them joyfully, enthusiastically, and sometimes just too darn much, depending on who you ask.
You see, I have finally discovered what it is in this life that I just can't not do, and what I can do with that puzzle piece. I can't not share the wealth of knowledge that I have gathered, the incredible nuggets of information, of the what and the how and the why of our relationships, and how sometimes changing out one small piece of our behavior for another will yield much, much better results, and bring us happiness and joy and laughter in greater measure.
Stop by often to drink in the encouragement and inspiration, share in the tears, and delight in the triumphs. Pick from a cornucopia of suggestions on how to make your relationships stronger and more satisfying because that is what I am all about here.