Hello!
I am so glad you are here.
Would you like to be happier?
It's absolutely fine to say yes.
Just for the record, it's not too much to ask, and, yes, it's entirely possible.
I can help you get there one baby step at a time with insights for finding uncommon joy in the everyday.
These insights are simple and time-tested ideas you can easily implement in manageable, bite-size bits.
You will find lots of encouragement in this place, and you may feel challenged, too.
I understand, because change can be difficult and scary sometimes. Lord knows I've done my share of hiding out with the dust bunnies under the bed.
Consider me your Sherpa of Joy
I'll lead you through the twists and turns of life to new heights, stopping to pick and share interesting and exciting new practical ideas that will improve the quality of your life and your relationships.
I think we can do great things together, you and I.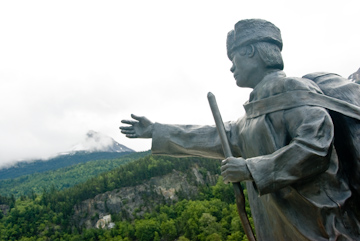 How do I know these work?
I am an unofficial tester of interesting ideas.
Probably the only thing I adore more than taking these new perspectives and methods for a successful run is sharing them with others.
Plus, I am a Noticer.
If you are not familiar with that term, it is from a book by Andy Andrews: The Noticer: Sometimes, all a person needs is a little perspective.
The author shared this about his lead character:
"You see, Jones called himself a Noticer. He'd say 'When God was passing out talents, I didn't get any of the cool ones. I can't run fast, I can't sing great, but I notice little things that make a huge difference in people's lives.' And true enough, when I was close to giving up, he taught me to look at what usually gets overlooked: the small stuff. The very important little things of life."
I am just like Jones. Well, except I used to be able to sing quite nicely until that incident in the emergency room, but that's a story for another day.
As a result of applying what I've learned, I've been joyfully married for over 30 years and have two adult daughters who are now friends. My husband and I were fortunate to work side by side for more than half our marriage with my six siblings and my parents. All of us are not only still speaking, but we regularly get together and enjoy one another's company.
My husband and I also found our way to church, and much to our surprise, to a relationship with God that supports, encourages, and embraces us in a way we never even realized existed or was possible. While you may not see my faith explicitly spelled out in my writing, it's a strong and vibrant foundation of my life.
Between our experience and feedback from others, I know these ideas will help you find uncommon joy in the everyday if you put them to work for you.
I invite you to join me now.
These insights will change the way you think, relate to others, and share your love, ideas that can dramatically shift your perspective about life in general.
You can sign up in that gift box at the upper right of the page
to receive my posts and other occasional writing  straight into your inbox.
You won't even have to put on your slippers to go out and see what tasty tidbit has arrived!
As a thank you for subscribing, I have free e-book for you, Practicing Gratitude and Discovering Joy-30 Days to a Happier You!
If this is your first visit, I would suggest a few of the following posts to start.
Gratitude. It's as basic and important to joy as food to a meal.  Gratitude, Shmatitude
Joy. The secret? It's not all about you.  Discovering Joy: It's up to you, but not about you
Perspective. A different point of view can lift you from anger to compassion in a heartbeat.  You are not the Target: 12 Secrets to deflecting life's slings and arrows
Fear. If this loud little guy is barking at you, here's some help.  Dear Chihuahua of Fear
Encouragement. We all need some.  Dear Weary Mom: Hang in there!
Personal growth. Will Rogers said it best: Even if you are on the right track, you will get run over if you just sit there.  The importance of stretching your comfort zone
Honesty. Because I am so far from perfect.  Mrs. McJudgypants goes to Allume
Humor. There's so much joy in being able to laugh at ourselves.  The Parable of the Traveler and the Coin Operated Bathroom
Please don't be a stranger! Drop by, share your thoughts in the comments, or send me an email at kim at too darn happy dot com.
I look forward to getting to know you!