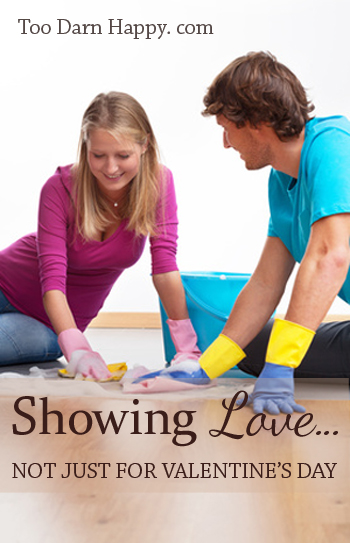 Did you know Valentine's Day is right around the corner?
Oh, right, you probably do, given the constant barrage of guilt-inducing, wallet-breaking, comparison making advertisements that are absolutely everywhere you turn.
My hubbie knows too, but he won't be getting me anything for this red letter holiday.
I know it's possible when you just read that, the following thought crossed your mind:
Of all the crummy, thoughtless things…the cheapskate can't even take the time or money to recognize how much his wife—Miss Too Darn Happy—means to him?!
Before you judge my dear hubbie, let me explain.
I agree with him.
I have been blessed with a man who cherishes me all year round, who loves me in spite of my imperfections, when I feel unlovable, and in my selfishness and impatience.
Notice I did not say that he loves my imperfections and all those other not so adorable traits.
I will take that any day over a husband who thoughtlessly wanders through 364 days, then scrambles to show HOW VERY MUCH HE LOVES ME for a few short hours.
I will take that any day over being a wife who waits and plots, ready to pounce on February 15, to JUST LET HIM KNOW HOW MUCH HE LET ME DOWN ON THIS SUPER IMPORTANT DAY WITH HIS POORLY CHOSEN GIFT/LACK OF GIFT, AND HE CAN COUNT ON ME THROWING IT IN HIS FACE FOR THE NEXT YEAR.
Good luck with either of those scenarios.
Is it any wonder that he retreats to his den, his buddies and his sports?
Is it any wonder she retreats to her kitchen, her friends and her hobbies?
A husband may think that lavishing roses, candy and jewelry on his dearest in a single day will make a relationship just peachy all year round.
A husband may not be able to figure out how to love his spouse because rather than showing him the way, she spends her time making him jump through hoops.
A husband may have given up helping around the house because his wife criticizes and re-does everything he was told asked to do.
The secret is a husband and wife need to communicate.
Really, truly communicate.
Start with learning your love languages and figuring out ways to bring a smile to your beloved's face. Sometimes it's as simple as a sticky note on the mirror, bringing home a sweet treat or offering to take the kids to the park so she can have a few moments to herself.
Check out the resources I listed in this post to jump start your communication.
Dustin at Engaged Marriage has lots of help available for you, too, right here.
Ask your spouse what it is that you do that shows them you love them.
Simply. Lovingly. Calmly. With curiosity.
Commit to random acts of love and kindness throughout the week, the month, the year.
Even if your spouse doesn't.
Even if they say don't bother, that it doesn't matter.
It does.
To you.
To your kids who are watching.
To your spouse, even though they say it doesn't.
Because showing love isn't just for Valentine's Day.
However, if you'd like a refreshing perspective for ideas on celebrating the holiday, I've got you covered:
5 Tips for a Delightful Valentine's Day
If you want your marriage to be a relationship like no other you have to treat it like no other.  ~Craig Groeschel‬‬‬
Comment: What is one action you can take today to show your love?
Did you enjoy this article?
Sign up for updates and get my FREE ebook: Practicing Gratitude and Discovering Joy

Just imagine. . .Responding with gratitude rather than grumbling, and enjoying more happiness and contentment. And rest assured I won't share your address!