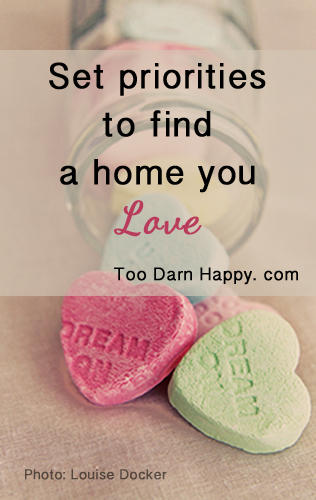 There is nothing like selling your house and moving into an apartment to make you grateful for home ownership:
The tiny freezer that didn't allow us take advantage of sales.
Laundry that cost $1.25 for each small load to wash and then dry.
Car headlights that shone into the bedroom windows of our basement level apartment.
Let's just say that as young lovebirds, living in our first apartment was so romantic.
I would say not so much this time, thirty-one years later.

To catch up my new readers—welcome to the Too Darn Happy Cafe!—my hubbie and I finally pulled the trigger on moving from New England to Tennessee about seven months ago.
We agreed that we would become apartment dwellers so we could become acquainted with the area before buying a home.
We knew that sleuthing out a deal would take time, especially since we had set a low budget but hoped to buy a lot of house, and were determined to stay completely debt free: no mortgage, student or other loans, credit card debt, etc.
I thought it would be helpful to share how setting priorities helped us find a home we love.
Setting our priorities
Since this was our fifth time buying a house, we were taking all of the stupid things we'd done of the lessons we had learned and were going to apply them.
Here are the highlights based on those lessons and the life we wanted to live:
Since we now love budgets, we set an absolute top dollar for purchase and/or renovations to make the property move-in ready.
We wanted a welcoming space for our family and friends to visit.
We wanted a home that would be easy and relatively inexpensive to heat, cool, and maintain, and that would hold or rise in value.
We were excited about living in a neighborhood, but wanted at least 1/2 or 3/4 acre plot.
The surrounding streets needed to be safe and enjoyable for walking.
We wanted to move out of our apartment at the end of our six month lease.
Most importantly, we agreed we would NOT become emotionally attached to house prior to purchase: We would keep our Walk Away Shoes on throughout.
The search begins
We arrived in Knoxville at the end of August, and within two weeks I started our search.
I devoured every article I could locate on buying wisely, frugally and well.
At the same time, I also ramped up my knowledge of the area and about how properties were different here than in the northeast.
I immersed myself in thrift store shopping for homes, otherwise known as the foreclosure market.
Just FYI: Be forewarned if you are shopping for a house and are considering foreclosures, understand that they are a completely different breed from standard homes.
You need to really educate yourself and have a realtor/broker who knows their way around foreclosures.
Within a couple of weeks we found a possibility: a foreclosure in excellent condition, priced $25,000 below market value. Yippee!
We looked at the house, and the next morning we requested a second showing.
But, the house had sold overnight, which was just as well, because it was on a very, very, busy road.
We had ignored one of our lessons already in our pursuit of a low price. 
The search continues
I discovered there is a wealth of information available on neighborhoods and individual properties if you know where and how to look.
When I found a house that appeared promising, I would run it to ground, as we said.
For instance, we liked a house that backed up to a large wooded lot—privacy, yay!
Then I discovered the owner of said lot also owned a large apartment complex of questionable character that adjoined the wooded lot, that appeared perfectly sized for an additional strip of apartment buildings.
We didn't bother with that property.
We found another foreclosure, though, and fell in love.
Through the mess we could see a real gem.
We drew up a new kitchen, designed a beautiful screened-in porch, and worked on other plans.
It went off the market before we could even bid, and then came back on.
We made a low offer, which was accepted, and we moved on to the home inspection.
Mentally, we had already moved in and were enjoying sweet tea on that delightful porch.
However, the inspector found a structural issue that was a deal-breaker, and we let the house go.
It was a real struggle to come to that decision.
We fell in love with the house before purchase, which made it very difficult to make the right decision to walk away.
We grow impatient and proud
We became frustrated with the search, and our pride started to rear its ugly head.
While properties are less expensive here than in New England, our budget was still smaller than the house we wanted.
When we'd find a home that was a bargain, we'd get substantially outbid by someone else.
We started to talk about borrowing just a bit, to take us up that extra notch to where we could be the top bidder on a nice home.
But when we took the long view and leaned on our Why Power, too, we held the line.
Because of impatience and pride, we considered breaking our "unbreakable" rule of never taking on debt again.
Reality slams into decision-making
Because we were paying for an apartment, every month that passed beyond our original lease meant money was spent that could be used instead towards something else.
We decided it was less painful to change some of our criteria rather than staying in the apartment for an additional six months or more.
After going back over our list, we dialed down both the size of the house and acreage to something we could be comfortable with while still holding the line on our budget.
When we recognized that what we were doing wasn't getting us where we wanted to be, we changed what we were doing.
Prayers get answered
We started praying for our new home in Tennessee more than a year and a half before we arrived in the state, and continued to do so throughout the search.
I'm embarrassed to say we got impatient and weren't trusting that we would find a house we loved within the boundaries we set, which was when we would fall into the let's just take on a small mortgage trap.
Then we'd take a deep breath, remind ourselves of how much freedom there is being debt-free, and continue to do the hard work of searching.
One afternoon, we drove back through a neighborhood we really liked to check out a house.
As we stood on the edge of the lawn admiring the home, I noticed a neighbor in a nearby yard.
He waved, and I waved back.
Of course, I went down to say hi and to see what he had to share about the neighborhood.

Larry was a sweetheart and was full of great information.
He pointed to the next house below him and asked if we had looked at it.
"The owners took real good care of that one. It's a nice house."
He was indicating a house we had written off previously because the lot was too small.
That was before our re-adjustment of priorities, though!
We ended up looking at the house the next afternoon, and put an offer on it shortly thereafter.
While we didn't get the bargain of a lifetime, we got a house we love for a good price.
God answered our prayers in ways we couldn't even foresee.
We can watch the sunrise over the Smoky Mountains from our front porch.
The neighborhood is a nice loop almost a mile around, and there is a nearby walking trail almost three miles long.
Although we've only been here a few weeks, and still aren't completely unpacked, we've had friends and family over, and met some of the nice folks  in the neighborhood.
Life is good.
We had never made a plan, worked our plan, and stayed true to our plan like we did this time.
Setting priorities helped us find a home we love and can live with, and it can help you, too!
Question: What advice would you offer about setting priorities for buying a home you love? 
Sharing at Let's Get Real,
Photo credit: Louise Docker
Did you enjoy this article?
Sign up for updates and get my FREE ebook: Practicing Gratitude and Discovering Joy

Just imagine. . .Responding with gratitude rather than grumbling, and enjoying more happiness and contentment. And rest assured I won't share your address!