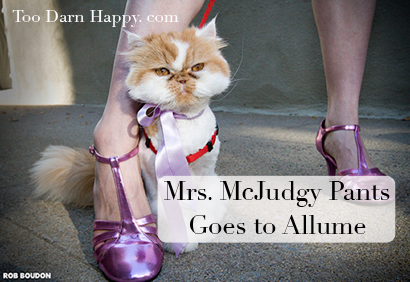 Have you ever traveled somewhere wonderful and discovered you brought along an uninvited and unwelcome guest?
Last week when I packed for Allume—a conference for 450 Christian women bloggers—I had no idea Mrs. McJudgy Pants had come along for the ride.
No wonder my suitcase was so heavy.
Mrs. McP didn't make her appearance until I was choosing my Saturday morning session.
Well, I didn't notice her until then. . .
I stood still in a river of women, their excited words tumbling over and around me as they headed for their presentations.
I glanced over my program, checking one final time to confirm there was nothing that was a must-attend.
The peace and quiet of my room was calling, and I was ready to answer.
I headed for the elevator and was surprised by a nudge.
I ignored it and was nudged harder.
Kim, you need to go to that Art session.
Are you kidding me? Did you see those words?
Alchemy
Art
Avant-garde approach
Yeah, those are such a match for this gal who wears white senior-citizen shoes, has little fashion sense, and really dislikes modern art.
Did you see her picture, for goodness sake?
She has a Mohawk. 
A tall ridge of spiky, bright blond hair.
And she's an Artist.
I'm sure she has nothing for me. . . Mrs. McJudgy Pants said.
A final nudge changed the direction of my footsteps towards Ballroom H, and I relented with a defiant Fine, I'll go.
Imagine my surprise and embarrassment when presenter Erika Morrison captivated me with her words, especially this:
 Art is your soul outside your body.
She shared a perspective I'd never seen and brought me to tears telling a story of a hard mama moment.
You know, one of those times we all have, when you wish those kids would listen and change their behavior.

Because it certainly is never us that needs the changing.
When the session finished, I went up to Erika and confessed how I came to be there, and shared how enjoyed her message and how grateful I was for this fresh new view.
Thankfully, she was as graceful as I had been McJudgy.
Perhaps instead of speaking words of
peace and tolerance
grace and forgiveness
getting along and being understanding
but then behaving like a Mrs. McJudgy Pants, we need to recognize that annoying persona may actually stand in the way of an idea, a solution, or a friendship.
We all don't have to be best friends, but we need to be willing to put our best foot forward together every day.
Care to join me?
Question: Have you struggled with being a Mrs. McJudgy Pants? I'd love to have you join the conversation!
PS-I'd like to thank my dear new friend Miriam for calling me out as a McJudgy Pants when I told her how I ended up in the session with her and Molly—another great new friend—when I had already told them I wasn't going.
Did you enjoy this article?
Sign up for updates and get my FREE ebook: Practicing Gratitude and Discovering Joy

Just imagine. . .Responding with gratitude rather than grumbling, and enjoying more happiness and contentment. And rest assured I won't share your address!