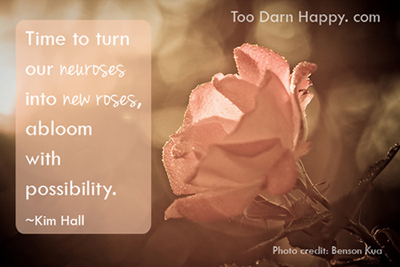 Let's see a show of hands: Who wants to go to a gathering of hundreds of strangers, where you don't know anyone in real life, many who are more accomplished in their careers than you, have more friends, are more famous, well-spoken, fashionable, thinner, and especially aren't just so darn plain-Jane average like you?
Nobody?
We carry our neuroses like a little girl clenching her bouquet of wilted wildflowers, don't we?
We pull the petals off one by one, and rather than asking Love me, love me not, we recite the ways we are unlovable and unworthy.
I attended the Allume Conference recently, where I was awash for the first time in a sparkling sea of hundreds of talented, Christian women bloggers.
I went in spite of my fears—see that list above—and came away changed and encouraged, with a smile that was permanently plastered on my face.
I learned that really getting the most out of Allume, or any other gathering in life, really learning to discover joy right where we are, is that it is up to us, but not about us.
What I mean is that we need to make the effort, to step out of our comfort zones, to move when nudged, to open the doors to our hearts, and to put ourselves in a position to help others.
It is when we truly take interest in others, when we make it about someone else and not us, that our worries—our neuroses—bloom into new roses.
Only then do we discover the joy in our own backyard as we receive and are blessed beyond measure.
Following are the actions I took, and I recommend them highly to get the most joy out of wherever you are, whether in a conference of hundreds or with an audience of one.
Be yourself.  I know, you've heard it before, but you can't hear it often enough. Nobody likes plastic, pretend, pretentious perfection. Give it up, write or do what you do from where you are, and be uniquely you. It fits and feels as comfortable as your favorite old jeans, and is way more comfortable for the long haul.

Be open.  To meeting others, to new ideas, to fresh perspectives. You won't click with everyone or everything, but your world be expanded in wonderful ways nonetheless. Steer clear, too, of being a Mrs. McJudgy Pants. This means being accessible, too, to those who aren't as far along their path as you, whether they are bloggers, first-time mommies, or the new face on the block.
Step out of your comfort zone.  Walk across the room to greet someone who is alone, go to a session to hear a new point of view, invite folks you've just met to share a meal. Believe it or not, I am basically shy. It is very difficult for me to walk up to people I don't know and start talking, but I did it anyway, a lot.
Thoughts like these enter uninvited into my head: Will they like me? Will they think I'm overbearing? Will they discover I can be pretty socially inept? Will I discover later I had lettuce stuck between my teeth? Stretching the boundaries of your comfort zone is as satisfying as having a maternity panel in your fashionably snug-fitting pants after a three day conference with great food. They'll both give you more space to breathe, trust me.
Share your space.  From a conference perspective, take in an additional roommate or two. Just FYI, I'm walking the talk, here ladies. I have never had a roommate at a conference other than my hubbie. This time I had three roommates, who I had never met in person, in a small room with two double beds. One of the absolute best decisions I made—well, my original sole roommate and I made—even though it was made with fear and trepidation, as I now have three new dear friends. Plus, it gave all of us a room and more space in our budget. From the home front perspective, invite folks in for coffee or a meal,  for some relaxation and conversation, or even for an extended stay.
Share yourself.  Offer your work and your words when they can encourage or inspire. Step up to that open microphone and read your Five Minute Friday loud and proud, or share a post that helps us recognize we are more alike and less alone than we realize. We were moved to tears and laughter, and understanding and compassion listening to other moms sharing themselves and their lives. You never know who needs to hear what you have to say, whether from the stage or in the supermarket checkout line, even if it's about your child refilling your drinking glass from an unlikely source.
Look for ways to connect others.  Careful: I'm not saying connect with others, I'm saying you need to connect others, just like you put two matching puzzle pieces together. This was a common refrain at the conference: "Oh, you need to meet so and so! You two have so much in common!" Whether we are a military, special needs, empty nester, working, stay at home, or any other kind of mom, we need each other to discover the joy in both the hills and valleys, encourage one another forward, and especially to understand we are not alone in our journey.
That's all for the moment. I'll share the rest of the list in my next post. You can now read it here. If you're not a subscriber, sign up for updates below. That way you'll never miss a post!
In the meantime: I encourage you to turn your neuroses into new-roses, abloom with possibility. (Like it? Tweet it by clicking here.)
Question: What action will you take this week? Please share in the comments, as you never know who might need to hear your words! If you think a friend might find this useful, use the share buttons below. Thanks!
Sharing at Finding Heaven
Did you enjoy this article?
Sign up for updates and get my FREE ebook: Practicing Gratitude and Discovering Joy

Just imagine. . .Responding with gratitude rather than grumbling, and enjoying more happiness and contentment. And rest assured I won't share your address!
Original image credit