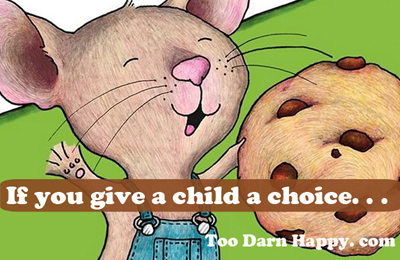 When was the last time you read the delightful children's book If You Give a Mouse a Cookie?
If you need a refresher or synopsis, the story revolves around the "what if" of giving a mouse a cookie, and the humorous consequences that just don't stop, ultimately leaving the youthful main character exhausted on the floor.
We loved that book and laughed over it countless times.
But the joke was really on my husband and I.
We never recognized we were the tired little boy, endlessly reacting to the consequences of our children's choices. And to be perfectly honest here, I have to admit to expressing no small amount of anger and irritation rather than the grace and goodwill expressed by the little boy.
These trying times would peak particularly when our daughters dilly-dallied on school mornings, creating tears and tantrums.
However, when my husband and I became aware of how we were contributing to the problem and then discovered a solution, boy, did our mornings change for the better!
We hadn't set expectations
There was no real structure in our mornings other than everyone was supposed to be dressed before we headed out the door. (Focus on the important, right? :-))
We hadn't established or communicated any real guidelines for being prepared or eating breakfast, either, although we did draw the line at candy, cake and cookies.
What we had was a wealth of opportunities for us to get irritated with each other for unmet expectations:
Alexis and Leslie, surprised and angry that I was yelling at them for "no reason".
Me, feeling irritated and disrespected because my little girls weren't reading my mind and didn't feel the same urgency to be as punctual as I did. Plus, I was being tag-teamed because Keith went to work hours before I did.
We didn't allow natural consequences to occur
For some reason, we thought that yelling at our children would encourage them to make better choices. And that the louder we yelled, and the more things we took away, the more valued they would feel as individuals.
Funny how that didn't work.
What we didn't realize was that we were working frantically to keep our kids from experiencing the consequences of their behaviors.
We needed to let the consequences be the teacher
Through attending a parenting class, Keith and I were introduced to the book Positive Discipline, written by Jane Nelson. This book had solid, actionable ideas to help us better parents.
We agreed that first we had to make some changes, starting with keeping ourselves cool, calm and collected at all times when dealing with our little lovelies.
The thought having the same miserable mornings over and over again was far more painful than the thought of changing, so we were all in.
We created the framework for success, and so can you
1. First, three critical points:
We were serious about changing how we responded to our children (yelling vs being calm). Obviously, if they were headed into immediate physical danger, we would have gotten their attention by any means necessary.
We stood in unity with each other. Period. Kids detect and exploit dissension better than bomb detectors locate and dispense with explosives.
We were warned they would probably test our resolve by escalating behavior in an attempt to keep things the same, whether out of familiarity or out of a sense of maintaining control. Our job was to weather the storm.
2. We decided on one really troublesome area—school mornings—and put our focus there.
3. We formulated a framework within which the girls could make choices and experience related, reasonable and respectful consequences. No gloating, no vengeance, absolutely no I told you so's on our part, just a loving and calm response.
4. We chose a quiet time to sit down with our daughters to ask how they liked mornings. They didn't. Color me surprised that they didn't like the raving banshee their mom turned into each morning.
5. We asked if they would like to have happier mornings. They did.
6. We outlined our plan and explained they were in charge of their choices, but would experience consequences:
They could choose to eat or skip breakfast. If they skipped, they would eat at snacktime at school.
They could choose to have their school bags packed and ready or not. If they chose not, they were choosing to leave their work and supplies at home.
They could choose to get dressed or not. If not, I would bring clothes for them to daycare, where they would change out of their pajamas. (This made them giggle. "Really mom? Not get dressed?" "Yes, girls. You choose.")
They were very enthusiastic, especially because of the promise of no yelling and the increased freedom and power to make choices.
7. To check for clarity, we asked them to explain back to us in their own words how the plan was going to work.
8. We told them we would provide any help they needed with packing, dressing, etc., set a date to start, and finished up on a positive note.
I'd like to tell you that it was all unicorns and rainbows after that, but it wasn't.
Although our oldest had whole-heartedly agreed to the plan, she decided to test me.
To see how it all turned out, check out the video below. My now grown-up and married daughter and I talk about that morning from two decades ago, share a few laughs and pass on some insight.
At the end of the day, we know that all behavior has consequences especially because we have been on the receiving end of them—good and bad—our whole lives.
When we don't allow our children to experience them, we are doing a tremendous disservice.
I encourage you to use this information to not just create a calmer life at home for your entire family, but to ultimately grow up more responsible members of society.
You just have to remember when you give your child a choice, just be sure to include the all-natural sides of both sweet and sour consequences.

Question: Do you have a rough area you'd like to smooth out in your home? How can we help?
P.S. This is my very first time vlogging, and I apologize for the dark video. It does get lighter further along, so thanks for understanding.

Sharing at NOBH, The Better Mom, Writing Wishing, Finding Heaven, PYHO
Did you enjoy this article?
Sign up for updates and get my FREE ebook: Practicing Gratitude and Discovering Joy

Just imagine. . .Responding with gratitude rather than grumbling, and enjoying more happiness and contentment. And rest assured I won't share your address!
Image from the cover of If You Give a Mouse a Cookie