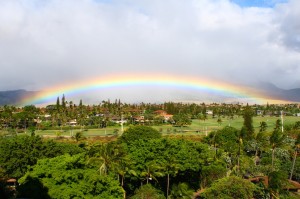 When I was a youngster, my dad played the guitar and banjo, and was sometimes joined by a friend who played as well. I always enjoyed listening to them, and was inspired enough to pick up the guitar. Occasionally, when I was a bit older, I would even sing out at public venues with a friend who was a much more accomplished musician than I. (We did get "Gonged" once in a contest, but that's an embarrassing story for another day.)
Fast-forward many, many years, and much gathering of dust on the instruments.
Dad heard the siren call of the music and he soon found himself "pickin' and grinnin'" again. A couple of family members and friends would join him to strum a few tunes, and those small gatherings have now blossomed into a tradition of an official weekly Jam Night, replete with a full blown studio, which includes two mixing boards, sizeable speakers and microphones for all. There is no audition required; just a willingness to join in, play, sing and have boat loads of fun, as our relatives this past weekend enthusiastically discovered.
My daughters and I-while we can respectably carry a tune-regularly massacre a song my oldest has nicknamed "Somewhere Over the Train Wreck". Our entrances are untimely, our "oohs" are wobbly, and we jump octaves in mid-song. I'm sure Dorothy is weeping copiously into Toto's fur somewhere, murmuring, "There's no place for amateurs, there's no place for amateurs".
However, we have fun. We laugh, we joke, we sometimes sing off-key and play the wrong chords. There are times we sound pretty good; we have noticed an improvement since we started. Ultimately, though, Jam Night is more about enjoying ourselves and being ok with our own imperfection.
Do you tend to be really hard on yourself? Perhaps it is time to lighten up, laugh a little more, and accept that it's ok to be a work in progress, somewhere on the path between the train wreck and the rainbow.
For your listening pleasure, I have posted the video of "Somewhere Over the Rainbow/What a Wonderful World", by Israel Kamakawiwo'ol, the version to which my girls and I aspire. Enjoy!
Question: Do you have a special family tradition or event?
Did you enjoy this article?
Sign up for updates and get my FREE ebook: Practicing Gratitude and Discovering Joy

Just imagine. . .Responding with gratitude rather than grumbling, and enjoying more happiness and contentment. And rest assured I won't share your address!