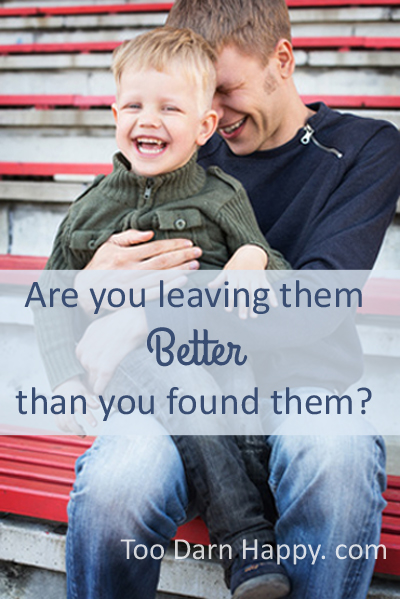 I had A Moment yesterday.
You know, one those times when someone shares a bit of insight that absolutely rocks you back on your heels.
Mine came as I was listening to our pastor preaching on the mystery of marriage.
He shared about a bit of advice he received when he introduced his (hopefully) future wife to his grandfather.
The message from his revered relative was short, sweet, and simple:
Leave her better than you found her.
Let that soak in for a moment:
Leave her better than you found her. 
The implications of that left my mind working overtime.
Rather than seeing myself as a wife who does her best to give her best, my perspective shifted and the gears started turning:
How can I leave my husband a better person than I found him after a poor night's sleep or longing for a more meaningful career?
How can I leave my children to be better than I found them as they struggle with the challenges of growing up?
How can I leave my extended family, friends, and others with whom I come into contact better than I found them at work, school, or behind the counter of the local coffee house?
Let that soak in for a moment:
Leave them better than you found them.
What does that look like?
For some launching off points, I return to Brad's message:
Do you saturate your marriage and family with grace and forgiveness?
Do your children feel the safe embrace of your love?
If you were on the receiving end of your behavior, would you feel cherished and treasured?
Would you flourish and blossom under your hope and encouragement?
Would you know and believe in your beauty and worth even at your worst moments?
Would you be joyful in your very presence?
If the answer to any of these is anything but a resounding "Yes!" I would start looking for ways to lavish your loved ones with love, to leave them better in the mornings, evenings, and every waking moment in between.
A heartfelt recommendation: Watch the original message in Brad's sermon yourself, as it is tremendously powerful and full of hope whether you are single or you've been married for years. It is well worth your 38 minutes: What is the mystery of a great marriage?
Comment: How do you leave them better? I look forward to your thoughts!
Did you enjoy this article?
Sign up for updates and get my FREE ebook: Practicing Gratitude and Discovering Joy

Just imagine. . .Responding with gratitude rather than grumbling, and enjoying more happiness and contentment. And rest assured I won't share your address!