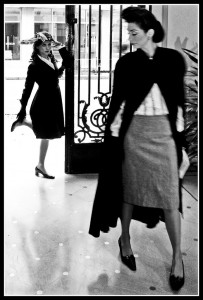 There once was a widow who believed each person had a finite amount of love to share.
She had a son who adored her, who had moved in with her so she wouldn't be alone.
One day, when this caring man had passed his fortieth birthday, he met a woman who swept his heart away.
Years passed, and their loved deepened.
The son told his mother he wanted to marry.
His mother believed  if her son married, his love for her would shrink, because love was available in a limited supply.
So, she responded her voice full of hurt, "You'll kill me if you get married, for I will die from lack of love. Do you want to be responsible for my death?"
Taken aback, the man responded, "Absolutely not!" and dropped the idea of marriage for the time being.
A decade passed, and although the subject was broached several more times, the response remained the same.
The son, still desperately in love, told his mother he would not move after marrying; he and his bride would both stay with her.
She refused, knowing there was not possibly enough love to go around, and told him she just couldn't live with another woman in the house.
Although the son and his beloved continued to see one another, his body couldn't handle the stress of a broken heart.
He passed away before he turned sixty.
And his mother was left all alone.
~~~~~~~~~~~~~~~~~~~~~
Sad to say this is a true story about a long-ago, distant relative, a tragic tale of a mistaken belief and unrequited love.
I hope as you have read this you, too, have been shocked at the idea that a person could view love as a finite commodity.
After all, love is not like a loaf of bread that can be cut into just so many slices.
Love is the sweet yeast of life that grows, multiplies, and blesses us all. (Click here to tweet this!)
That being said, a splinter of that limiting belief may have worked its way into your heart without your realization.
The symptom might be annoyance at your husband's close relationship with his buds, or resentment at the new beau in your best friend's life.
When you dig down below the hurt, you may discover a fear that there just won't be enough love for you.
Don't let that minor irritation grow into something major that infects your relationships, especially something that comes between you and your spouse.
Remember what it says in 1 Corinthians 13:4-8 (NIV):
Love is patient, love is kind. It does not envy, it does not boast, it is not proud. It does not dishonor others, it is not self-seeking, it is not easily angered, it keeps no record of wrongs. Love does not delight in evil but rejoices with the truth.  It always protects, always trusts, always hopes, always perseveres.  Love never fails.
Love will never fail. It is available in abundance, and the more you give, the more there is to share.
I invite you to read a previous post, Love by the book , based on the above verse, to inspire and help you strengthen and/or rebuild your relationships.
Question: Do you believe that we each have only a finite amount of love to give? Have you been the recipient of love given freely and abundantly? Thanks for stopping by, and please jump into the conversation. We just love to encourage and help each other here!
Sharing at NOBH, Better Mom, Finding Heaven
Did you enjoy this article?
Sign up for updates and get my FREE ebook: Practicing Gratitude and Discovering Joy

Just imagine. . .Responding with gratitude rather than grumbling, and enjoying more happiness and contentment. And rest assured I won't share your address!