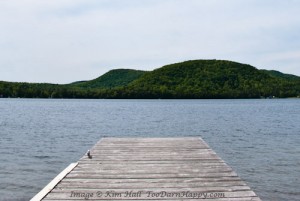 "I see the lake, I see the lake!"
Every year, my six siblings and I would crowd and elbow one another as we jockeyed for the coveted spot in the Volkswagon bus so we would be the first to see Shadow Lake as we drove the final stretch of narrow, winding road to my grandparent's summer camp.
In an instant, the interior of the van would be rocked by our near simultaneous caterwauling. "I saw it first!" "No you didn't; you yelled before you even saw it!" "Mom, Dad, he/she cheated!"
Honestly, I don't know how my parents still function as wonderful and reasonably normal human beings.
For decades, we made that annual three hour trek to our beloved 4th of July reunion at Camp C'est La Vie.
In a van with seven kids. Before safety belts and the interstate highway, and DVD players, iPhones,  iPads and Nintendo handheld gaming systems.
Back then, we would amuse ourselves by making a game of counting the animals on our side of the road, which inevitably ended in arguments as well: "Ha ha! I'm going to win! I just counted 112 cows." "No!! Cows don't count!" "I just saw a white horse-25 points for me!" "You did not. You are such a liar! The only white horse is at that barn by the camp, and it will be on my side this year."
When we tired of that fun activity, the only other pastime was to pick on each other until the one or more of the siblings hissed, "I'm telling!"
And so it went until our parents threatened to turn around and drive back home.
Ah, the good old days.
In our defense, the VW Bus was designed for bickering. There were no restraining devices, and my parents had removed the middle bench. It was almost like having a mobile wrestling ring where we could irritate play with one another.
Once we arrived at camp, the van would barely come to a stop. Whoever was closest to the door would quickly slam it wide open. A seemingly endless parade of kids would tumble out, much like the clown cars from the circus, and we would all run for the beach out front.
There was just so much to enjoy: big, soft hugs from the grandparents, yummy and seemingly endless snacks of cheese and crackers and veggies and chips and dips, the warm and sandy beach, and of course, the lake.
We'd swim and play until our lips were blue and our teeth were chattering. We'd run out back to the lawn where the sun would thaw our chilly limbs. While we were there, we'd check the progress on the homemade ice cream. We'd dip our feet in the small bucket  of water to clean off the sand so we could zip back inside for a bite or two, and then head back out, slamming the screen door behind us, to play croquet or horseshoes, or build castles in the sand.
I can still hear the slow, grinding grrrrrr of the underpowered electric motor struggling under the weight of the roast my great uncle would proudly cook every year. I can see my grandfather and uncle  tending the grill, carefully watching over those sizzling hamburgs and hotdogs. Inside the camp, I can smell the familiar aroma of my gram's homemade potato salad, and my mouth waters at the bounty of it all.
After a satisfying lunch—the only time we would sit still and be quiet—my uncle would carve large wedges of ice cold watermelon that had been cooling in the tiny stream that ran right alongside the camp into the lake. If we were feeling brave, we'd jump in, only to holler in shock at the arctic temperature, and jump right back out again.
Although the day had to have been a long one for our parents, it was just never long enough for us when we were little kids. There was always just a little more ice cream and fresh strawberries to be eaten, and  just one more jump off the dock into the lake.
The day, however, would eventually come to an end. We would pile into the VW, tired, sandy and worn out, and would spend the ride home reliving the highlights of another marvelous holiday.
We grew up, my grandparents grew older, and there came a time a few years ago when those days at the lake were no more.
Camp C'est la Vie—This is the life!—had lived up to and beyond the name my grandparent's bestowed upon it.
I am so grateful for our tradition of spending the Fourth at the camp and hold those memories especially dear.
As I wrote previously:
Traditions give us a sense of joy and belonging . They create stories that never grow old in the re-telling. We share them with one another and also with the younger generation, eliciting much laughter and shaking of heads. These traditions were ours for a season, to be enjoyed for the sweet, sweet time they were part of the rhythm of our lives.
The message I share today is a simple one: Traditions don't have to be large, grand and expensive  to be memorable. Just love, be good to and have fun with your family. Realize there is happiness right where you are. Find joy in the simple things.
Ecclesiastes 3:12  I know that there is nothing better for men than to be happy and do good while they live. (NIV)
Thank you so much for joining me and everyone else here, and I hope you've found inspiration and encouragement. I invite you to join the conversation today, especially if you've been hanging back. The waters fine, and everybody's just so sweet!
Questions: How do you spend the 4th of July? What traditions and memories are you creating with your family?  What is your favorite activity for the 4th?