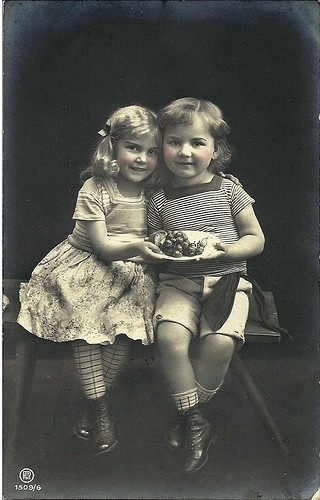 "Hello! How are you?" you ask your friend, and again, she insists on brightly answering "Ok!" while you can see the worn out and tired of worry in her eyes.
You know she is not being honest, but in lieu putting her in a headlock until she cries Uncle!, you just don't know what else to do.
Instead, you perform the old "Let's pretend" two-step, where you each act as though you are trouble-free, tap dancing your way around the truth.
*Sigh*
Aren't there times you just want to gently grab your friend by the shoulders, look her in the eye, and say, "Listen! I know you are weary/hurting/fearful/broke/in pain. You aren't alone. Each of us has problems. We are all very often overwhelmed. None of us have perfect lives. It is actually a sign of strength to allow someone to help. Let me help you!"
There are better and less confrontational ways to help your friend.
Let your friend know you aren't just being polite.
Ask "How are you?" like you really mean it. If you get a standard, mildly chirpy "fine!", ask again: "That's not a stock question. I really want to know how you are." Then just be silent and give her time to respond.
Give her the space to share.
Let  her know you are ready to listen. Then, be quiet and listen. Interrupting her, talking over the end of her sentences, or hijacking the conversation by telling her how your experience was much worse will not help her feel at ease. Neither will playing with your phone or doing other types multi-tasking. Resist the temptation to jump in and offer solutions because you have sized things up and assume you have the answer! Instead, give your undivided attention: ears open and lips closed.
 Be helpful, not judgmental
The last thing your friend needs is for you to come down on her for some behavior she is embarrassed about, whether it's over spending, lackluster housekeeping, misspent time, or whatever it is that is causing her stress. She has compared her inadequate personal efforts to her skewed perception of her friends' lives, and has judged herself as being severely lacking. So once she gets going, let her ramble, rant, and rave until she runs out of breath and words.
When she stops, give the silence a a little time to make sure your friend is set for the moment. Restate what she has said so she knows you were listening: "I can hear that you are upset/worried/concerned about/because/due to whatever it is that concerns them. If your rephrasing is incorrect, your friend will let you know. If you are on the money, she will agree. Ask open ended questions beginning with how or what. For example, one of my favorites is to start a question with this phrase: Well, what would have to happen for. . .? It is a powerful question that puts the person into a problem solving frame of mind.
Your friend may just need to be heard
Just to be able to speak concerns out loud and expose them to the light of day can provide wonderful relief. Your simple act of listening, sharing your empathy and possibly even some laughter with your friend may be all she needs at this time. You can ask if she would like you to just listen, or if she'd like some help figuring out ideas to get through the current challenges. Your friend may be overwhelmed by the current level of needs in her home, so the situation may automatically call for more action than listening.
Your friend needs concrete offers of help
Your friend may be in a situation where there is an immediate, shorter term, visible need, such as from a birth, an accident or illness. It may be a case where a family member has a chronic disease, or there is a child with special needs.
Whether the needs and challenges are short or longer term, hopefully you will  have picked up some ideas from listening so closely. Do not ask the open ended question "What can I do for you?" or say "Just call me if you need anything!" Instead, give your friend a couple of choices, such as bringing over a meal or driving the kids to practice, and ask which would be more helpful.
You can offer to grocery shop, to mow the lawn or to come over and take care of the kids so she and her husband can get some needed time away. You could help the children with their homework or take them to a park or to the beach. If you are visiting, you could offer to help pitch in with the chores, such as doing dishes or laundry. More hands—and good company—does make lighter work, after all!
As moms, we tend to be far more willing to give assistance rather than to be on the receiving end. Guilt, pride and a strong streak of independence keep us from admitting our need for help and to opening the door for our friends to step inside to lend a hand and some comfort to our weary selves. Today, instead of pretending, contact a friend to see how you can help, and follow through, or if you are called, accept the offer with grace.
Philippians 2:4 Let each of you look not only to his own interests, but also to the interests of others. (NIV)

Help us help one another. How have you been able to reach out to a friend in need? What was something a friend did for you?
Sharing at No Ordinary Blog Hop, Better Mom, Finding Heaven
Image credit- Cheryl Hicks via Flickr