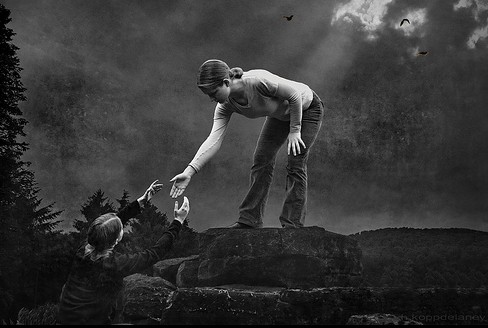 Polite society demands that when we run into a friend, we ask how they are doing.
Polite society then requires our friend to respond with a short and sweet, and often untrue, answer.
What good does that do any of us?
If we are not willing to open up and admit our infallibility to say that we hurt, to admit to failure to our friends in a time of need, why in the world do we bother to build relationships?
This topic came to mind this past week as the inimitable Lisa-Jo of the Gypsy Mama wrote about being real with folks (italics mine):
Telling people how you're really doing takes coming out of the nooks and crannies of your own life. Brush off that thing you didn't do and that insecurity you were comfortably hiding behind and open your mouth to say what you really mean, not what you think they really wanted to hear.

Funny how sometimes they turn out to be the same thing.

It can be uncomfortable to say the least.

But if we're willing to test the waterproof mascara and tell it like we live it, not like we wish we lived it, then maybe we can meet in the middle.
Ah, yes.
Tell it like we live it, not like we wish we lived it.
Wise—and possibly very scary—words.
Over at Incourage, Deidra wrote an inspiring response to Lisa-Jo about admitting to being Unfine:
So on Monday morning, when my colleague asked me how I was, I took a deep breath and said, "Oh, you know. Crazy day ahead." Those two sentences were like the key that opened up her heart. She shared with me the struggles of her workload, and then some of her frustrations with her family, and some of her deepest hurts. It was amazing. And beautiful. Right there in the cafeteria of a major corporation, with microwaves beeping and the Today Show talking to us from the television on the wall.
I was reminded of a time when a friend called me on the spur of the moment to see if we could get together. I already had plans, so I declined, but breezily asked how she was.  She started to say ok, but lost her voice and composure in a heartbeat. I asked my question again, only this time, the ritual politeness was gone, replaced by true concern. Choking up, she managed to say she was having a tough day, but she would be fine. I told her I would call when I was free.
In short order I realized my friend had asked for my help in a time of need, and I was too busy.
Rather than spending the rest of the day wondering how she was and kicking myself for failing her, I just did a little quick shuffling and jumped in my car to make a visit, even though it was going to be short.
She was surprised and delighted when I appeared at her door, and I asked her to tell me what was going on. We spent our brief time sharing, laughing, crying a little more and offering support and suggestions.
Just as Deidra's six, small words opened the door to an amazing conversation with her co-worker, so did the few words that passed between my friend and I.
I was so very grateful that she called me, that she felt I had something worthwhile—my own five loaves and two fish, like the little boy in the parable—to help her out of where she was.
So next time when we are asked how we are, we need to step bravely through that open door, and answer with honesty, and allow our friends to lend their helping hands and hearts, and loaves and fishes to us.
And remember what happened in the parable: the young boy's seemingly meager offering was multiplied to feed 5,000.
Is it possible that your honesty and/or help will continue to ripple forward and multiply to encourage others?
Question for today: Are you ready to admit to being unfine when you are asked how you are? Comment away, and let us know how it goes and we can help one another.
Sharing at No Ordinary Blog Hop, Better Mom, Women Living Well, Things I Can't Say

Image credit- h.koppdelaney via Flickr
Jesus took the five loaves and two fish, looked up toward heaven, and blessed them. Then, breaking the loaves into pieces, he kept giving the bread to the disciples so they could distribute it to the people. He also divided the fish for everyone to share. They all ate as much as they wanted, and afterward, the disciples picked up twelve baskets of leftover bread and fish. A total of 5,000 men and their families were fed from those loaves! — Mark 6:41-44 NLT