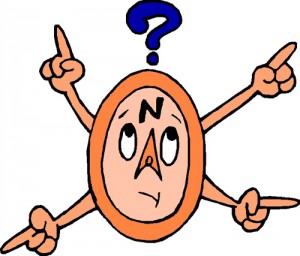 I've written lately about being dissatisfied with how I was leading my life, about feeling like the wheels on my bus were going ka-thunk, ka-thunk, ka-thunk, thinking about unopened gifts that might be in the closet, and recognizing that each of us wants to live a life that matters.
Do you have that niggling feeling as well, that something is calling out to you, that there is a missing puzzle piece, but you are just not sure how to find it? Perhaps you are fearful as well, because this territory is pretty new to you.
After I had dithered around for years, I did try jumping into the pool of life, since I had felt that I was wandering around with a blindfold on anyway, and just shouted "Marco!" and waited for whatever it was to answer emphatically back "POLO!", but, alas, nothing answered, and there I stood, feeling foolish and annoyed, wet and shivering, and hoping no one was watching.
This sense of feeling less purposeful may be something new to you, because the seasons of your life have changed. Perhaps the youngsters are in school full time, giving you more free hours in the day, or you have become an empty nester. As I wrote previously, "When seasons change, we are given a glorious opportunity to experience something new, to revel in everything that is a part of that new time."
This does not mean that you haven't loved or no longer care for your children or your family. To the contrary, that labor of love never ends, but your focus may change. Look at it like this: in the spring, we plant; in the summer, we tend the garden; in the fall we harvest; and in the winter, well, we eat and plan for the spring. Each season offers an opportunity unique to that time. As I noted in the Seasons post:
Like yourself for who you are, for that wise woman you have become, for all that you have accomplished, for all the challenges you have faced, for all the growing you have done, for the aging that has created the fine vintage that you are.
Take advantage of your season, of the wealth of wisdom and experience you hold, and move forward with it. As the Bible notes in Romans 12:1, "Take your everyday, ordinary life–your sleeping, eating, going-to-work, and walking-around-life–and place it before God as an offering." A reminder as well: if your spiritual life has suffered of late, rekindle those embers and take time to pray-and listen-daily to God. As I wrote previously, He misses you, and loves you, and longs to hear from you.
Lastly, remember that as Paul wrote in Philippians, "For I can do everything through Christ,who gives me strength. (Phil. 4:13 NLT)
Be. Not. Afraid.
Take those first steps, and soon you will find yourself covering ground you didn't think possible, and saying "So long!" to your status quo.
And now, dear readers, I leave you with the song that triggered this post today, Nichole Nordeman's Brave. Because of copyright issues, you will need to follow the link to view it on Youtube. Enjoy!
Here are the lyrics so you can sing along. Start your day with a whole lot of joy!
Verse 1:
The gate is wide
The road is paved in moderation
The crowd is kind and quick to pull you in
Welcome to the middle ground
It's safe and sound and
Until now it's where I've been
'Cause it's been fear that ties me down to everything
But it's been love, Your love, that cuts the strings
Chorus:
So long status quo
I think I just let go
You make me want to be brave
The way it always was
Is no longer good enough
You make me want to be brave
Brave, brave
Verse 2:
I am small
And I speak when I'm spoken to
But I am willing to risk it all
I say Your name
Just Your name and I'm ready to jump
Even ready to fall…
Why did I take this vow of compromise?
Why did I try to keep it all inside?
(chorus)
Bridge:
I've never known a fire that didn't begin with a flame
Every storm will start with just a drop of rain
But if you believe in me
That changes everything
So long, I'm gone
(chorus)