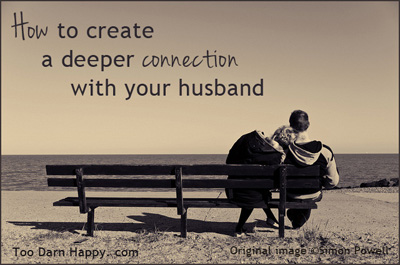 Do you ever feel like you and your husband aren't really connecting?
Do you sometimes think it doesn't matter what you do, that it won't bring you closer anyway?
To the contrary, it does matter, very much.
You just need to know the secret password.
There's an old cartoon classic, Ali Baba Bunny, in which Bugs and Daffy Duck mistakenly take a "wrong toin in Albuquerque" and end up tunneling into a cave full of treasure.
The hapless guard, realizing he has been bypassed, attempts to get into the cave to kick them out.
He doggedly tries to recall the combination to open the door and test runs several until he finally alights on the right one:
Duh, open, uh, sarsaparilla? Uh, open Saskatchewan? Open, septuagenarian? Uh, open, saddle soap? Open, sesame?
Of course, with the correct phrase, the heavy stone door swings effortlessly open.
You, too, can similarly unlock the door to your husband's heart and enjoy a deeper connection: It's just a matter of choosing the right words!
Join me at Happy Wives Club to learn how to use these words as part of an easy three step process to get closer to your hubby.
I'd love to have you join the conversation there, so comments here will be shut off.
See you there!
Click here: 3 Simple steps to connect more deeply with your husband
Did you enjoy this article?
Sign up for updates and get my FREE ebook: Practicing Gratitude and Discovering Joy

Just imagine. . .Responding with gratitude rather than grumbling, and enjoying more happiness and contentment. And rest assured I won't share your address!
Original image courtesy Simon Powell via Flickr