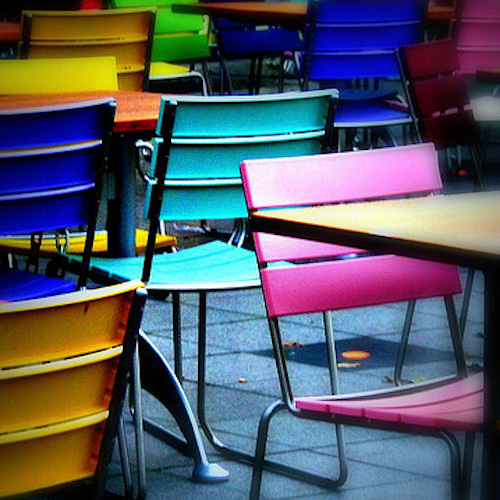 Gray.
Washed out.
Worn out.
Just plain tired.
Do you feel as a mom sometimes that you just don't have what it takes anymore?
That between the job, the kids, the finances, the stress, that you have been stripped of your joyful, colorful self?
I felt that way last year.
You know what I discovered?
That bright and vivid self, my richly colored core was still there.
Oh, yes.
It was just covered with layers and layers of "I don't have time to eat right" and "I probably couldn't get a job I really love" and "Well, I just have to get used to things the way they are."
Ouch.
Have you ever taken a piece of furniture with great bones and hints of beauty, but one that somebody painted over with multiple layers of just plain ugly?
You take it home, you strip away all those hardened layers of grimy varnish and paint to find a warm and rich and beautiful piece underneath that absolutely glows.
That was me.
And I'll bet that's you too.
You, the real you, is in there.
The radiant, vivid, brilliant, technicolor, splendiforous you.
Please don't settle for a barely-there version of you.
That's not what your husband needs.
That's not what your kids want.
And it certainly isn't how God created you.
Grab a rag, put on some bright and bouncy music, invite a friend to help, and start scrubbing away to reveal your richly vivid self!
Isaiah 55:12 (NIV)
12 You will go out in joy and be led forth in peace;
the mountains and hills will burst into song before you,
and all the trees of the field will clap their hands.
Every Friday I join Lisa-Jo over at The Gypsy Mama for her Five Minute Friday prompts. It's an opportunity for each of us to stop, drop, and write. For fun, for love of the sound of words, for play, for delight, for joy and celebration at the art of communication.
We write bold and beautiful and free. Unscripted and unedited. We just write without worrying if it's just right or not.
Won't you join us? Follow the link above to read and be encouraged by what others have to share. We'd love to hear from you as well, so feel free to leave a comment today. Thanks for coming by!
Sharing at No Ordinary Blog Hop today