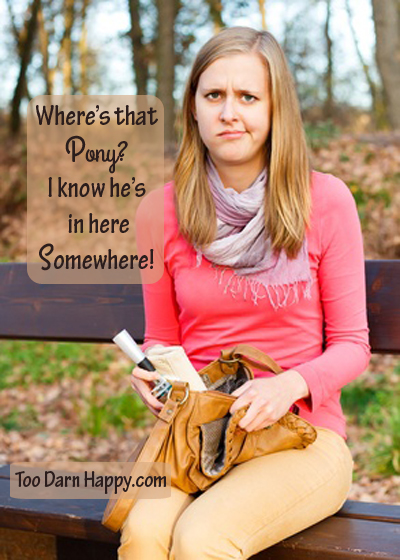 Seeing—and taking full advantage of—opportunities for gratitude, especially where there don't seem to be any, will help smooth your journey across the sometimes rocky roads of life.
The trick, though, is to notice those opportunities for what they are.
Lots of times they'll look like one thing, but when you change your perspective—Voila!—you see them as something else.
Of course, sometimes it's much easier to recognize someone else's opportunities.
This happens fairly often to me, and it occurred again this morning when I went out for a short grocery run.
When I got to the register, there was no customer ahead of me, but there was an empty cart and the cashier was ringing up an order.
She looked at me, smiled apologetically, and said that the customer had to go swap out an item.
I smiled in return, and told her I wasn't in any rush, so it wasn't a problem.
The harried woman returned very shortly and tossed her last item on the counter.
She proceeded to run her credit card, run into problems, and run out of patience.
I smiled again, and made some comment about it being ok, that I wasn't in a hurry, and that I hoped things went more smoothly for her the rest of the day.
She gave me a hard stare, and told me it wasn't ok, that I didn't understand.
Through clenched teeth and in a single breath, she informed me her master bathroom was torn apart, she needed to be in Charlotte, NC—4 hours away, for you dear readers unfamiliar with this area—to see the new grand baby, and she was sure someone would be mad at her today because she couldn't do everything and be everywhere at once.
Taken aback by her annoyed response, I wondered if I should say anything else, or if she'd hit me with a bag of groceries if I did.
I responded gently with a soft smile, and joy in my eyes, "A grand baby? Oh, what a delight! Well that's someone who will certainly love to see you!"
She huffed, jerked her purchases into the cart, and off she went.
Remodeling is no fun.
Been there, done that, bathrooms and kitchens.
But, the end product is always so much nicer than the original.
And a grandbaby?
How much sweeter does it get?
That poor woman was so overwhelmed by the happenings in her day that she neglected to realize the abundance of goodness that was at the root of it all.
I wrote about an epiphany my husband and I had about budgeting:
Change your point of view to see budgeting as freedom. Yes, sweet, sweet freedom! You may believe as we did that budgeting meant we'd never have fun again. EVER. But, like the optical illusion below, what we saw depended completely on our perspective. Duck or bunny? Chains or freedom? Once we realized the budget was our opportunity to choose intentionally where each dollar went, we saw the freedom we could have from guilt, worry, and fear.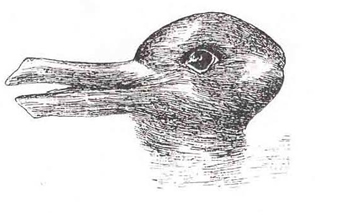 In a similar farm animal vein, I recently read about a joke that involved manure.
Yes. Manure.
I know that sounds strange, but you take inspiration where you find it.

It has been a tremendously helpful and amusing reminder to change my perspective.
I hope you find it helpful as well.
Come on over to Engaged Marriage to put this perspective to use in your life.
I've shut off comments here so we can converse over there.
Perhaps you, too, will join us by taking up our new rallying cry whenever life gets bumpy:
There must be a pony in here somewhere!  <— Click on this link to join me. 
Did you enjoy this article?
Sign up for updates and get my FREE ebook: Practicing Gratitude and Discovering Joy

Just imagine. . .Responding with gratitude rather than grumbling, and enjoying more happiness and contentment. And rest assured I won't share your address!