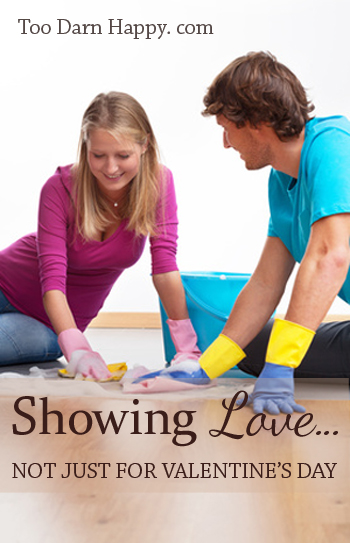 Did you know Valentine's Day is right around the corner?
Oh, right, you probably do, given the constant barrage of guilt-inducing, wallet-breaking, comparison making advertisements that are absolutely everywhere you turn.
My hubbie knows too, but he won't be getting me anything for this red letter holiday.
I know it's possible when you just read that, the following thought crossed your mind:
Of all the crummy, thoughtless things…the cheapskate can't even take the time or money to recognize how much his wife—Miss Too Darn Happy—means to him?!
Before you judge my dear hubbie, let me explain.
I agree with him.
I have been blessed with a man who cherishes me all year round, who loves me in spite of my imperfections, when I feel unlovable, and in my selfishness and impatience.
Notice I did not say that he loves my imperfections and all those other not so adorable traits.
I will take that any day over a husband who thoughtlessly wanders through 364 days, then scrambles to show HOW VERY MUCH HE LOVES ME for a few short hours.
I will take that any day over being a wife who waits and plots, ready to pounce on February 15, to JUST LET HIM KNOW HOW MUCH [Continue reading...]