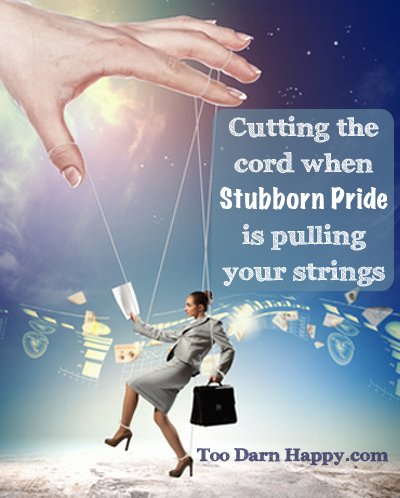 I am well acquainted with Stubborn Pride.
I have listened to that wheedling, guilt-inducing voice too many times in my life, and it has never ended well.
As a matter of fact, I learned some time ago that when I am really struggling with fear of failure, I can find it lurking nearby, working my emotional strings better than a master puppeteer.
Kim, you're not making progress at a career like you thought you would.
You better hope no one asks you what you do for work.
Kim, your personal finances are are a mess.
If I were you, I'd really be ashamed of my money management skills.
Kim, your list of friends is practically non-existent.
Perhaps you are far less interesting or fun to be around than you thought.
Stubborn Pride attempts to manipulate you with a distorted view of the truth.
Your reaction is almost always to either hide in embarrassment or double-down with Stubborn Pride at the controls, continuing to do what you've been doing, and continuing to get the same result.
But here's the real truth:
Your "failures" don't matter to the people to whom you matter.
They love you no less for what you think you should have done or become.
They love and accept you for you.
They are able to see something you might not:
Stubborn Pride is the real problem, and until you recognize it is pulling your strings, it will hold you captive.
Leo Babauta of Zen Habits offers turning toward the problem as a solution:
Turning toward a problem is scary as hell. That's why we avoid it. But you can overcome that fear and do it anyway. You can look the problem directly in the face and open yourself up to it. Only then can you deal with it, and see that it's not as scary as you think. Because by turning away from the problem, we give it power, and the fear of it rules our lives.

Let's take away that power, and shine a little light on the problem. Allow ourselves to feel the pain, to feel the fear and still take action. To begin the healing. To begin to create something new and amazing from the ills that have been hiding in the dark.

Turn toward the problem and you turn it into something beautiful.
In my experience, cutting the strings of Stubborn Pride allows us to not only move forward from our mistakes and mis-steps, but also frees us to reach out and help others from the benefit of our experience.
More resources to help you cut the strings:
Barking up the Wrong Tree: What 5 Counter-Intuitive Things Can Help You Make Better Choices? 
Inc.: 4 Decision-Making Mistakes to Avoid
TDH: A Must-Have Decision Making Tool
Too many people overvalue what they are not and undervalue what they are. ~Malcolm S. Forbes
Comment: How have you cut the cord when Stubborn Pride has been pulling your strings?
Sharing at Let's Get Real Party. Join us!
Did you enjoy this article?
Sign up for updates and get my FREE ebook: Practicing Gratitude and Discovering Joy

Just imagine. . .Responding with gratitude rather than grumbling, and enjoying more happiness and contentment. And rest assured I won't share your address!