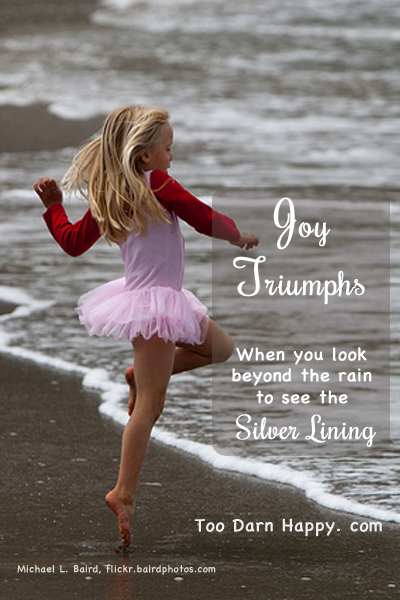 Health is the greatest of God's gifts, but we take it for granted. It hangs on a thread as fine as a spider's web, and the smallest thing can make it snap, leaving the strongest of us helpless in an instant, and in that instant, hope is our protector, and love, our panacea.
~Via PBS series Call the Midwife, Season 1, Episode 5
If you have suffered a debilitating illness or injury, or love someone who has, you probably nodded your head in agreement at that quote.
You remember how that gossamer thread of hope quickly became your safety line as you slowly and painfully worked your way back to health.
Others added helpful words and deeds that strengthened that slender strand, and gave you courage to continue to move forward.
Joy triumphs when you focus on the love that surrounds you.
Monika Allen is an avid runner who is also a brain cancer survivor.
Just last year, after long weeks of training with friend and business partner Tara, she ran and walked her way through a marathon—her 19th marathon up to that point—while still in the midst of chemotherapy. The two runners crossed the finish line together, holding hands.
Joy triumphs when you allow others to make the hard journeys with you.
While finishing a marathon last year in the midst of cancer treatments was a huge accomplishment, Monika stepped out into something much bigger:
She married her Prince Charming.
Joy triumphs when you choose hope.
Monika and friend Tara have run multiple long-distance races, coached, and also established Glam Runner ™:
"Tara and Monika founded Glam Runner ™  in 2011 as a way to bring more fun and GLAM to running while raising money for Girls on the Run of San Diego. Girls on the Run is a life-changing 12 week program for girls 8-13 years old that encourages positive emotional, social, mental, and physical development, all while training the girls for a 5K race."
Joy triumphs when you help others in need.
Self Magazine asked permission to use a photo of the two runners—all decked out in their super-hero t's and colorful tutu's—in their magazine.
The women were thrilled to comply.
After all, the goals of all three organizations were so similar: to help girls and women enjoy fitness, and to be happier, healthier, more confident!
As you may know, the magazine didn't divulge they wanted the photo to bully those who run in tutus as totally lame.
Needless to say, Monika and Tara were shocked and disappointed, but handled the situation with all the grace that Self Magazine didn't.
Joy triumphs when you move forward and focus on the positive. 
The magazine apologized and is discontinuing their BS Page, assumably because it's not and never has been compatible with their mission.
That is the section where the photo and rudely critical commentary originally appeared.
Awareness of Glam Runner ™  and Girls on the Run shot through the roof.
Donations rose for GOTR, which means more lives will be transformed.
Thank you, Monika and Tara, for showing strength and courage in the midst of tremendous difficulty, and for your graceful and giving spirits.
May joy triumph wherever you are!
Joy triumphs when you look beyond the rain to see the silver lining.
(Like that? Click here to tweet!)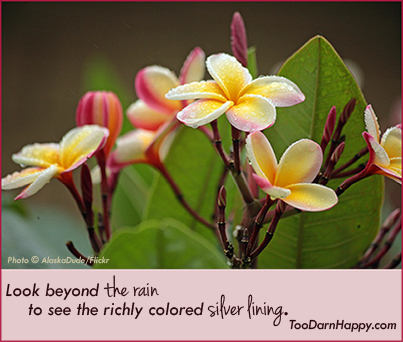 Question: How have you found riches in the rain? Please share in the comments, as your words will encourage others!
Ballerina photo credit: Mike Baird
Flower photo credit: Alaskan Dude
Did you enjoy this article?
Sign up for updates and get my FREE ebook: Practicing Gratitude and Discovering Joy

Just imagine. . .Responding with gratitude rather than grumbling, and enjoying more happiness and contentment. And rest assured I won't share your address!