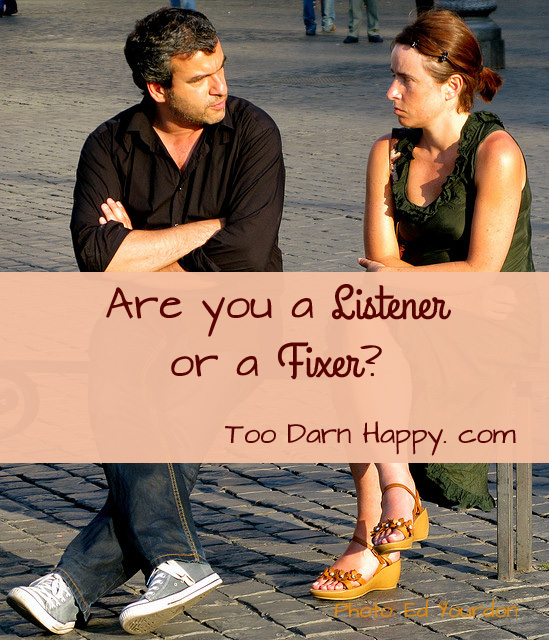 Admit it: You love it when folks listen to you, especially when it is your husband.
There is almost a sexiness about it when his eyes are looking into yours, and his attention is fully focused what you have to say.
But what about when you feel you are not being heard?
Stephen Covey wrote in The 7 Habits of Highly Effective People:
Most people do not listen with the intent to understand; they listen with the intent to reply.
Are you familiar with that behavior?
You are conversing with your husband about a problem.
Perhaps you just want to vent, or get some moral support about a difficult situation.
However, before long, he stops you and tells you how to fix it.
Do you feel deeply loved at that point, or do you get angry?
While everyone delights in the company of a good listener, no one likes a fixer, even though they mean well.
If there is a chronic fixer in your house—whether it is you or your husband—I have a simple solution for you.
I am sharing it over at Happy Wives Club, and you can join the conversation there:
How to Fix the Fix-It Syndrome
Be sure to take a moment to watch the video I've linked in that post.
It's important to be able to laugh at ourselves, and you'll do that watching the video.
See you over there!
Photo: Ed Yourdon
Did you enjoy this article?
Sign up for updates and get my FREE ebook: Practicing Gratitude and Discovering Joy

Just imagine. . .Responding with gratitude rather than grumbling, and enjoying more happiness and contentment. And rest assured I won't share your address!