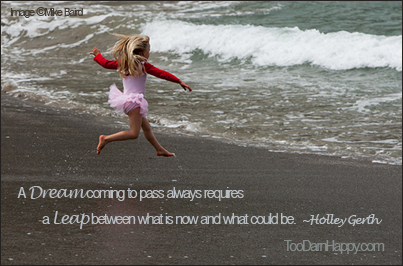 You whip your car into a parking place, rushing again to get to work on time. As you come to a hard stop, your purse tumbles off the seat, its contents disappearing underneath the empty fast-food bags and other clutter on the  floor.
A strangled sigh of frustration escapes your lips, and tears prick at your eyes.
If only you could work at something you loved.
If only you had time to help your children have a relaxed and joyful start to their day.
If only you had the flexibility to make time for the important, rather than always scrambling to take care of the urgent.
You've considered stepping out to work for yourself before, but it seems so out of reach, an impossible dream, really. And it would just take so much effort.
Besides, what if you fail? What if you are just not good enough?
You take a deep breath as you climb out of the car and slam the door, doing your best to become composed before you walk into the office to spend another day at a job that brings no satisfaction.
There is a way to get where you want to be. . .
The seeds just haven't been planted
Holley Gerth writes in You're Made for a God-Sized Dream, "Our dreams can be like seeds. We carry them around with us and tell ourselves that we are going to plant them. Then life gets busy, distractions come, and we keep putting off what we know God has called us to do."
If you never plant, you will never enjoy the harvest.
To sow a more fulfilling life using the talents God has given you requires forward motion. You just need to start taking steps towards that brighter and more appealing future.
You may have settled for being a feeler, not a doer
As Tommy Newberry notes in Success Is Not an Accident
:
Feelers take initiative only when they feel like doing so.

Decision-making ability is wired to short-term emotional appetite.
Holley continues with this theme:
Don't wait until the time feels right. Don't wait until you feel ready. You will wait forever. 
You tend to become comfortable with your dissatisfaction, and allow doubt and fear to rule the day allow it to override your desire and obscure your vision for a better life. When there are forks in the road, you choose the road well-traveled, because it's easier, more comfortable and convenient than making a change. After all, you reason, it is better to stay on a road where at least you know all the painful pitfalls than to take the path where the dangers and difficulties are unknown.
Choose to change: become a doer, not a feeler
You may think there is no possibility to change, to enjoy your work and consequently create success, that you are doomed forever to be part of the more than 80% who are unhappy in their jobs.
That is just not the case. God wants you to succeed.
Holley writes, "You may think, 'But I've taken so many detours' or 'It's too late.' We tend to picture God's will like a very straight line, and if we veer off at all, then we'll never get to the destination. But God can get us there in a thousand different ways."
Janice Elsheimer shares in The Creative Call
, "Our gifts are not from God to us, but from God through us to the world."
Jeremiah 29:11 (NIV) spells this out quite clearly: "For I know the plans I have for you," declares the Lord, "plans to prosper you and not to harm you, plans to give you hope and a future."
All this comes down to is a matter of trust and of choosing to do rather than feel. And it can start with something as simple as a smile. Remember that research has shown that smiling even when you don't feel like it, will help lead to a happier state of mind.
In One Simple Act
, author Debbie Macomber further illustrates this principle beautifully. She writes about Corrie ten Boom, a woman who survived the horrendous Ravensbruck Concentration Camp. Miss ten Boom went to Germany following the end of World War II to share the story of God's grace, only to come face to face with one of her evil prison guards, and Macomber quotes the faithful survivor thusly:
But forgiveness is not an emotion-I knew that too. Forgiveness is an act of the will, and the will can function regardless of the temperature of the heart. "Jesus, help me!" I prayed silently. I can lift my hand. I can do that much. You supply the feeling."
Remember that you are not alone in your venture, that just as you can do so much with Him, He will do much through you. Just lift your hand, move your feet—take action—and you will have started to become a doer.
Outline a plan for your future and implement it
Once you start the transformation into becoming a doer, you will discover the need for a plan, and also for support for the transition into entrepreneurship.
•If you are not sure where your strengths and talents lie, take tests, such as Strengthsfinder 2.0 or the DISC Profile, ask loved ones what it is you do well, hire a coach, or read books such as The "Do What You Can" Plan: 21 Days to Making Any Area of Your Life Better, or  Cure for the Common Life
.
•Get your financial life in order to pave the way to take advantage of opportunities. Dustin at Engaged Marriage has a great step-by-step plan.
•Create a mission statement for yourself as a mom and a wife, and also as an entrepreneur.
•Set short and long term goals based on your mission statement.
•Keep learning by gathering quality information, such as from mentors, books, programs, speakers, coaches and inspiring sites.
•Get an accountability partner who will help keep you on track.
•Embrace failure, as that is one of the marks of reaching beyond your comfort zone, and it is one of the best places to learn lessons.
•Surround yourself with positive, encouraging and successful individuals. This is very important, as you may find that your closest friend and family members do not understand, care about, or even support your dream. It may come as huge a shock to you as it did to me. While my closest family members and friends are incredibly supportive, there are many who just don't get what I am doing with my life since I stepped away from my last "real job". And that's ok.  These folks are loved, but are not my readership, nor are they my mentors.
•Last but not least, just get started. Holley's 21 Day Plan contains a simple and doable action plan:
Think about what you want. Pray about it. Talk to your trusted friends. Decide on the minimum you'd like to accomplish in a particular area of your life over the next twenty-one days. Then divide that by about half. . . A small goal that actually happens and can grow is better than the grandest one that remains a fantasy.
I understand how this seems difficult or appears overwhelming. I am in the midst of this whole process myself.
Originally, I was afraid of crashing the family finances.
Then I thought no one would read what I wrote.
Neither of those happened.

Thank you, followers, commenters, lurkers, all!
Now my biggest fear is not having the will or motivation to keep moving forward.
Funny how new fears appear to take the place of those that fall by the wayside. . .
Remember this process takes time. You need to be patient with and encouraging to yourself, just as you would be for a good friend, and especially not let fear rule your decisions.
And remember to keep a vibrant picture of your goal in front of you: Envision your future self, doing work you love, and being able to take time for the important people and events in your life.
Now that is truly a God-Sized Dream come true!
Question: What is keeping you from taking the leap to becoming a doer who achieves her dreams, or even to taking just one small step?
Sharing at NOBH, Soli Deo Gloria, Holley Gerth
Original image credit: Mike Baird via Flickr
Did you enjoy this article?
Sign up for updates and get my FREE ebook: Practicing Gratitude and Discovering Joy

Just imagine. . .Responding with gratitude rather than grumbling, and enjoying more happiness and contentment. And rest assured I won't share your address!