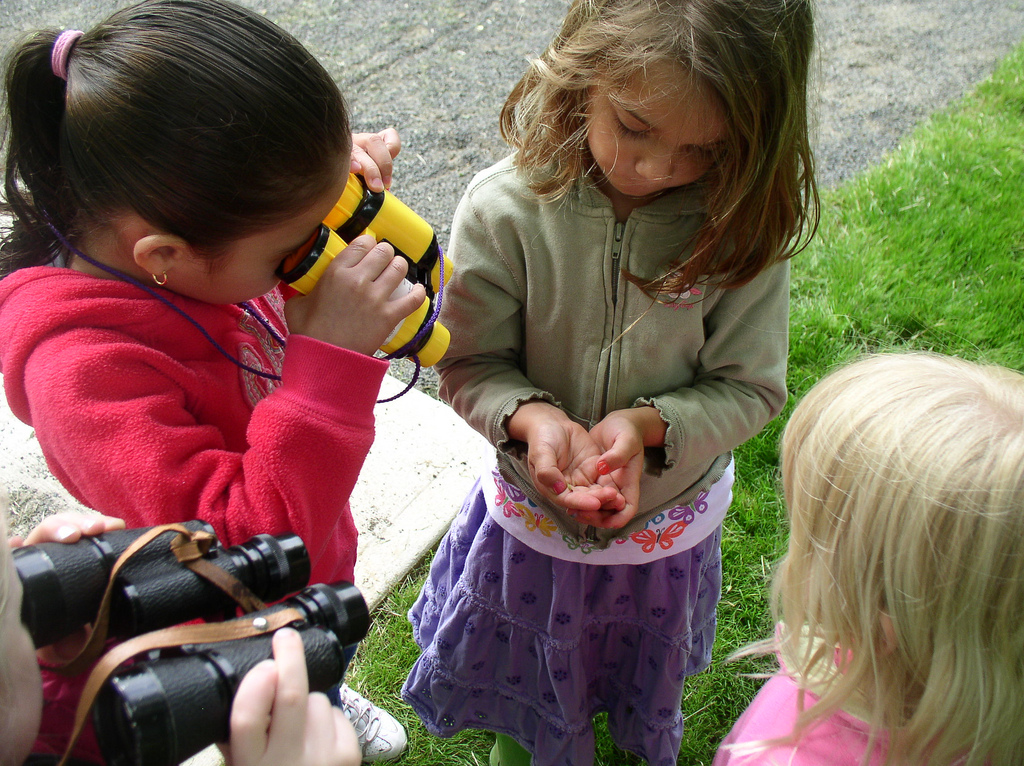 Did you ever play with binoculars as a kid?
I did, and as I would sweep the rural landscape, I was always amazed at how big and close things became.
However, turning the binocs around and looking through the opposite end was a real eye-opener as well.
My focus became very small, and details loomed large.
As an adult, do you view your strengths through the "wrong" end of these vision enhancers?
Are you dismissive of your gifts as not worthy of growth, seeing every flaw magnified?
Are you embarrassed to share out of fear that you will be judged just like you were in middle school by that pack of mean girls giggling at your pathetic efforts?
Ugh.
That is a miserable place to be, indeed.
Been there, done that, got the t-shirt, as they say.
But things have changed.
For the past several months, I have been a member of Holley Gerth's God-Sized Dream Team.
I saw her announcement for applications for her book launch team back in the fall, and read the details with an interested and hopeful heart.
My Chihuahua of Fear barked loud and fierce, though, and I panicked, quickly closing my browser window.
But the offer had gotten its teeth into me, so I prayed overnight, and applied the following morning, hitting "Send" with just a bit of trepidation.
I then forgot about the grand dreams I had declared and the promises I had made.
Weeks later, I opened an email that said this:
Hello Beautiful God-sized Dreamer!

Thank you so much for wanting to be part of the God-sized Dreams Team. I'm thrilled to let you know what you are on it.
GACK!
I didn't know it was possible to be blubberingly, joyfully, scared out of my wits.
Since then, I have declared my God-Sized Dream to the world:
Although I have several big dreams—publishing books, and writing and speaking to encourage women—I chose speaking at Allume.

Good golly it's hard to put that out there. However, I did start jotting down ideas for my presentation the very day I submitted my application to Holley for a slot on this team.

Given that I joined Toastmasters a couple of months ago and have only given two speeches, I am really reaching here, just so you know.
I've gone from Scaredy Cat to Too Darn Happy and although the Chihuahua still attempts to intimidate me, I now see him for what he really is: all bark and no bite.
The biggest shift, though, has been the peace that has soothed the anxious places in my heart and the quiet confidence that has begun to settle in.
The more that Holley encouraged us via our group and her book, You're Made for a God-Sized Dream, the more we cheered one another on, and the further we all walked, stretching the edges of our comfort zones.
It has been a paradigm shifting journey for sure.
I say that with a slightly nervous chuckle, recognizing that I have been picking up steam and encouragement for quite some time, and suspecting there are many more twists and turns ahead.
Holley has charged us with a challenge to step out in faith again into new territory:
For next week take this "do what you can" step for your God-sized dream: Find a way to pay it forward. You've been encouraged in your God-sized dreams by your sisters here the last few months. How can you spread that encouragement forward by investing in other dreamers? It can be small and simple or BIG and wild. Ask God what you can do and get creative.
To be perfectly honest, my very first, albeit brief, response was this: BIG? Creative? I'm not ready for that. I'm not big enough and don't have enough reach for that yet.
Ooomph.
Fell down and got right back up as I was reminded of what I had read this morning in The Prayer of Jabez Devotional:
"Open your eyes and look at the fields!" Jesus pleaded. "They are ripe for harvest." As always, God wants to begin with you now. He's not waiting for you to become someone else before He can use you. He's not waiting for you to go somewhere else.
He already has something in mind for me that is a perfect fit for where and who I am right now. (Like this? Click here to tweet!)
And that is a much different place than where I was standing six months ago, and that is greatly expanded from where I was a year or two ago.
The very funny thing is that there has been a need right in front of me for at least a couple of months and I haven't seen it for the opportunity to pay it forward that it is.
That will be changing this week.
I apologize that I can't share the details with you, but some things are better done quietly and out of the spotlight.
At first glance, this action appears small.
But, who am I to determine the ultimate size of this single, small act of sharing, of pouring into someone else the way I have been refreshed repeatedly, especially these past few months?
Who knows to what distant shores these refreshing waves will spread?
It's time for you to step forward on your journey, my friend.
Come alongside, and take my hand and that of so many others who are also expanding their comfort zones and spheres of influence.
Know that the small-minded school girl may still make an occasional appearance as you venture into new territory.
But then, she will saunter cockily away, slowly turning her head to look back at you, a smirk spreading across her face, and with eyebrow raised, she'll say, "You know this isn't over. I'll be back."
Just be sure to take your binoculars, so that you can not only enjoy the wide, sweeping vistas of possibility before you, but also so that you can turn those binoculars around and see that inner critic for the tiny and ineffective thing that she is.
A generous person will prosper; whoever refreshes others will be refreshed.  ~Proverbs 11:25
Question: What can you do this week to pay it forward and pour refreshment on someone else?
Sharing at NOBH, Soli Deo Gloria, Holley Gerth
Did you enjoy this article?
Sign up for updates and get my FREE ebook: Practicing Gratitude and Discovering Joy

Just imagine. . .Responding with gratitude rather than grumbling, and enjoying more happiness and contentment. And rest assured I won't share your address!