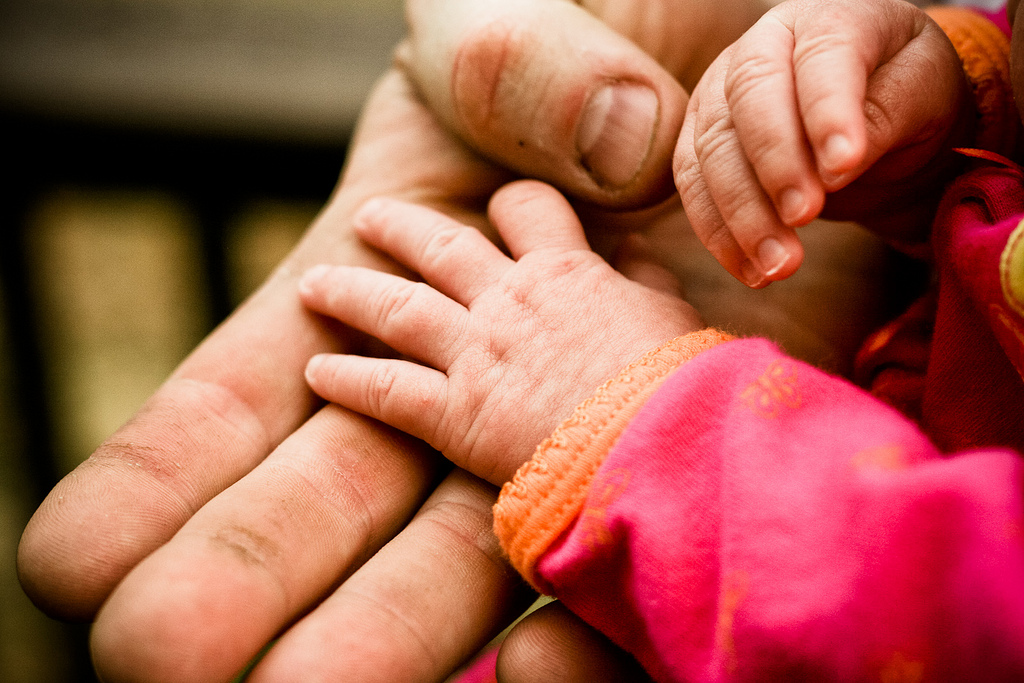 I've updated this post from a year ago, in honor of our circle of life that will soon be expanding.
I look back over the rocky chasms and green fields of the past almost 30 years, and zoom in on those beginning months that were shaping me to be a parent.
Yes, we were excited to be having our first, don't get me wrong.
It's just, well, I didn't like being pregnant.
It wasn't magical like so many women described, with fairy dust and sparkling wands and joyful, light-footed exuberance.
No, it was months of morning sickness with my new best friends Mr. Sal Tine & Miss Ginger Ale, low energy and a much bigger appetite.
The process was a means to an end: that was my thinking in those days.
When our little one decided her time to join us had come—five weeks early—she kept changing the arrival time board, like the airports do in the midst of bad weather.
Flip flip flip flip flip flip flip flip flip went the cards as the arrival time changed by hours and then days.
She surprised us with this week-long tap-dance of yes, here I come, no, I guess not, and why don't we give it a whirl again tomorrow?
My husband was there, day in and day out, comforting and helping me through the tidal waves of pain and fear.
Through those long days of of IV's, cold stethoscopes and colder ultrasound gel,  I would wonder if I was ready, if I had what it took.
I remember a nurse reassuring me, telling me I was, and I did.
With a simple focus and determination we have now come know, after seven days little Alexis made an arrival so quick she practically beat the doctor to the delivery room.
And then, as I held her, I understood about the gift.
That gift of unconditional love that sneaks up and washes over you like a fire-hose on full blast, leaving you breathless, teary-eyed, and babbling in silly baby talk.
That gift of unconditional love that enables you to forgive so much in spite of behaviors that drive you crazy.
That gift of unconditional love that buoys you through the often dark and stormy times of parenting teens.
That gift of life that makes you a mom.

And now, the circle of life continues, as we await our first grandchild, due in July.
Let me just say: Squeeeeeee!
However, unlike my earlier pragmatic view of pregnancy, I have found this vantage point to be so much more exciting, and can't wait to be a grandmother.
Ditto for Keith, who has been such a supportive husband and dad, and is delighted to become a grandfather.
It's like getting to eat everything you love in as much quantity you desire, without any of the bad side effects!
As I get older and continue to put and keep my priorities in place, I recognize how happy I am with the little things in life.
Consequently, I am thrilled and excited at the prospect of enlarging our family, and will be intentional about making time for this sure to be adorable bundle of joy.
That will mean having to say no to the less important so I can say yes to these precious moments, and that's a trade-off I am willing to make.
No one will know the sex of the baby until he/she arrives, as Alexis and Will want to be surprised.
So, for now, we remain content to lovingly refer to BabyH.
I have a question for all of you: What is your favorite grandparent nickname? Gran? Gram? Grammy? Nana? Something else?
I'd love your input as I deliberate what mine will be. Join in whether you are a grandparent, or you have one you adore!
Questions: How was your pregnancy experience? Did you want to know the sex of your baby? Has being a mom been the fruition of a God-sized dream for you? What is one bit of advice you'd give now to an expectant mom or grandmother? Please share your thoughts in the comments below. I just love when you stop by to chat!
And now, in honor of all babies, here is a lovely, lovely lullaby.
If they knew sweet little you, they'd end up loving you too. 
~From Baby Mine
Sharing at NOBH, Finding Heaven, Holley Gerth, The Mommy Mess
Did you enjoy this article?
Sign up for updates and get my FREE ebook: Practicing Gratitude and Discovering Joy

Just imagine. . .Responding with gratitude rather than grumbling, and enjoying more happiness and contentment. And rest assured I won't share your address!