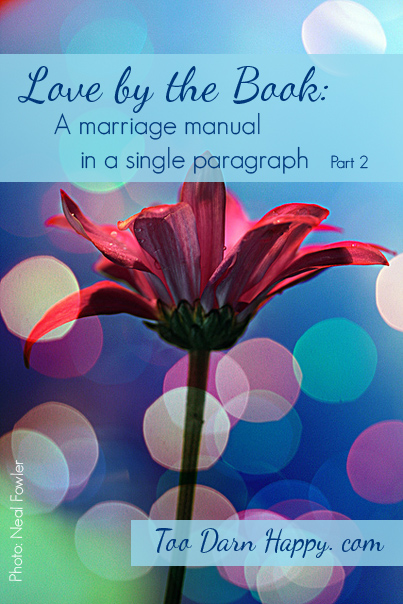 Welcome to Part Two of Love by the Book!
If you missed Part One, you can find it here. If you read it last week and took action, I'd love to have you share in the comments how it helped.
In honor of love and marriage and to help grow stronger and more satisfying relationships, I offer the following updated perspectives and resources: my humble expanded version of a simple, paragraph-long, marriage manual.

Love does not demand its own way.
Did you have a childhood friend who wouldn't play unless everything was done according to her directions?
Do you work for a boss who has to have things just the way he demands?
As much as you disliked then and disdain now having to do it their way or the highway, are you guilty of this habit at home?
How many times have I told you the laundry needs to be folded like this?!
Do I have to show you again how to load the dishwasher?!
Can't you do anything right?
If you are not encouraged to make improvements with these helpful admonitions, probably your husband isn't either.
Perhaps you can ask yourself if it is more satisfying to have a loving, helpful spouse, even if tasks aren't completed exactly the same as you would do them.
Like to learn more about the benefits of asking as opposed to demanding?
Love is not easily angered and keeps no record of wrongs.
Keeping score.
Awarding your spouse with fun tickets for good behavior and following the rules, which he can use as you allow.
Good boy, Bobby! You vacuumed the house and took out the trash. You can go play with your friends now.
Nope, no treats for you. You were a bad boy, and you'll just have to figure out what you did wrong. Maybe next week I'll reconsider, so you'd better be on your best behavior!
Wives, are you treating your husbands like children?
Are you measuring the good they do against all that you accomplish?
Marriage is not a quid pro quo event, nor is it one in which each partner gives just 50%.
Just let go and love your spouse, and give your relationship 100%.
Passionately.
Generously.
Unconditionally.
Ideas to stop keeping score:
Love does not delight in evil, but rejoices with the truth.
Fighting endlessly with your spouse makes for long and unhappy days.
Why is it so hard for you to be better organized?
What does it take to cook a simple dinner?
Winning battles by pointing out your husband's weaknesses may bring temporary gratification, but ultimately, you will both lose the war, and your children could become the hostages.
Instead,  share and rejoice in where you are weak, and embrace and be grateful at how you can fill in the gaps with each others strengths.
You will be pleasantly surprised by the positive change in the relationship when you recognize and celebrate the inventory of skills you possess between the two of you.
Feel like you are on a merry-go-round that isn't so merry?
Love always protects, always trusts, always hopes, always perseveres. Love never fails.
Love really is and does all of these things, simply, elegantly and beautifully, when it is given generously and without reserve.
And if you want your marriage to be overflowing with love, I would recommend stepping back and taking a really close look in the mirror.
Yup.
Hopefully you saw that one coming.

If you want a situation to change, you must always look to yourself first, because the only person you have the power to change is you.
Need a place to begin?
Just go by the manual—trust, hope, persevere—and it will not fail you.
You will have learned how to love by the book.

You now have the final four fresh perspectives on loving your husband and strengthening your marriage. Just as I did last week, I encourage you to look up at least one of the resources and take a baby step today towards an even better you, and consequently, a healthier and more loving relationship.
Questions: Which of these resonate most deeply with you, and that will provide a positive shift for you and your marriage?
I'd love to hear from you in the comments, and so would so many other women. You never know how you might help or be helped by what another mom shares!
Love is patient, love is kind. It does not envy, it does not boast, it is not proud. It does not dishonor others, it is not self-seeking, it is not easily angered, it keeps no record of wrongs. Love does not delight in evil but rejoices with the truth.  It always protects, always trusts, always hopes, always perseveres.  Love never fails.               ~1 Corinthians 13:4-8 (NIV)
Sharing at NOBH, Finding Heaven
Photo: Neal Fowler
Did you enjoy this article?
Sign up for updates and get my FREE ebook: Practicing Gratitude and Discovering Joy

Just imagine. . .Responding with gratitude rather than grumbling, and enjoying more happiness and contentment. And rest assured I won't share your address!