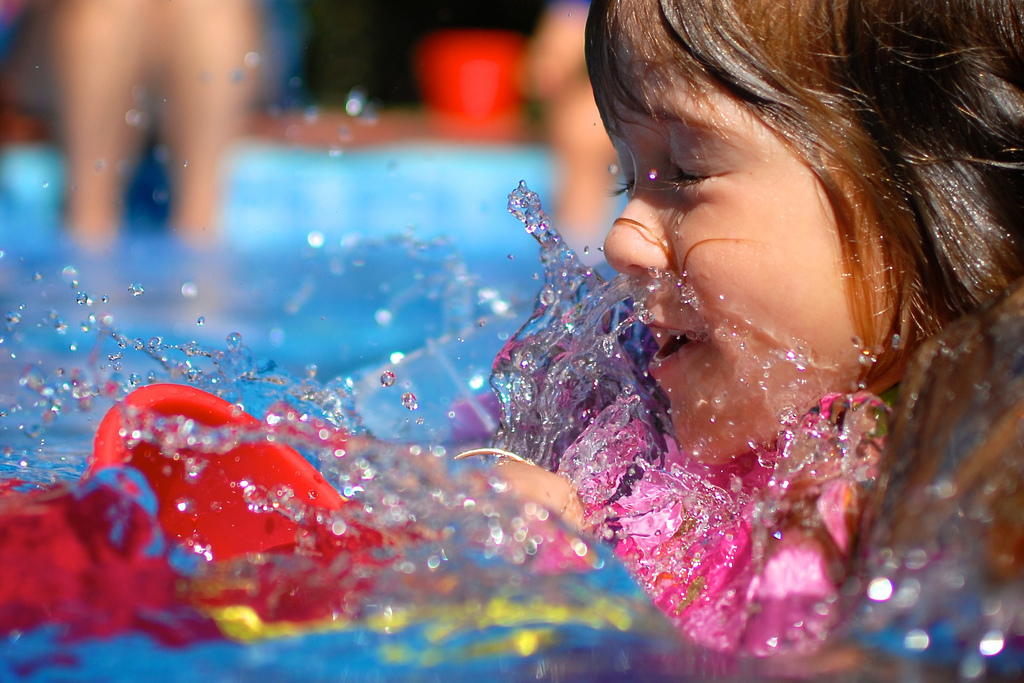 Did you play Marco Polo when you were little?
I remember being blindfolded in the pool—who thought that was a good idea?—calling out "Marco!" and my brothers and sisters would swim all over the pool, laughing in answer "Polo!"
My joy would give way quickly to frustration as my siblings continually eluded me.
I always felt foolish and incompetent, as I was the second oldest of seven, and actually don't ever remember tagging anyone before I would tear off the blindfold and give up.
It's probably why I have a lifelong aversion to any kind of sports.
Well, that plus getting hit in the nose with a softball by my brother early on. . .
Fast forward to my adulthood, and I came to the realization, much to my dismay, that I have had that same visceral aversion to goals that call my name.
I have been known to get so flat out frozen with fear that I burrow under my bedcovers like a frightened puppy during a thunderstorm.
No, I'm not proud of that, but you need to know that you are not alone with your doubts and fears, regardless of how well it looks like every other mom is holding it together.
Last year I heard about this cool motivational tool: OneWord365
Their website describes it thusly:
Forget New Year's Resolutions. Scrap that long list of goals you won't remember three weeks from now anyway. Choose just one word.

One word that sums up who you want to be or how you want to live. One word that you can focus on every day, all year long.

It will take intentionality and commitment, but if you let it, your word will shape you and your year. It will guide your decisions and help you grow.

Discover the big impact one word can make.

One word. 

365 days. 

A changed life.
Since the idea did not turn me into a quivering pile of Jello, but instead appealed to me as a simple, doable, action step, I jumped right in.
As I wrote last year:
I figured I would spend some time thinking about it, praying on it, looking for it, and then-whoosh!-it would wing quietly and powerfully into my life, with all the presence and majesty of a Great White Owl.

Instead, an ordinary, overall-clad Mr. Follow just wandered almost immediately and casually into my kitchen, stuck out his hand, and said, "I'm here because you called. I may not be what you were expecting, but I am what you need."

Oh, great. He's right about that.

Follow was not what I was expecting for my One Word. Something grander, bigger, flashier.

Something easier.
Although 2012 was interesting, it was also a struggle.
I was so very right about Following not being easy. I have had to learn to be more obedient, to let go of pride, to follow where I am led, even though I often can't see around the bend in the road.
Follow was definitely the word I needed as an overarching goal for the year, and I grew in response.
This year I was ready and excited when it came time to discover my OneWord.
Again, I prayed, I read, I journaled.
Words began to appear. A few looked pretty good, but I got that same feeling you get standing in the dressing room in those pants that you really want, but you can see that the fit just isn't there, no matter what angle you view them from, or how many different poses you strike.
Then—WHAM!—a word called to me more loudly than the Prince calling out to his fleeing Cinderella.
Commit, Kim.
Commit.
Time to answer that sweet summons with a full-throated song of joy.
So, this is the year of committing to baby steps towards my God-sized dreams.
And just getting back up more times than I fall down, just like our toddlers do.
Every day this past week I have made forward motion. I also tickled pink to have a new and joyful buddy in the process from my GSD team—Melissa—with whom to share encouragement. After all, we are not meant to go this journey alone. Be sure to hop on over to her place to say hi for a big serving of her sweet southern hospitality!
How about you?
What steps are you ready to take this year In response to the call of your God-sized dreams? Join us at Holley Gerth's place on Tuesdays for help, hope and encouragement.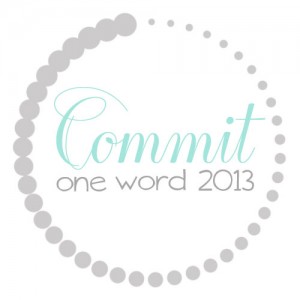 Sharing at NOBH, Finding Heaven, Holley Gerth
By the way, if you choose a OneWord, Melanie at Only a Breath has graciously offered to make you a button for free! She made mine, and I just love it.
Did you enjoy this article?
Sign up for updates and get my FREE ebook: Practicing Gratitude and Discovering Joy

Just imagine. . .Responding with gratitude rather than grumbling, and enjoying more happiness and contentment. And rest assured I won't share your address!