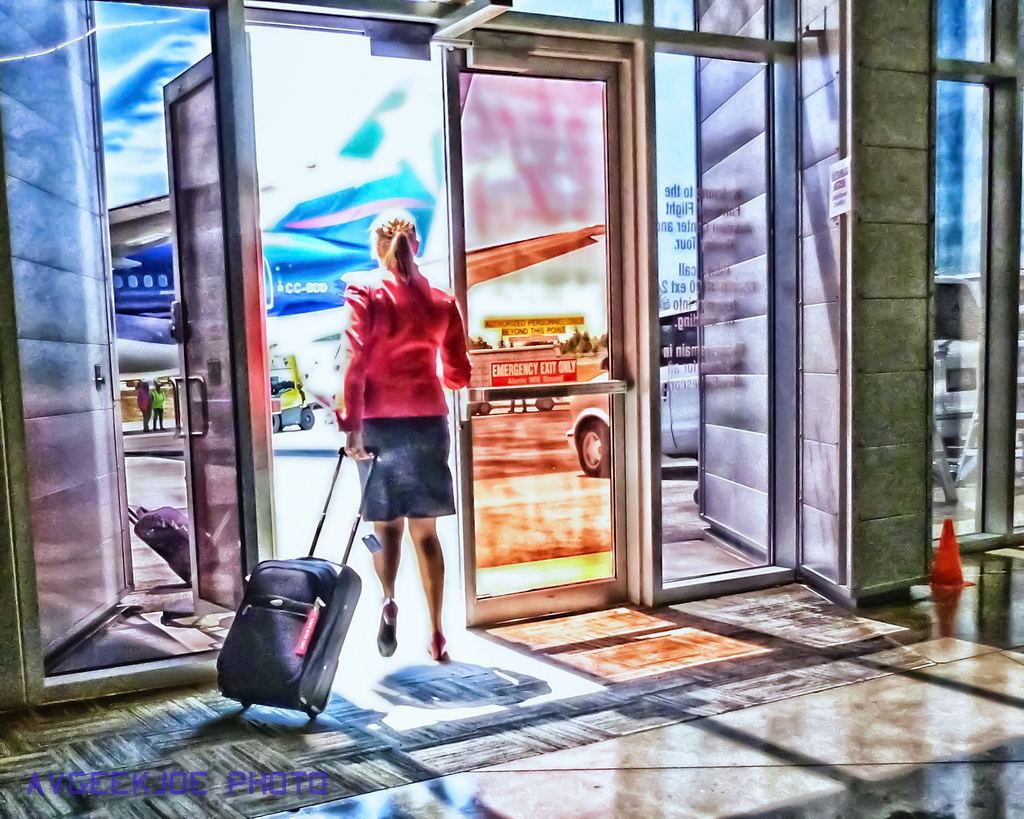 Do you remember game shows that offered tantalizing prizes if you just picked the right door?
The contestants only ever had three choices: Door #1, Door #2, and Door #3.
Well, real life is a lot like that.
You only have three choices in any given situation.
Not five, or ten, or even zero, even though it feels that way sometimes.
Just. Three.
When you understand how these three simple choices work, they can provide a solid foundation for peace and contentment with your decisions.
Let's highlight a common holiday dilemma and apply what I shall henceforth refer to as The Three Door Rule:
Many of you do all the planning, buying, cooking, and cleaning for your guests and just get plumb worn out. Your holiday spirit is fizzling faster than champagne left out overnight.
So, what are your options using The Three Door Rule?

Door #1: Change
Ask the question: What has to happen so I can change this situation?
Take some time to write down what does and doesn't work currently, and decide on what you'd like to tweak or let go. Here are a couple of ideas to get you rolling.
Share the work
Have you ever thought about why your family comes to visit?
Hopefully, the answer is that they came to spend time with YOU, and the others, of course.
They don't want a cookservant who comes and goes with their meals and acts as their maid, and if they do, shame on them.
However, if you have lovingly trained your family that you are SuperMom and can do everything alone, it's time for shaping a new path. Write a letter or email, explaining how much you love having them come to visit, that you would love to have more time with them and would welcome their help. Make concrete suggestions about things they could do. Generally, family members are thrilled to help lighten the load.
I met a large family who did week-long reunions every five years. Mom & Dad set up the location, then each of their ten adult children (!) had an area of responsibility. For example, there was a meal chart that listed who was on cooking and clean-up each day, so no one was over-burdened, along with other organizational details.
They were our inn guests one year, and I never saw a happier group where the truism many hands make light work was practiced, from parents on down to children. The only ones who didn't help? Mom & Dad. The kids wanted a turn at taking care of them for a change. Awwww.
Simplify
One mom decided it was time to simplify and sent an email to her children. She said she would be going easy on the planning and the food. Her goal was to make as much as possible ahead and to keep it simple so they could spend more time enjoying one another. I can't begin to convey to you how nervous she was about that email! However, after the holiday she raved about how amazing it was to have more time with the family, to be more rested, and to have spent less money and have far fewer leftovers.
Door #2-Leave
Ask the question: What has to happen so I can leave this situation?
Write down what your holiday celebration would look like if you were celebrating it for the first time. Would you get together with everyone? If so, what would that look like and where would it take place that's different? Would you get away with just your hubby? Start brainstorming solutions about how to bring your idea to reality.
Our family did a traditional Thanksgiving for years at my grandparent's home, and when it got to be too much for them, the celebration moved to my parent's house. This year, though, my parents went on a cruise and enjoyed Thanksgiving and their wedding anniversary in a much warmer climate. Did the world stop spinning? To the contrary. My siblings and I were thrilled they took time for themselves.
You might have concerns about what people think and wonder if you are letting them down. In this case, you may end up making a different choice.
Door #3-Accept
Ask the question: What has to happen for me to accept this situation?
By the way, if you began to hyperventilate back at #1, at the thought of making changes, the hurt feelings they might cause, the waves they will create and all those other worries that bubble to the surface, this door is your only choice.
You must accept—with grace and goodwill—to have things remain just as they are.
That means you are not allowed to whine and complain about all those things you find annoying or irritating.
This choice is a perfectly commendable one, but understand it is an all or none deal: accept and be happy, or go back to Door #1 or Door #2.
Find a way to be grateful amidst the proverbial storm, and you will find peace here.
There you have it: A simple blueprint for decision making.
I encourage you to cultivate an atmosphere of gratitude, happiness, of togetherness, respect and appreciation for yourself and your family. This may take some time to build, but it will provide for much more joy in the long run. It will also help lead you to choosing the winning door every time!
God grant me the serenity to accept the things I cannot change; courage to change the things I can; and wisdom to know the difference.  ~The Serenity Prayer, by Reinhold Niebuhr
Question: Which of these doors are you most likely to choose this season?
Sharing at NOBH, Better Mom, Soli De Gloria
Did you enjoy this article?
Sign up for updates and get my FREE ebook: Practicing Gratitude and Discovering Joy

Just imagine. . .Responding with gratitude rather than grumbling, and enjoying more happiness and contentment. And rest assured I won't share your address!