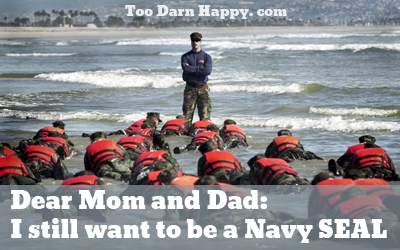 Welcome to the second half of my interview with a young man who has chosen to pursue a profession that might give most parents pause: becoming a member of an elite Navy Seal team.
If you missed the first half, you can read it here.
I invite you to read along again, imagining how you would respond as a parent when hearing these words: Mom and Dad, I want to be a Navy Seal.
We pick up the thread of conversation as Ensign shares about critical choices and a defining moment along the way, and what lies ahead as he gets ready to begin the next step of his journey.
Interview edited for brevity. Since we need to protect our young man's privacy, he will be known as Ensign.
Defining moments and choosing priorities
Q: Were there any defining moments while you were at the Naval  Academy?
Ensign: I guess I would say it was the time in my career that I picked where my priorities lie.
Halfway through fall semester my sophomore year  things were piling up and I was starting to go crazy: I was a staple on the varsity crew team as a sophomore walk-on. It was still like learning through a firehose there. I was starting my majors courses in a major that I had no background in. I was also trying to stay up, be good, still perform to the military aspects, and also trying to have a social life.
In high school, I went to school, did sports, did homework, and then repeat that the next day. I didn't want to do that. So it's the middle of semester and my sanity is kind of beat down. I had to make the decision: What are my priorities? Where are they going to lie? I decided I only have 4 years to become an officer, 4 years of athletic eligibility, 4 years to become an officer, but I have my entire life to learn.
That's not to say I was going to decide to throw away my education. But, if it came down to it, finishing that extra homework assignment, doing that extra credit or getting a good night's sleep in order to perform at practice the next day, I would go to sleep. To succeed and do my rowing thing, it was a good decision.
I still graduated with a 3.0. That was one of my goals. But my top two priorities were rowing and enhancing my life experience through social interactions. There were times we were supposed to be studying and I was going around and visiting everybody. (laughs) I would visit almost everybody on my deck, just talk to them and hang out because that social aspect plays a huge role in your development as a leader and an officer.
What does the SEAL training really look like, especially Hell week?
Q: You are currently awaiting being shipped out to SEAL training. Tell me what the training looks like.
Ensign: The first part-BUD/S is 6 months. That's the first of three phases.
Q: And BUD/S stands for?
Ensign: Basic Underwater Demolition School/SEALS. It stems from when they first started back in WWII with scouts and raiders. It was about getting rid of things, clearing beaches for the Marines as they came ashore in WWII and the Korean War. Then as it got to Vietnam, they changed to a more amphibious force. That's where SEAL came from: Sea, Air, Land, as they transitioned to an all around special force.
So the first phase is the physical condition phase. That's called more or less the beat down phase. The fourth week of BUD/S is when you go through Hell week. It's kind of a misconception: people think you finish Hell Week and you're done, but it's only the fourth week. (Author's note: Hell week generally consists of five and half days of grueling training completed on a total of a few hours of sleep.) And so once you get down to the core group of people who are going to be there, you have your cream of the crop that are going to make it through the rest of the training.
Q: I had some readers ask if you think Hell week will be as difficult as the stories say.
Ensign: It's all in how you picture it in your brain, you know? Your body is going to get beat down, and you are going to hurt. I had a friend who finished it up recently. He said this stuff was no joke, but it's not anything we can't do. If you have the right mindset about it—if you have the right mindset about anything—you can do anything.
I try not to think about it because if you think about how bad it's going to be, you start building up an anxiousness and a fear. I just know what I need to do to prepare for it and then just take it as it goes. You can never be fully prepared for everything they throw at you because it's designed to throw you off your game. The hour of laying in the water and letting the surf wash over you, thousands of pushups you are going to do, hundreds of miles you are going to run in this one week. All you can do is prepare yourself as best as possible and then just have the mindset that whatever comes at you you're going to take and just do.
My biggest worry is injury or sickness, but that is something that you can kind of prepare for. If you are in shape and you do the right stuff, you can prepare to prevent it. But what's to say that you are out running, you get tripped on and somebody steps on the back of your leg and pops your knee out? Freak accidents happen.
Other than that, it's just putting your head down and just making it through, and as an officer going through, I have to take care of the guys in my crew. In some ways it's easier, in some ways it's more difficult because there is more pressure on you to perform for them. At the same time, the focus on your own personal hell that you are going through is a little less because you are focused on everyone else.
Q: Once you are done with First Phase and Hell Week, what is next?
Ensign: You go onto Second and Third Phases. Second phase is learning more technical skills like how to do closed-circuit diving and Third phase is land warfare. Then you go to SQT—Seal Qualification Training. Officers go to a Junior Officer's Training Course to do some communication and leadership education, and you might go to language school.
Then you go to jump school and learn how to do the parachute jumping. You go to SERE school (Survival, Evasion, Resistance and Escape), which is the school all pilots and anybody who could be captured behind enemy lines goes to. After about another year or so of those kind of trainings you will be fully qualified to be an actual Navy SEAL.
Q: I have read about the washout rate of the SEAL program, and it seems to be at about 80%. Is that correct?
Ensign: That was for the whole training spectrum, enlisted and officers, going through. That's when they start at any bootcamp and then go through BUD/S. The enlisted's rate of drop out is a lot higher. I am an officer, and they have their own rates.
 Setting big goals and leaving a legacy
Q: The training sounds extremely rigorous and demanding. What are you looking towards to bring you through?
Ensign: The chance to effect good on the world in a way that I agree with, the way that I have strength of doing. There is a book called The Heart and the Fist: The Education of a Humanitarian, the Making of a Navy SEAL, by Eric Greitens. It talks about a humanitarian who becomes a Navy SEAL. All through high school he would do humanitarian trips. His thesis paper in college was about how the world needs humanitarians, but at the same time, no amount of humanitarian aid or politics will stop some people from affecting evil on the world. Sometimes you have to go in and stop them.
Greitens decided at 25 or 26 that he couldn't just write about it, he couldn't just talk about effecting good on the world without doing something about it. He did his research, stumbled on the Navy SEALS, and said 'I am going to be a Navy SEAL,' went to OCS, and became a SEAL.
His book kind of makes light that anybody can do it, but it takes a lot more than that. But it's a different perspective on what the SEALS do. I think that's me: having a compassionate side, caring for people and wanting to do stuff. (Author note: Greitens has just published The Warrior's Heart: Becoming a Man of Compassion and Courage
, written for teen readers.)
A lot of people look at me like, 'Why a SEAL? Aren't they all just trained killers that do that?' Yes and no. They are trained to kill but that's not their entire job anymore. Because what they do is so specialized, there's a lot more strategy and bigger picture stuff that goes on. Because the battlefields of the present are so different from those of the past, the SEALs are adapting their mission sets to better serve the needs of military. Where before they were mainly a direct action, engage the enemy, blow stuff up kind of force, now a lot of that has been replaced with more stabilizing missions, such as building relationships with locals to help fight insurgents, or providing military training to the local militias.
Q: Your why of going to the Navy was competition and to see the world, but your why of wanting to become a Navy SEAL sounds much, much bigger than that: to leave a legacy, to help other people, and knowing you will do so probably in complete anonymity. It's not a high glamor job. It's a lot of hard work.
Ensign: There is lot of hard work that doesn't get noticed. But it's never been about that. It's nice to get recognized for doing good things, doing great things, but it's also been weird being recognized for doing all these great things, because for me it's just like another day. People give me weird looks when I say that.
If I make myself better—it's nice to do that—but deep down it's been about making the team better, you know? Crew isn't a glamorous sport either. You don't have LeBron Jameses, Peyton Mannings, or Tom Bradys, or people who are so famous and who carry the team. Crew is about everybody doing the job together, so that kind of carries over and teaches you to be humble whether you are or not. I don't have an issue with that, because there are people who do much greater things on an everyday basis than what I do or what I could be doing in the future.
Recommendations and a bit of wisdom for the up and coming
Q: What would your advice or recommendation to students be? 
Ensign:  Foremost would be that goal. Have that goal, that big WHY in middle school and high school. Those are some of the toughest years you are going to have. Emotionally, physically, just overall, you have to figure out where you belong. If you have a WHY, it makes it a lot easier.
You're not going to get dragged down into the petty politics of middle and high school or into the bad news side of town because you recognize there is something bigger. You're going to be happier for it and more successful in the long run.
Q: Any final words of wisdom?
Ensign: Everything happens for a reason, there's no such thing as luck: it's when preparation meets opportunity. Look for those open doors, those opportunities to do things, make the best of what you've got. (Click here to Tweet this!)
And have fun. Don't take life seriously, no one gets out alive. (laughs)
Q: Thank you, Ensign, and good luck as you head towards San Diego.
Ensign: Thank you!
I hope you enjoyed this time with young Ensign, especially in terms of getting to know the heart and mind of one of the hundreds of thousands of young men and women who step up to stand in the proverbial breach between all of us and those who might wish to do us harm.
Questions: Did you see any of your child's characteristics in this young man? How are you helping to grow your child, to help them uncover their strengths, talents, and passions? Are your children grown? If so, please share your experiences. Please jump into the conversation-the more the merrier! You just never know how your words will impact or help someone else. Thank you so much for joining us here!
Sharing at NOBH, Things I Can't Say
Photo Credit: US Navy
Did you enjoy this article?
Sign up for updates and get my FREE ebook: Practicing Gratitude and Discovering Joy

Just imagine. . .Responding with gratitude rather than grumbling, and enjoying more happiness and contentment. And rest assured I won't share your address!