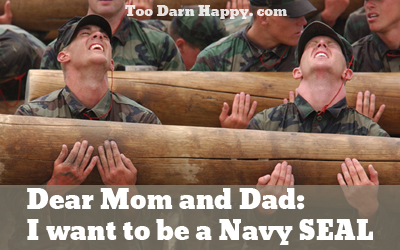 As a parent, you wonder what your child might be when they grow up: a doctor, a teacher, an athlete, perhaps.
Whatever you envision, however, it probably doesn't include dangerous professions such as law enforcement, demolitions, or emergency response.
What if, though, your child sets their sights on the military and especially on becoming a Navy SEAL? As the Naval site notes, it "is widely considered to be the most physically and mentally demanding military training in existence. Then comes the tough part: the job of essentially taking on any situation or foe that the world has to offer."
What might lead a young person to choose such a path?
I had the honor of interviewing a young man who has made such a decision. I invite you to read along, imagining how you would respond as a parent when hearing these words: Mom and Dad, I want to be a Navy Seal.
Ensign shares what led him to the Naval Academy, critical choices and a defining moment along the way, and what lies ahead as he gets ready to begin the next step of his journey.
Interview edited for brevity. Since we need to protect our young man's privacy, he will be known as Ensign.
Ensign, the young adventurer
Q: Thanks for joining me today, Ensign. I read an interview where you noted you were inspired by your dad. You said "He went places. He had some of the greatest stories I ever listened to growing up. There is just so much more than Main Street in my hometown. There's whole other worlds: different people, different experiences" Tell me about that.
Ensign: Growing up, I always related better with the adults and listened to them. When I got to be their age, like my dad, I wanted to be that person who had those stories to tell. So, I made my own adventures. I joined the Boy Scouts, did camping and other things. I went to the Naval Academy because they had that exciting tagline: Join the Navy, see the world!
Q: There are stories of you being a very young adventurer. Would you share?
Ensign: I was around two years old. My mom was driving our old pickup that my dad used as a work truck around the yard picking up trash. She left me in the truck, in my car seat, with the truck running. I don't know how, but somehow I wiggled out of my seat and put the truck in gear, having watched my parents do it. I put the truck in gear —I couldn't even use the steering wheel!—and it slowly rolled down, down, down, and I crashed it into our ditch. I totaled it!
Around the same time I somehow got out of the house and my dad was working on the roof. Somehow I climbed up the ladder two stories to say hello to my dad.
Q: It sounds like you were really fearless.
Ensign: Back then, yes, because I didn't know any better. I used to climb trees, ride my bike around real fast. Thank God I never had a go-cart or something else I could crash until I was old enough to know I could get hurt!
Joining the swim team
Q: You joined the local swim team when you were around ten because friends were members, and you excelled at it right through high school. Was being a swimmer part of your impetus for joining the Navy?
Ensign: Serving was kind of a big thing in our household. I wanted to go farther and do bigger things, so serving in the military was always on the table.
I love being around the water, so I just set my sights on the Navy. Swimming definitely fostered a competitive drive. Looking back, it was probably one of the reasons why I didn't get along well with kids my age playing with them because I was always so competitive. I had to do better: run faster, jump higher, do things better.
I found swimming was an individual competition thing, so you got out of it what you put into it. It allowed me to work on my competition, but I also started learning and maturing into a more team oriented player.
Setting sights on the Navy
Q: When did you set your goal to join the Navy?
Ensign: In middle school, actually. That's when I first found out about the Naval Academy. College wasn't an if statement in my mind; it was going to happen. The military was a strong possibility, and to do sports and also get out and see the world. It all seemed like the natural path; there was no other road, I guess. The end of 7th grade was when I found out about it and did some research on it. Then it got put to the back burner the first couple of years of high school as I went through growing pains, trying to fit in socially, and excel on sports teams.
The sophomore year of high school was when I really started branching out and getting serious about getting into the academy. So I joined student council, I joined the Key Club, National Honor Society when that came up, started looking into class politics. Everything I did in high school from then on was geared towards getting into the academy.
I did different sports, trying out for/helping restart the cross country team junior year, doing a decathlon junior year after  lacrosse season ended, and doing two swim teams in the winter. Not only did it keep me busy and I enjoyed doing it, but I also had a secondary motive: everything was resume building. I didn't do it just for the resume building, though. I thoroughly enjoyed and put my everything into it. I enjoyed being a major player in it, to help out, to leave a mark. So it seemed like a natural progression.
That's where I learned the phrase 'shoot for the moon and you'll still land up there somewhere among the stars.' It was something I took to heart in high school. You set a very aggressive long term goal like that and you work towards it. I thought of everything as 'How would this look trying to get into the Naval Academy?' It kept me out of trouble.
Q:  I think that's unusual for somebody your age. What you are talking about here is something goal setters call the power of why. The bigger your Why, the easier it is to achieve your goal. Your goal resonated from your heart outward and there was nothing more important.
How did your parents react to you choosing the Academy, and then how did they react when you told them you wanted to go to SEAL training?
Ensign:  It was my mom's idea! (laughs) She was the one that told me about the Naval Academy. They've been 100% supportive, but more or less hands off with what I wanted to do with my life, except for the occasional kick in the pants when I'm kind of straying off my path.
I do know they're extremely proud. I didn't tell either of them that was what I was going to do right away. It was kind of like I was further down the path. I thought, 'there's no turning back now-you can't stop me!' (laughs)
When I did get picked up for a billet to BUD/S (SEALS training), my dad didn't outwardly show it, but I could tell he was really excited. He went out and he was buying books about it, and just being like 'Wow, that's so crazy! I just think that's so cool!' he'd say. My mom's been pretty quiet about it. It's going to be tough, but I know that they will still be proud of me no matter what happens.
Receiving an award, but not for swimming
Q: When you graduated from the Naval Academy you received a prestigious award for being an outstanding member of the Crew Team, not for being a swimmer. Tell me about that.
Ensign:  The Coaches Calvert Award goes to someone who is "outstanding in leadership,loyalty, and consistent effort in every field", who pushes hard, who goes farther than their coaches, their peers and even themselves expected to. I guess it's pretty fitting for me considering I came in as a swimmer.
I wasn't recruited. I was going to try to walk onto the swim team. (Author's note—A walk-on is an athlete who is not actively recruited to be part of the team, but manages to  make it onto the team anyway.) That was the goal. I know I wasn't recruited, but I thought if I get in the program, I could improve and be contributing.
But, they had a good base to start with on the swim team, so they didn't want spend time polishing me up. They said 'You're welcome to continue to try out, but you're probably just going to get cut anyway. But the crew team is always looking for good athletes. Why don't you go ahead and try that?' I went out, and they told me stories of walk-ons that have helped teams to win national championships. I was hooked right then and there. (laughs)
Q: Was this another happy accident, like how you came to be on the swim team?
Ensign: Yes! This one was a very happy accident! I was one of the top, or the top, walk-ons, and I was in the mix with some of the top recruits in terms of raw power and everything. Skill-wise I was way behind the eight ball because it's a very technical  In terms of competition, willingness to compete and put it out there, I was ranked up there.
I became a staple member of the freshman crew team. There were four of us that formed the core of the team: three very good recruits and then me, tagging along and jumping in the mix. We were the core of the varsity boat all four years—three years on varsity, one on freshman.
I never expected to do that well. I was in it for the competition (laughs), as another big jump in my learning to be a team player. We called it the Brotherhood, putting it all on the line for the guy in front of you and the guy behind you.
I continued to improve. I had the third fastest time in the entire boathouse as a freshman, and the next three years I had the fastest one.  I was invited to the U23 National Team Selection Camp two years in a row, which is a big thing, made the team and competed at the U23 World Championships the first year, and just missed out repeating the next.
I exceeded the expectations of everybody around me, including myself. It (the award) fit the bill. My coach did a little blurb at the ceremony about how even though I was performing and excelling in the sport, there was also stuff you didn't see. I was one of the first ones at practice every morning. For a while there, I was there before coaches were. I'd be in the boathouse by 5 o'clock in the morning to warm up, get ready to row, rolling up hoses and putting slings away after practice, helping load the trailer every time it needed to be loaded up to go. I was always there helping out.
Q: So it wasn't about being the star of the team, about being a prima donna?
Ensign: No. Even though I knew I was the best in terms of speed and scores, I knew there was a lot I wasn't the best at. I still had a long way to go. I've never been one to take all the spotlight. It's more about the team.
To be continued. . .
There you have the first half of my conversation with Ensign. We will pick up the thread of conversation later this week. Ensign will be sharing about critical choices and a defining moment along the way, and what lies ahead as he gets ready to begin the next step of his journey. If you aren't yet a subscriber, be sure to sign up at the bottom of this post, or in the box to the upper right so you don't miss the rest of the story!
Part Two of Ensign's story is now here.
Questions: How would you respond if your child wanted to join the military, especially an elite unit such as the SEALs? Have you already faced this question? Please join the conversation. I am most curious what your thoughts are on this and the general topic of children choosing careers. And if you missed last week's post on training up your child and letting them go, be sure to go back and read it here.
Sharing: NOBH, Better Mom, Finding Heaven
Did you enjoy this article?
Sign up for updates and get my FREE ebook: Practicing Gratitude and Discovering Joy

Just imagine. . .Responding with gratitude rather than grumbling, and enjoying more happiness and contentment. And rest assured I won't share your address!