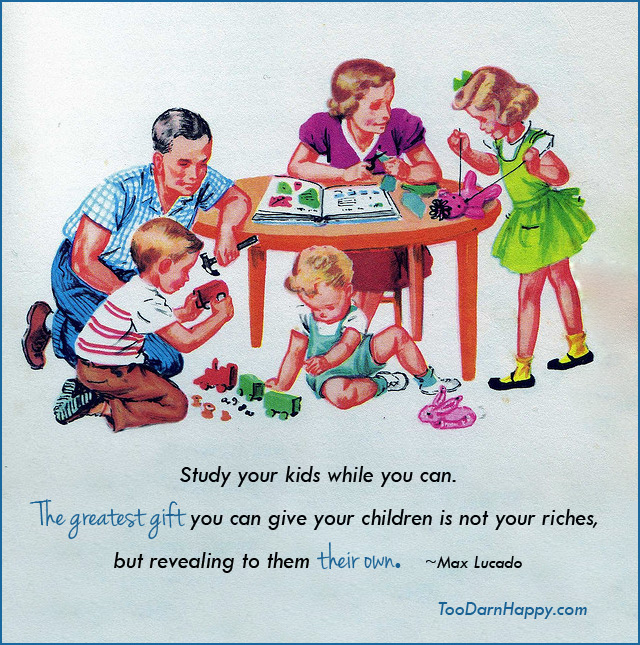 Are you familiar with the story of Ricochet the Dog? She began "school" as a young pup so that when she grew up she would be a Service dog for an individual with disabilities.
There are parallels between what happened during her training and what can transpire as you raise your children.
You have great hopes for your little ones and invest years doing the best you know how to grow them into adults.
A big part of that parenting is learning when you have given your children enough wisdom and direction in any given area so they can fly solo.
You hold their tiny hands and guide them as they learn to walk, and then let go as they take their first steps.
You help them read and write, and then watch as they discover favorite books and pen their own stories.
You encourage them to hone their talents, and then stand back as they surprise you with their abilities.
After all, you want them to do well in school, get a great job, meet the love of their life and be happy, just like Ricochet's trainers wanted her to become a wonderful helper and companion to her owner.
Sometimes, though, what you want is greatly at odds with what they were built to do and be.
You assume that for them to be happy, you must push them into a career that you choose give them direction so that they have status and/or a high paying job, and that will be all they need for lifelong happiness.
Plus, you create bragging rights for yourself. It's very important to be able to say to friends when they ask how Billy is doing that you can lift your chin with pride and say "He's a doctor" or "He's a fill-in-important-title-here", as opposed to mumbling something about they are still finding themselves, or they have dropped out of school, or they're working at the local big box store. (Just being sarcastic about the bragging part in case you don't know me very well.)
In your desire to help, you may become overbearing and overlook their unique gifts.
Instead, think about what Max Lucado recommends in Cure for the Common Life, Living in Your Sweet Spot, "Don't see your child as a blank slate awaiting your pen, but as a written book awaiting your study."
I remember when our youngest was in sixth grade, and the class was assigned posters depicting what they wanted to be when they grew up. One boy split his poster in half. As he described his creation to the class, he pointed to the left side and said dully that this was for his mom, because she wanted him to be a doctor. Then he pointed to the other and said with great enthusiasm that he wanted to be a professional athlete.
Recently I heard about a young lady in her mid-twenties who is pursuing a new direction, doing something she loves and at which she is very, very good. She went to college for Event Planning (Who knew that was a Major? I did not.), because that was what her parents said she should do. Actually, when she was in high school, she came home one day very excited. She told her mom she had discovered psychology and LOVED it and wanted to pursue it as a career.
Her mom's response? "Oh, honey. You're just not smart enough for that." I think you'd be a good event planner."
Ouch.
Rather than embrace interests and see where they might lead, "distractions" were firmly squashed to keep the parent's hopes and dreams intact.
In Ricochet's case, while she excelled at her tasks, a penchant for chasing birds came to light. This would present an obvious risk to a person.
Her trainer spent months trying to change the very nature of this sweet pup and make her into something she just wasn't. Ultimately, Ricochet was removed from the program, and her trainer looked at her beloved dog's strengths for other possibilities.
Lucado writes to parents in a similar vein:
God prewired your infant. He scripted your toddler's strengths. He set your teen on a trajectory. God gave you an eighteen year research project. Ask yourself, your spouse, and your friends: what sets this child apart? Childhood tendencies forecast adult abilities. Read them Discern them. Affirm them. Cheerlead them.
Yes, affirm and cheerlead them indeed. It is a delightful, and yes, sometimes tremendously difficult journey to walk alongside your children and to guide them on their way to adulthood, to provide love and support, and to be the parent, and later the friend.
Let go of who you think your children should be and help them bloom in their beautifully unique way. (Click here to tweet this!)
Here is a final quote from Lucado which I recommend posting somewhere as a daily reminder:
Study your kids while you can. The greatest gift you can give your children is not your riches, but revealing to them their own.
And last, but certainly not least, here is the video that launched this post. I realize it is just over five minutes long and that that is a lifetime in our short internet attention spans.
I encourage you to watch the whole thing for a real boost of joy to see how Ricochet's talents have been encouraged. Note that she is serving, but in a wonderfully, completely different way than originally planned or imagined.
If you'd like some books and resources for helping your children, you can find them here.
Train up a child in the way he should go [and in keeping with his individual gift or bent], and when he is old he will not depart from it.  ~Proverbs 22:6 (Amplified Bible)
Questions: To slightly paraphrase Max Lucado, do you see your child as a blank slate awaiting your pen, or more as a written book awaiting your study? Which of these better describes how your parents saw you? I invite you to jump into the comments today-the water is warm and friendly!
Sharing at NOBH, Better Mom, Finding Heaven, Things I Can't Say, Hearts at Home
Did you enjoy this article?
Sign up for updates and get my FREE ebook: Practicing Gratitude and Discovering Joy

Just imagine. . .Responding with gratitude rather than grumbling, and enjoying more happiness and contentment. And rest assured I won't share your address!