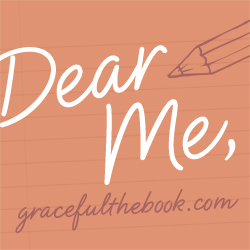 Dear 16 Year Old Me,
I have so much to share with you. How I wish I could reach through time to give you a hug and tell you how much you have to offer, that your worth is not measured by gleaming tresses, cool clothes, or a popularity contest, that when you are older you will be a lot more comfortable with who you are. That old adage of you're not getting older, you're getting better definitely applies to you, so keep the faith.
You are worthy. Just because you are bussed in from your little town of about 2,000 residents—including the cows—to the nearest high school does not mean you are any less talented than the the city kids.  About twenty years after you graduate you will learn that you were in the top 30 out of over 220 students. So jump in and go get 'em, tiger. Be open, be confident, be yourself, and be a friend, and you can't go wrong.
You have always been pretty shy, although you will get over it. Actually, people will be in shock when they discover the friendly adult they know used to be a quiet person. Returning to that reticence occasionally wouldn't be a bad thing, either, as you can learn so much when you stop talking.
Don't believe everything you hear that confirms your lack of confidence. This started in your freshman year when you wanted to try out for chorus. Do you remember someone said you would have to sing by sight reading in front of the whole group? You never went to see the teacher to see if it was true. You just never tried out. A shame, because you have a nice voice, and  now is the time to use it. In a few short years,  you will pass out in the E.R.,  hit your face and voice box on a metal tray on your way down, and your singing voice will never be quite the same, although you will be ok. Go try out for chorus and see where it leads. Success and failure are both an option, and neither are generally fatal.
When you are a junior this lack of belief will come up again. A guidance counselor will meet with you supposedly to provide guidance about life beyond high school. He will ask if there is anything you are interested in. Certainly tell him you'd like to be a teacher, just as you planned to. Only this time, when he shocks you by sneering, "What college would ever want you?" be prepared to laugh it off and  say, "Well, I guess we won't know that until I send out the applications, will we?" Turns out he was angry at your dad, a fantastically talented educator, and he was getting back at him through you. Oh, and go ask for a different counselor. That one is a real jerk.
You will face this doubt again as a parent of a fifth grade daughter whose behavior vexes you and her teachers. When you ask if ADD might be an issue, her teacher dismisses your concerns. Only when your daughter reaches college does she get tested, and yes, she has ADD. The medication changes her life, so believe in yourself. Trust those instincts.
You are a kind and happy person, although you can be too trusting. When you are a little older, and out at night exploring the night life of a city, think twice about getting into that car you think is a taxi. It's not. And that older gentleman driving it has mistaken you for something you are not. It ends well, with many flustered and embarrassed apologies, but still. . . Trust, but verify.
Treat yourself  like the treasure you are. Once you graduate, you will move close to the Big Apple, where there will be many temptations. You don't like being single, and you don't feel especially attractive. To quote an old country song, you start looking for love in all the wrong places. You have so much to offer and the boyfriend you long for is busy growing into the amazing man you will marry. Patience, child, patience. He will be more than worth the wait, and even he admits that you never would have hit it off if you had met sooner.
So, there actually isn't a whole lot else I would recommend. Well, there is, but if I removed all the obstacles you would miss  out on so much growth and learning. Plus, you wouldn'tbe able to laugh at those really bad fashion choices from the eighties. You will especially know one of the worst—the bright teal and hot pink, large, floral pattern leggings and matching jacket—when you see it through the lens of time.
My final words are these, dear Kimberly. Write them on your heart and live by them fearlessly and joyfully.
Love who you are.
Believe in yourself.
Find happiness in every season.
You are as wonderful a person as your parents say.
Love and kisses,
Your older, much wiser but still learning all the time, generally happier self
Sharing letters to our teen selves at Chatting with the Sky.
Question: What would you tell your teen self? Is there something rattling around that needs closure or forgiveness? I'd love to have you share your thoughts! Click here to comment.
Did you enjoy this article?
Sign up for updates and get my FREE ebook: Practicing Gratitude and Discovering Joy

Just imagine. . .Responding with gratitude rather than grumbling, and enjoying more happiness and contentment. And rest assured I won't share your address!