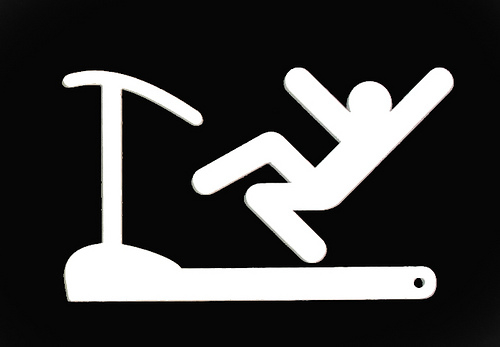 I have a running disagreement with a lovely woman who believes to her core she is extremely capable of accomplishing multiple to-do's at once. When I suggest slowing down and focusing on one chore at a time, this accomplished dynamo of a retiree laughs and replies there is no reason to do so when she can get so much more done when she multitasks.
Recently, after opening a letter from her doctor that recommended lots of walking for better health, "Mary" decided she needed to start right away.
Even though it was late, and she was tired.
Onto her trusty treadmill she climbed, gradually increasing the speed and then raising the incline for good measure.
Practically running along and feeling quite gazelle-like, this obedient patient was enjoying the rush of the exercise but not the accompanying rise in body temperature.
She soon needed to take off her heavy, hooded sweatshirt so as not to suffer heatstroke, and being safety conscious, she lowered the incline.
However, she did not want to lose any of her momentum.
So she made the decision to multitask. After all, she said, "All you have to do is keep walking and strip off the extra layer."
With one hand she reached up into her  bright orange garment to release her arm, and then grabbed at the hem to pull the top up over her head and off her body in one sweeping motion.
Mary wryly commented that when your sweatshirt is wrapped around your head, it apparently affects your walking rhythm.
You actually forget to keep putting one foot in front of the other.
The next thing she knew she was sailing backwards like a headless horsewoman who'd been thrown from her mare, against the bureau drawers built into the wall behind her.
Fortunately, the dents made in the small of her back by the round wood knobs could be claimed as large beauty marks if they didn't fade.
Realizing that all of the energy from her launch had not yet been released, and knowing that the glass patio doors were directly to her right, she twisted her body to the left.
Continuing her impromptu airborne gymnastic routine, Mary bounced off the wall and  stopped hard as she hit the bed face down.
So there she was, sprawled across the quilt, still trapped inside her sweatshirt and, fortunately, none the worse for the wear. She said she was laughing so hard she almost suffocated before she got her head back out to check that all of her body parts were still attached and unbroken.
 ~~~~~~
Are you a mom who believes multitasking is the only true and available path to getting things done?
I used to believe that, too.
I am learning, though, the more I focus on just one task at a time, the more I accomplish and the better quality the finished product, and the sooner I can move onto the next item on my list.
And studies back me up. Even neuro-scientists say our brains can't focus on more than one thing at a time.
However, convincing ourselves of that truth can be a difficult thing indeed, as we prefer our rose-colored lack of perspective to reality.
Can you think of times you have tried to do several things at once and done one or more badly?
Have you burned a meal, forgotten to pick up an item at the grocery store, or missed a stop on your errand run because you were simultaneously handling other physical or mental tasks?
Uh huh. I'm guilty. How about you?
Dave Crenshaw, author of The Myth of Multitasking: How "Doing It All" Gets Nothing Done
, notes the three major downsides of this behavior:
The tasks take longer because you are switching back and forth and having to reorient yourself
You make more mistakes because you have thrown more information into the mix
Your stress level increases for the same reasons. Crenshaw even shares a short test to illustrate the effects of multitasking.
He also lists a fourth serious side effect to this bad habit:
The damage we do to relationships because we are not focused on the other person. Between the texting, emailing, surfing, and whatever else we do while talking with a loved one, they are left feeling unimportant.
Yes, unimportant.
Ouch.
So here are five simple ideas to take on your way to more focused and productive living, and improved relationships as well.
Pick one thing, and do just that task.
I know this sounds extremely simplistic, but it is a pivot point towards a changed life. If you are vacuuming a room, for instance, just vacuum. If you come across items that belong elsewhere, throw them into a basket or pile them on the furniture to handle when you are done.
Do not wander away to start the chain reaction of putting away the boots in a closet you start to neaten up, moving the winter coats to the attic for storage, to searching for the beach tote because it's unseasonably warm, to going to the computer to look up vacation ideas, to playing a word game online with friends, only to find that a couple of hours have passed, and the vacuuming still awaits.
This will definitely take some time and practice. Be on the alert, and nip this behavior in the bud each time it appears.
When you are having dinner with family, turn off the electronics.
If necessary, move the computers and phones to a different room to make space to enjoy the food and conversation. Again, you need to give this time to take root. Be prepared to chat. Ask everyone for the low and high point of their day, the most interesting thing they learned, or one thing they are grateful for.
There are also great conversation starters on Amazon, such as The Complete Book of Questions: 1001 Conversation Starters for Any Occasion, Dinner Talk: 365 engaging conversation starters to help you and your family connect
, and TableTopics Family
, a Trivial Pursuit type box of assorted fun and thought-provoking questions.
Choose certain periods of the day to check email and social networking sites, and put a time limit on your visits.
Doing so will keep you more focused and intentional as you work your way through your inbox and surf the internet. This will also give you more minutes—or hours—to handle other tasks. Set a timer, or ask a family member to be your accountability partner as you build this new habit.
Subscribe to the Big Rock Theory.
In First Things First
, Stephen Covey shares a parable of Big Rocks. His point is that if you choose your most important two or three tasks and make time to focus on those first, you will accomplish more and still have the time for smaller chores. When you choose instead to fill the day with lots of small, less consequential items, you just won't have time for those bigger tasks you want to get done.
Add prayer to your day.
Whatever the time of day, get in the habit of sitting quietly and taking time for a conversation with God. If you find your mind wandering, gently bring it back to the thought at hand. This not only gives you a peaceful foundation on which to build your days, it deepens your relationship with God and also provides great practice for focusing.
Be very patient with yourself. You have spent years unintentionally building and strengthening these habits. You will find that the more you do them, the more accustomed you become to focusing and finishing one task at a time, and the more productive you will become.
And for goodness sake, don't multitask on the treadmill.
Challenge: What is just one thing you can tackle all by itself today? Please share, ask for suggestions and support one another in the comments. Remember to check that little box under the comment area so if someone responds to you, you will be notified of the reply.
Image credit-Lars Hammar via Flickr