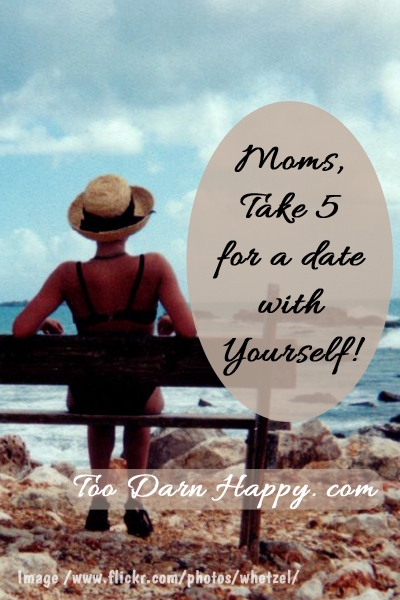 Moms, we are notorious for not taking time for ourselves.
Do our kids need help with homework? We're there.
Is our child's sports team asking for volunteers? We're on it.
Does someone need to get to an appointment? We'll drive them.
We will just keep scraping the bottom of the barrel for any compassion and patience we need, and at some point, there just won't be anything there anymore.
Our inner toddler melts down faster than an ice cream cone in August, and in spite of the mess, we are apt to say, "Oh,  be quiet. Just buck it up."
Guilty?
Yup.
It is time to put yourself—if not at the front of the line—then at least in the queue for some TLC.
Sit down with your calendar, and mark off a day just for you.
I'll wait until you stop laughing. . .
Fine. If you can't do a day, take what you can, even if it's an hour thirty minutes ten minutes.
Once a week. That's all.
Just. Start. Somewhere.
You need to refill your tank.
Do you think you are built to just run on fumes forever?
Books on how to take 5 for date with yourself
Author Julia Cameron 
 and Janice Elsheimer 
have both written terrific books—The Artist's Way, The Creative Call)
—on learning how to refill by taking time for ourselves—Artist Dates—particularly in regards to awakening our artist within. Cameron's is more from a spiritual/creative energies of the universe perspective, while Elsheimer's is Christian faith-based.
Please note the authors describe artistry—what artists do— as any activity through which we gain joy and fulfillment, whether it be mothering, writing, photography, cooking, gardening, or a multitude of other past times. These works can be done for sheer delight or for payment.
I am not advocating that you take your creations public, or even that you build a business with them, unless, of course, that is a dream of yours. I am asking you to recognize we are all artists in our own way, and unwrapping your gifts will bring more refreshment to you than you ever realized was possible.
As Elsheimer wrote:
Our gifts are not from God to us, but from God through us to the world.
Yeah. Go back and read that one more time and really let it sink in.
Through us.
To the world.
So where do you begin?
No time?
Start with prayer. Remember to make a request on your own behalf for time to discover and start using your talents, for quiet to refresh yourself. Listen for a response and direction. As NIV Jeremiah 31:25 states: "I will refresh the weary and satisfy the faint."
If you have kids, you may have to lay some groundwork first by teaching them the value of quiet time. Author Kathy Murdock writes:
If we don't give them this quiet time, and let them explore, they will never learn how to do this. Then how will they be as adults? How will they ever know what they truly like, and how to be quiet, and how to reflect, if we don't show them?
You will also need to hold a conversation with your spouse so you can both carve out these important blocks of time.
Have just a few minutes?
Begin to journal. This is helpful to get the junk out of your head and on paper so you can let go of it. Last thing at night is great for this. Remember that you can always burn, shred or toss the pages if they really should not ever be read by anyone else. You will be amazed when you start writing what eventually takes shape on the page.
I have, at times, written pages of I don't know what to write, I don't know what to write, or a mess of bitterness, anger or discontent, only to have an idea or solution finally work its way to the surface once I have scraped all the garbage out of the way. I have found journaling to be just one tool to keep my heart healthy and to generate all kinds of interesting items.
Have a small block of time?
Take a short walk around your house or the neighborhood.
Go sit by a window, or outside if weather permits, and enjoy a cup of coffee or tea, and read a few pages of a favorite book.
Pick up your long abandoned hobby or project, and work on it.
Grab your camera and search out some small things to photograph whether indoors or out.
Do some stretching or yoga exercises, as long as you do them for the sheer enjoyment.
Carved out an hour or more?
Lazily browse through your local library, area bookstore, or craft supplier.
Go to a cafe to enjoy a cup of coffee, and read a few pages of your book.
Take a long walk and listen to favorite music or a humorous talk on your ipod.
Visit a museum, local exhibit, or a presentation.
These suggestions are meant as a jumping off place for whatever will work for you.
Attending to your needs, and filling your tank with joy, love, satisfaction, and peace allows you to cope more readily and steadily with the ups and downs of life.
So, pick a day and a time, and set it aside just as you would for any other family member.
This is not a luxury.
This is an important component of being the kind of mom you want to be.
Now go run to your closet with joyful exuberance and butterflies of excitement, and get ready for your date!
Comment: What will you do for an artist date? What can you recommend to other moms? Thanks for sharing in the comments!
Sharing at No Ordinary Blog Hop
Finding Heaven's Soli Deo Gloria Party
Pour Your Heart Out with Things I Can't Say
Image credit-Jennifer via Flicker