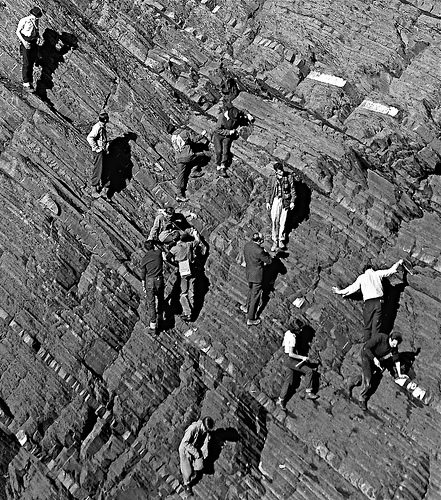 The much anticipated and equally dreaded Spring Forward! time change has arrived. Those of us who have experienced it with children know how exciting it is for the kids to be able to play outside longer and later, but also know how it can disrupt sleep and morning routines. If you are functioning right to the edges already, this may just push you right over the cliff. . .
Monday morning.
Arrrggghhhhh!
The race is on again for a new week, and you and your mind are running at top speed, full out, and it's not even 9:00am yet.
Hubbie. House. Job. Laundry. Clean clothes. Ironed clothes.  Lunches.
Kids. Backpacks. Missing homework. Missing sports equipment.
Get in the car. Let's GO. We're going to be LATE.
Missing me.
Missing time.
Missing breathing room.
STOP.
Slow down for just a moment and take a deep breath.
Just. Stop. Being the "good mom", the "perfect mom" the "can do it all mom", the "I must or my husband won't be considered for his promotion mom",  or the "I must or my kids will miss out and be left behind/not get into the right college mom".
Whew.
What is the solution?
You need to build margin into your life.
I learned this term recently from Andy Stanley, through his  study Take It to the Limit, whose description follows:
Overloaded? Maxed out? Our culture encourages us to live as if we have no limits. So we fill up our schedules and empty our bank accounts. We do as much as we can, spend as much as we can, and acquire as much as we can – all in an effort to get as much as we can out of life.
Might I say "whew" again!
Having margin means that you walk yourself permanently back from the precipice so that when there are emergencies, you will not be shoved hard and fast over the edge.
So. What does having margin in your life look like, and how do you get there?
1. Plan ahead for the morning
Teach the kids to prepare their clothes/school needs the night before, allowing for a more relaxed morning. And moms -yes, your children can and need to be taught how to use a washer and dryer. It is not capital punishment. What is cruel is being almost of legal age, and not recognizing what a washer is, let alone how to use it. See here for a how-to for every age.
You can also take the time to do one little something the night before, like fill the car with gas or put your keys with your purse to save time and sanity in the morning.
2. Get up just five or ten minutes earlier

Let's face it. Just a few minutes extra in the mornings can go a really long way towards avoiding that maddening, last minute rush to get out the door. Get up a little earlier and make those minutes count, whether in prayer or preparation.
3. Add meal planning to your list
Do some meal preparation/grocery shopping over the weekend and/or the night before so that lunches and dinners are not held regularly at the exclusive drive-through of Chez McD's. Even better, think about monthly meal preparation. I know, it may take a bit to wrap your head around that.
For a terrific resource, visit Kara at Journey of a Home-Schooling Transracial Foster Family for ideas, recipes, and the how-to's of freezer and monthly food preparation. A shout out to her as well; she was awarded the Star Blogger award for February from No Ordinary Blog Hop, a great gathering site for women of which I am a crew member. I know of parents whose children are old enough so that they participate in choosing and making dinner, with parental oversight and help as needed, of course. This is a great way to get kids into the habit of helping and planning.
If all of this seems a little overwhelming, at least consider the Pantry Principle, as wonderfully explained over at Tea Time with Annie Kate, self-professed non-menu planner.
4. Keep a public and up-to-date list of family events and activities
Put a whiteboard on the fridge with weekly events/times/places you need to be at and things everyone needs to have ready for each day. Make it a habit to check it daily for the next day or two to avoid surprises-"Mom! I told you I needed _____ for the school event. Mom!!-said in a plaintive, wailing, accusing voice, of course.
5. Take the time to attend a personal finance class
Perhaps more than anything else, this will add margin in so many areas of your life and will truly be the gift that just keeps on giving. When you learn to manage your money so that you are intentional about where it goes, and about how you save, spend and give, you will find that you can climb out of debt. You will discover that the perennial cycle of building up clutter then giving it away or holding a yard sale stops because you aren't spending money mindlessly anymore.
Your children will discover the joy, yes, joy, of earning money and saving to buy an item they really, really want. Parent after parent has told me they can't believe how much care their kids invest in items they worked for and purchased. I know couples who got their finances into such order and debt freedom that moms were able to transition into a stay at home parents, and spouses were able to leave ill-fitting jobs for something much better. We attended Dave Ramsey's Financial Peace University, which I highly recommend as a life and family-tree changing program.
These are just a few ideas to get you rolling. Take a look at the areas that cause you frustration, and think about how you could change one thing that would help you avoid or eliminate that item and create some breathing room-margin-in your life.
Remember to point out the benefits to your family, and how the change will bring something better than what you have now.
Be patient. This can take a little time, depending on how each member handles change.
Once you get one under your belt, add another, then another. The effect of layering these changes together can be very powerful.
I strongly encourage you to build margin into your life starting today. Won't it be nice to breathe a little easier tomorrow?
Challenge: How do you create margin in your life? If you aren't, how can we help you get there?
Sharing at No Ordinary Blog Hop, the Soli Deo Gloria Party and Write it, Girl!
Image credit-Brian Rosen