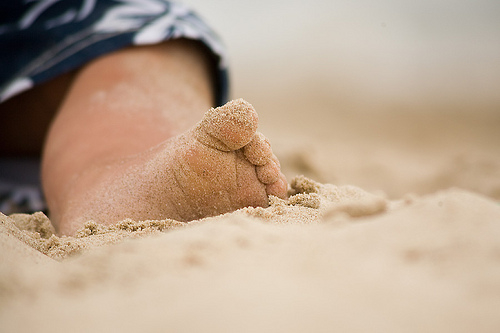 Ahh, the feel of the warm sand at the beach as you curl your toes and gather up its gritty wonderfulness.
The joy of watching your little one toddle around with glee, her round bottom plopping down as she bends to discover another treasure, her chubby fingers grabbing a small handful of the seashore and watching in wonder as it trickles from her tiny fist.
You know from experience that those grains are working their way into your child's swimsuit and sticking like glue to their skin, and you wonder how in the world they can function with so much sand in every nook and cranny of their body.
Those same grains are such an annoyance as you do your best to wipe them off when it is time to depart, and eventually you give up, scrunching your sandpapery feet into your shoes.
We bring them home with us, those wonderful reminders of the salty ocean breezes, the loud cries of the gulls, the joy and peace of the day.
Those eventually annoying, can't get them out of our cars, our clothes, or off the floors, irritating specks of sand.
The whole experience reminds me of our relationships.
How we put on our adorable rose-colored sunglasses, and still we are partially blinded by the light as all we see is the strong and handsome knight who becomes our husband, or the marvelous teeny tiny wonder who is our newborn child.
As time passes, and the lenses become scratched and worn, we begin to see a different view.
One of irritating behaviors, of endless cries.
And we wonder if we made mistake with the choices we made.
Do you suppose God wonders that as well?
That when He watches you live your life, that He made a mistake when He created you?
"Wow. Wonder what I was thinking that day. Maybe I shouldn't have had that guacamole just before I went to bed. Note to self: toss the plans on that model."
I don't think so.
I believe he gave us all the gift of the beach, that glorious warm and wonderful place, where beautiful white sand kisses the brilliant blue waters, so that we would experience the joy and wonder of creation.
But especially so that we could also choose to embrace that very same sand, each itty -bitty, gritty, irritating grain, and hold them so very tightly, with such gratitude and delight, that eventually we turn them into beautiful, lustrous pearls.
Just as He does every day with us.
Sharing at No Ordinary Blog Hop
Image Credit-Shutter Daddy
Every Friday I join Lisa-Jo over at The Gypsy Mama for her Five Minute Friday prompts, where ladies from around the globe join in writing because we want to, not because we have to. We write for fun, for joy, for discovery.
We just write without worrying if it's just write or not.
Won't you join us?
Follow the link above to read and be encouraged by what others have to share. We'd love to hear from you as well, so feel free to leave a comment today. Thanks for coming by!
Postscript: How I love the Five Minute Fridays, and how I also find them to be a regular source of consternation. Often I struggle with the message that appears at my fingertips and how to balance that against the minutes that tick away too quickly. More often than not, the message wins out, and I go a little-sometimes a lot-longer than my 300 seconds. Today, I must say, I broke every single rule. For that, again, I ask forgiveness.