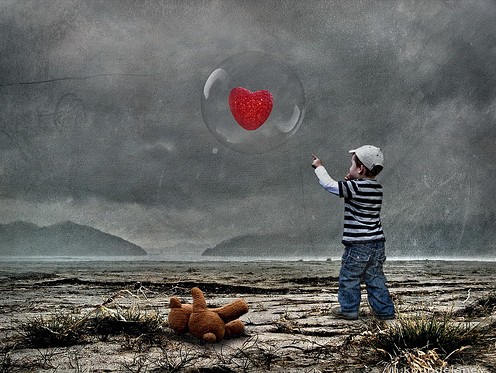 Welcome to the follow up to Rescuing Your Marriage-Looking Back from the Future. If you missed it, I encourage you to take a few moments to go back and read it, and to please think about stepping back from your willingness to walk away from your marriage. Instead you can flirt with the idea that there still may be a tool you haven't tried yet.
I know that you are probably aware, if for no other reason, you need to rescue your marriage for your children's sake. If you are not up to date on the long term negative effects of divorce on children, however, here is a tidbit from The Foundry, the blog of The Heritage Foundation:
As research on Heritage's FamilyFacts.org illustrates, adolescents who do not live in intact families are more likely to engage in substance abuse, exhibit behavioral problems, have poor academic performance, and engage in risky behavior, including becoming sexually active at an early age.

In addition, children who do not live with both parents are more likely to experience psychological and emotional problems ranging from low levels of social competence and self-esteem to anxiety and depression.

Conversely, the positive effects of marriages that stay intact can extend for generations to come.
My heart absolutely breaks when I read this, knowing that you stand in a place where you are willing to put your children on this path fraught with potential peril, your little ones who you would never ever in a million years purposely put at risk.
And yet, here you are, so concentrated on just stripping off these stifling matrimonial bonds that you don't realize you are simultaneously cutting your children loose from the safety cord that tethers them to the security of your marital relationship.
I know what you are thinking.
It's over.
It's not over until neither of you are of this earth any longer. Until then, the optimist within me believes there is way to breathe warmth, love and life back into your ice-cold marriage.
I don't want to read a stupid book.
If I offered you wealth beyond your wildest dreams if you read a book or a blog that moved your heart and soul to join joyfully again with your mate, I suspect you would hit the trail to locate that treasure.
I don't want to go to counseling.
If you just received the diagnosis of a deadly illness, I am confident you would not be quick to dismiss any idea out of hand, but instead you would try just about anything that hinted at a cure.
I don't want to go to some worthless workshop.
If you were going to die unless you spent time away that would help you resuscitate your relationship, I have no doubt you would search in earnest for a great match.
I just don't care.

I just don't believe you.
I just have faith that here is a way forward through the frigid darkness. It's a matter of finding what fits you, your spouse and your circumstances. Perhaps it's a book that gives you the insight and hope you need. You might need the guiding light of a counselor or participation in workshop to translate ideas into action.
There is just too much at stake here to just walk away.
Michele Weiner-Davis of Divorce Busting recounts a story of her marriage and the long ago divorce of her parents:
Our children taught us the meaning of unconditional love and the gifts that come from selflessness and responsibility. They showed us what is really important in life– family. I cherished these lessons every day. But ironically, during this period of deep contentment and gratitude, something else began to stir inside me. I began to experience unexpected feelings of loss about my own childhood family. Increasingly I found myself searching for a way to understand what seemed like an inexplicable underlying grief. Although I thought I had made my peace with my parents' divorce, I was coming to understand that my pain wasn't just about the demise of my parents' relationship. It was about the loss of my family.

Although I adored my two brothers, after my parents' divorce, I had less and less contact with them. I had never before recognized how much my mother had held our family together. It was she who made holiday dinners and birthday cakes. It was she who filled my father in on our daily lives. It was my mother who was the hub of the wheel for my extended family and when she gave up that role, no one else stepped up to the plate. My father, traditionalist that he is, simply wasn't prepared to take over my mother's role as family magnet.
As she also notes: Whatever it is, you owe it to your children to leave absolutely no stone unturned if you are considering dissolving your marriage. Once a marriage dissolves, so too, does the family… forever.
I can't say it any more simply or better than that, so I offer an assortment of resources to you-books, blogs, workshops-hoping something resonates with you enough to work your way towards the marriage you have always wanted.
Encouragement and hope from a couple who fought their way back from infidelity with God's help: Sarah Markley of The Best Days of my Life
Showing Love Redux-What we pay attention to in our relationships flourishes
No stone unturned-Marriage saving tips
A list of Top 10 Marriage Books from Courtney at Women Living Well Ministries
The book Five Love Languages, The Secret to Love that Lasts, and a post: What love language do you speak?
Ten Lessons to Transform Your Marriage, by John Gottman
The uplifting movie Fireproof, about saving an apparently hopeless marriage, using the 40 day experiment from  The Love Dare book
Finding a counselor: Qualities to look for in a Marital Therapist
Family Life's powerful Weekend to Remember, where you can learn marriage-changing principles
Remember as well that your local pastor can either counsel you or direct you to someone who can
Remember to keep your mind and heart open, as anything is possible, especially if you are ready to let go and let God into your life and marriage. Blessings in your travels and efforts as you head down this new path. My heart and prayers are with you.
Sharing at No Ordinary Blog Hop
Image credit-h.koppdelaney