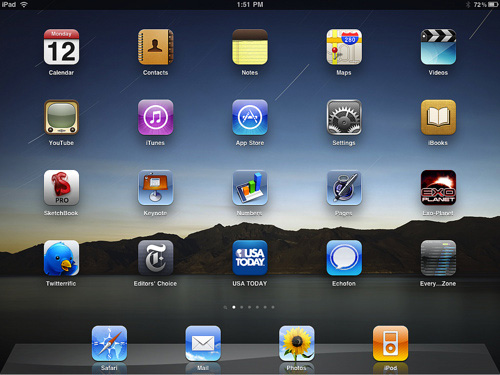 We have rolled right into thick of the Christmas season, with Black Friday and Cyber Monday already long gone from the rear view mirror, eggnog and gingerbread calling our name, and visions of having all our tasks completed early dancing in our heads.
You may have your shopping all done and wrapped. If so, I bow to you, as you are ahead of me in that department. Personally, I am working on finding more time to enjoy the peace of this season, especially in regards to being prepared to feed our company (make sure you get the FREE download of tips, hints and recipes!), so I am moving forward on those goals I have set.
If, like me, you haven't finished your shopping, well, I wish you the best of luck.
Now, while an iPhone or iPad may not be on your gift list this year, there are some really nifty uses for this technology that may change your mind about owning one. I am what is known as a late adopter, so I do not yet own one. However, having the huge family that I do that includes some early adopters means that I get to play with said technology, and I have learned a lot about these nifty gadgets, and have learned there is far more to them than may initially meet the eye in regards to how they have the ability to connect us in powerful ways.
The iPhone as more…
Do you have a researcher, missionary, a scientist or a budding doctor in your midst? Researchers Turn IPhone Camera into Cheap Microscope with $40 lens
How about an iPhone as a first aid and survival guide, a handyman's tool, a personal shopper, a whole house remote control, a reservation maker, and so much more that may take a little stress out of your life: 25 Unusual and Inspiring Uses for Your iPhone
Do you own a small business that is mobile, such as pet grooming, window washing, catering, etc? How would you like to be able to take payments wherever you are? The iPhone can now be used as credit/debit card reader, for individuals, small and large businesses. The company Square was founded by Twitter co-founder Jack Dorsey, and has seen lots of growth and interest from a wide variety of organizations and businesses. The Salvation Army, discovering that people just aren't carrying cash like they used to, have gone to using Square at many locations so folks can contribute where there are bell ringers with the bright red buckets.
According to PC Magazine, Apple stores started selling the reader this past spring, and it was reported recently that Wal-Mart would be selling them as well, if you wanted to check them out for yourself, your business or organization.
Once you go into the App Store, you will find over 500,000 apps: instrument tuners, baby monitors, a flashlight (my mom uses this one), first aid guides, and so much more. The ingenuity of what folks envision and design is just amazing.
The iPad for music
I think one of my favorite new ways I've seen the iPad being used is by my family when they got together to play their guitars. They used the guitar tuner app, and then pulled up their sheet music on their iPads. Not only is their music always handy, the app follows their playing and will turn the virtual page for them. No paper to drift to the floor, no stopping to turn a page. You can see a demonstration here. It is really, really nifty.
You can also turn the iPad into an instrument. Yes, an instrument.
While this certainly wouldn't replace real flutes or keyboards or anything else, think about the possibilities of bringing music to a rural area, where lugging instruments would be impractical or near impossible. Think about the cost of carrying instruments on a plane, or the cost of shipping them. For folks who are shut in or don't have the strength they used to, what a wonderful way to play the music they love.
For connecting family members
My mom regularly has several word games (the iPad version of Scrabble) going at once with relatives in several different states. My brother and his daughter in TN, my sister in PA, family members here in New England all have participated in multiple player games where geography is no longer a barrier. The ability to keep the lines of communication open is tremendous.
An iPad is a great way to store images for grandparents. While their grip gets too weak to carry around family albums full of favorite photographs, an iPad provides a platform to view and review those images easily and conveniently. How nice for them to get new batches of family photos they can enjoy and share with their friends, and be able to communicate via email with far flung relatives!
There was a story in The Seattle Times recently about how the iPad is also being used to help with memory and socialization skills:
Lester Windham, an 80-year-old retired butcher from Virginia, used to be isolated and quiet — a behavior shared by most men in nursing homes — but thanks to what he calls "The Black Box," he now interacts with workers and other residents.

"I asked my daughter to buy me one because I like it," Windham said while he played Memory Game with Dobski. "I won the first game!"

His daughter, Brenda Roy, said the device has improved her father's condition and their relationship.

"Now we don't just sit there and look at the squirrels," Roy said. "(The iPad 2) keeps his memory going. He's a great checker player."
Who could foresee our grandparents-folks born before the television was invented-using, enjoying and benefiting from these devices?
For communication
iPads have been making their way into the classroom, especially as a device for special needs children. There are parents and educators who swear by the iPad, saying that it has helped their children in several ways, but especially in regards to communication for autistic children. In an article this past spring from Fox News, autism experts spoke on the usefulness of the iPad:
Autism experts like Dr. Martha Herbert, an assistant professor of neurology at Harvard Medical, and Stephen Shore, who wrote the book "Understanding Autism for Dummies," agree about the iPad's usefulness.

The disorder, which affects as many as one out of 110 children in the U.S. according to a CDC study, means kids have "no control over the pace of information coming at them," Herbert told FoxNews.com. "They are not distracted by context." With the iPad, she said, the child has more control.

Shore, who struggled with autism as a child himself, said the iPad might be the difference between communicating with the outside world and being locked into a closed state. Interestingly, he says it might be the first of several gadgets that actually free a child from some effects of autism — and that additional devices, including those that augment speech, will also help.
Two other stories on autism, one on 10 Revolutionary iPad Apps to help Autistic Children, and the other from the CBS show Sixty Minutes, share about apps, advances and research still to be done for this disease.
I hope you have learned new, nifty and useful information about the iPads and iPhones, and you'll keep it in mind to share or to use yourself.
I have included a video for your enjoyment today of the North Point Church's iPad Christmas band to give you an idea of the potential of the technology as instruments. Enjoy!
Sharing at No Ordinary Blog Hop